The home opener is looming and your 2013 World Series Champions are ready to do it all over again, which means it's time for you to do something else all over again: drink all around Fenway. While there's no shortage of baseball-adjacent beers and burgers in the area, these are the best spots for Red Sox-related revelry, whether or not you have tickets.

Cask 'n Flagon (click here for info and address)
This venerable institution has anchored the neighborhood for over 35 years and ESPN has called it the "Top baseball bar in America" -- nice when they're right about something! They have all the beers you can handle (or not), plus a revamped menu sporting everything from burgers to braised short ribs to Big D's BBQ (slow-smoked Texas-style faves including giant shareable platters for the table). Go early to grab a table… so you have space for all that aforementioned protein.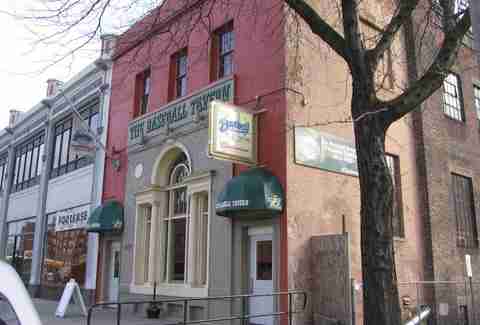 Baseball Tavern (click here for info and address)
Another Fenway institution (with a charmingly straightforward name and more than 50 years of loyal service to Red Sox fans), BT has three floors and a TV-equipped roof deck with a prime view of the park (and Boston in general). If you're lucky, a fly ball may head your way, so try to remain marginally alert. The menu is simple, but has the requisite sports fuel: apps (spicy fries, fresh cut onion rings, five flavors of wings), dinners (steak tips, fish & chips), and sammies (chipotle turkey BLT), along with refreshingly cheap drafts.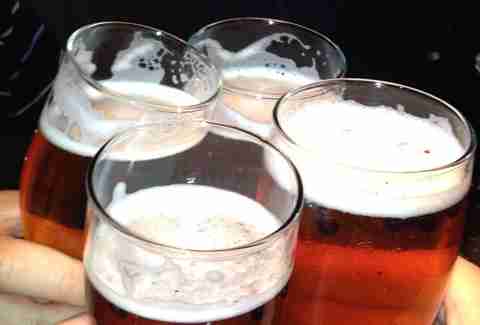 Boston Beer Works (click here for info and address)
Beer DOES work… and it works well with so many things. Like you. And baseball. Start your batting order with 22oz drafts of house brews (Hub Light, Back Bay IPA, Muddy River Porter) and an army of apps like potato-bacon-cheddar Spring rolls and beer dough bites with stout cheese. Round out your increasingly Papi-esque physique with an ice cream-aided beer float.
The Lansdowne Pub (click here for info and address)
If you prefer America's pastime with some Irish flair, then Lansdowne Pub is your spot -- with 57 available brews waiting to wash down corned beef & cabbage spring rolls, a Guinness sausage & pretzel board with hot Irish mustard, and shepherd's pie with house made soda bread and Kerrygold butter. Add a side of Irish bacon to anything for $2 and you'll find yourself also adding some pork to your sides.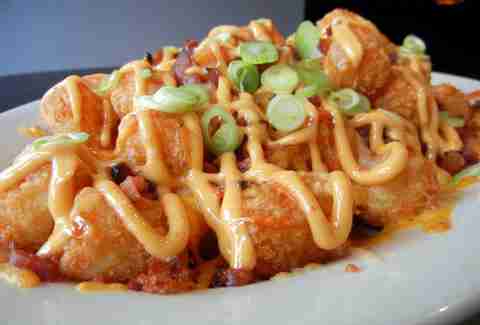 The Lower Depths (click here for info and address)
For a changeup, you'll find this craft beer mecca (17 rotating drafts, 150 bottles) on the fringe of Kenmore… and in the opposite direction of the slow-moving crowds. The menu is lights-out (for your arteries) with tater tot platters (try The Kenmore with melted cheese, applewood smoked bacon, chipotle aioli, scallions) and loaded foot-long dogs (Boston Strangler with sautéed onions and "mackin' cheese", White Trash with beer cheese dip and potato chips). NOTE: LD is cash only, Mr. Moneyball.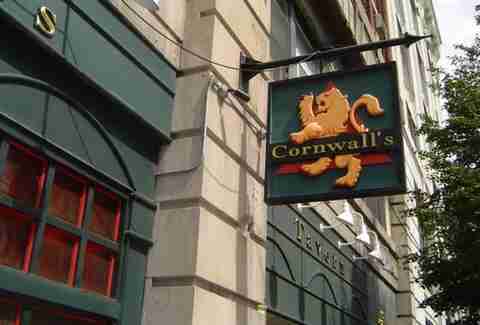 Cornwall's (click here for info and address)
You can work the count at Cornwall's with their extensive beer list (25 drafts, 35 bottles), hard-to-find-in-this-town pitchers ($18), and a dozen different burgers on the menu (try the Beast Burger with spicy chili & melted mozzarella). They also have 24 starters of all shapes and sizes (and names), such as Potato Cups, Angels (and Devils) on Horseback, and Fried Fish Bits -- plus standards like nachos, wings, potstickers, and sliders. When the game gets slow(er), take a look at their wall of board games or shoot some pool during the seventh pitching change of the inning.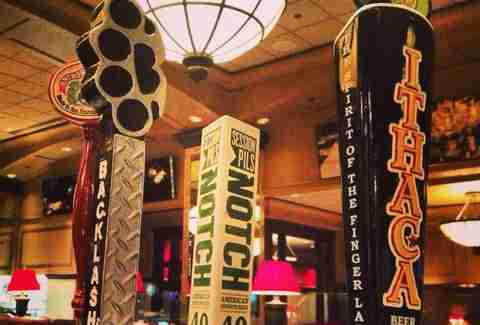 Eastern Standard (click here for info and address)
The ever-versatile, always crowd-pleasing Eastern Standard has plenty of depth on everything from their beer list to their standout cocktail lineup (with Heritage, Standards, Sparklers, and Tikisms subgenres… to name a few). ES doesn't have your usual pre- or post-game vibe, but it has become a go-to spot for many fans on their way to the park. In addition to the regular slate of elevated comfort food (on steroids), they also offer a game-time menu (subject to change).
Game On! (click here for info and address)
With 90 HD TVs, a booming sound system, and up/down bars to help you before, during, and after a Sox outing, Game On! earns that exclamation point with heaping platters of nachos, loaded steak fries, and Asian BBQ pork riblets. During the 7th inning stretch, sneak in a game of ping pong at the newly minted Blazing Paddles, or step into the batting cage to thoroughly disprove your "I could hit better than this guy" claims. 
Bleacher Bar (click here for info and address)
Literally tucked beneath Fenway's center-field seats, Bleacher Bar offers something no other venue can: a direct view of the legendary diamond through two giant garage door-sized windows (And you can have the same line of sight from the men's room urinals via one-way windows. Genius.) On game day (which, as you might imagine, gets pretty crowded, all the more reason to start early!), treat yourself (and maybe your friends) to a bucket of ice-cold ponys ($20), brisket and horseradish sandwiches on rye, pastrami & swiss flatbreads, and fried pickles.