The 9 Best Places to Grab a Gameday Bite Near Boston's Fenway Park
Batter up.
Precious few truths are accepted without question in this life: The sun rises in the east. It sets in the west. There are 24 hours in a day, 365 days in a year. The earth is flat (JK). And Fenway Park is the best place on the planet to see live baseball. It's not just the palpable sense of history you feel as you enter this 110 year old institution (although that's pretty special), it's the traditions you engage in both before and after the game itself. Fenway, remember, isn't just a stadium, it's a neighborhood. It's a state of being. And, yes, that state often involves being well fed and properly, er, hydrated—especially if you're doing it up at one of these all-star outposts.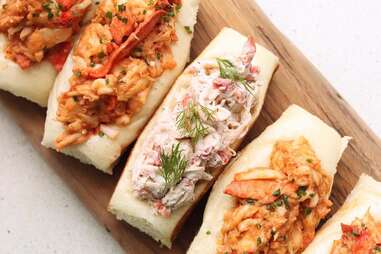 West Fens
Originally born in Portland, Maine, this sleek and stylish satellite eatery specializes in precisely what you'd expect from that part of the world: all things lobster. Juicy bites of the crave-worthy crustacean are piled high atop griddled buns—served either warm with brown butter, or cold with dill and mayo. Either way, you're about to bite into the city's best lobster roll. And their other seafood selections are hardly any less sensational: Jonah crab toast, freshly shucked oysters, and, of course, chowdah! Pair it all with local craft drafts on a lively outdoor patio. But be forewarned—it's first come, first serve around here, so come early lest you strike out looking.
How to book: Stop by for first come, first served seating or order take-out via Toast.
West Fens
Are you the indecisive sort? Well, we've got just the place for you. This boisterous, gourmet food hall is just two blocks from the stadium and affords you a massive assortment of options. Juicy birria tacos from Taqueria El Barrio? An Instagram-friendly fried chicken sandwich from Bisq? An umami-rich Korean rice bowl from Inchu? The answer is, "Yes, please." And if you don't feel like washing it down with any of a dozen or so available New England craft beer staples, might we suggest a trip over to one of two cocktail bars on-site. Help yourself to a refreshing tequila tipple served out of a pineapple—because who doesn't want a tequila cocktail served out of a pineapple?
How to book: Reserve and order take-out via Time Out's app.
Fenway
Nothing says Boston quite like hot chicken and hush puppies. Okay, we're kidding there…But this honky tonk hotspot is certainly no joke. Even though the kitsch is dialed way up (grinning country stars plastered to the walls and wagon wheel chandeliers hanging from the ceiling) the kitchen comes correct. We're talking succulent pulled pork, sizzling shrimp po' boys, and definitely don't sleep on that Cajun fish fry. The whiskey selection is wide and wondrous, so you can enjoy a little taste of Southern comfort—literally and figuratively—before you go root, root, root for the home team.
How to book: Reserve via OpenTable.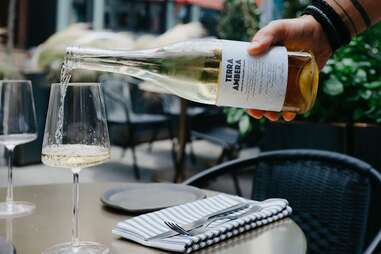 Back Bay
Yes, we know. This spot is technically a neighborhood away in Back Bay, but the food and drink here is well worth the easy 15-minute walk either to or from Fenway. A relative newcomer (it opened in 2020 during the pandemic), the Greek "meze and wine bar" is already the talk of the town. And it's a veritable feast for the senses, to boot. Sit at the counter and watch tender slabs of souvla and giouvetsi sizzle on the open hearth then pair your proteins and fresh-baked pita with adult beverages pulled from the widest selection of Greek vino (and Greek liquor) on offer anywhere in the country. And if you're really willing to play ball, try a little bit of everything with their aptly titled "Feast of the Gods."
How to book: Reserve via OpenTable.
West Fens
This venerable institution has anchored the neighborhood for over 50 years and ESPN has even called it the Top baseball bar in America—nice when they're right about something, eh sports fans? They have all the beers you can handle (and some that you can't), plus a revamped menu sporting everything from burgers to braised short ribs to Big D's BBQ (AKA slow-smoked Texas-style faves including giant shareable platters for the table).
How to book: Reserve online.
Kenmore Square
You can work the count at Cornwall's with their extensive beer list (25 drafts, 35 bottles) plus pitchers of local craft for just $18 and a dozen different burger options. The Beast Burger with spicy chili and melted cheddar is a home run. They also assemble a wicked plate of nachos along with more elaborate pub fare including Cornish Meat Pie, fried clams, and beer battered fish and chips. When the game gets slow(er), consider their wall of board games or shoot some pool during the eighth pitching change of the third inning.
How to book: Stop by for first come, first served seating or order take-out online.
Fenway
With 90 HD TVs, a booming sound system, and bars a'plenty to help you before, during, and after a Sox outing, Game On! earns that exclamation point with heaping platters of nachos, loaded steak fries, and Asian BBQ pork riblets. During the seventh inning stretch, sneak in a game of ping pong on one of multiple tables, or step (carefully) into the batting cage to thoroughly disprove your "I could hit better than this guy" claims.
How to book: Reserve via OpenTable.
Fenway
If you prefer America's pastime with some Irish flair, then Lansdowne Pub is your spot, complete with 57 available brews waiting to wash down corned beef and cabbage spring rolls, a Guinness sausage and pretzel board with hot Irish mustard, and shepherd's pie with housemade soda bread and Kerrygold butter. Add a side of Irish bacon to anything for just $2 and you're likely to stumble out of there feeling like an aging backup DH after a doubleheader in the hot sun—but, you know, in a good way.
How to book: Reserve via OpenTable.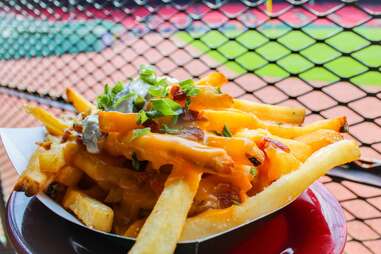 Fenway
Literally tucked beneath Fenway's center field seats, Bleacher Bar offers something no other venue can: A direct view of the legendary diamond through two giant garage door windows. (Expect the same line of sight from the men's room urinals via one-way windows—architectural goals, amirite?) On game day—which, as you might imagine, gets pretty crowded—treat yourself and the crew to a bucket of ice-cold ponys ($20), brisket and horseradish sandwiches on rye, pastrami and swiss flatbreads, and fried pickles.
How to book: Reserve via OpenTable.