Six off-menu Bruins cocktails to drink during the Stanley Cup
Because drinking Natty Light Cheladas on beanbag chairs in your Fenway studio is no way to watch Game 3 from the Garden, we asked six Hub bars to whip up some special, off-menu, Bruins-themed beverages for the duration of the Cup. So bust out your finest B's poncho and get tailgating. Game starts in 12hrs
Black and Gold, Ducali Pizzeria & Bar289 Causeway St; North End; 617.742.4144Before heading into the Garden, get pumped up right around the corner at Ducali with this Jack Daniel's Tennessee Honey B&G (pictured top), which's mixed with tea, triple sec, and cinnamon schnapps and best enjoyed with the their special Stanley Cup-edition sage & sherry cream-sauced pizza that sports the B's logo drawn out in portobello mushrooms
Tuukka's Tiki Time-Out, Russell House Tavern14 JFK St; Harvard Square; 617.500.3055 Because Tuukka actually doesn't need a time out, ever, help yourself to his beverage, which combines rum, pineapple juice, and apricot liqueur floated with Fernet for a lovely black and gold hue.
Dave Baldwin
We Want The Cup, Abby Lane
255 Tremont St; Theater District; 617.451.2229
Paired with special playoff bar bites like lobster sliders and roast beef baguettes, WWTC's a silver Stanley Cup Belgian chalice full of Abby Lane's Red Ale spiked with Scotch and muddled orange.

Blackhawks Down, Sweet Caroline's
1260 Boylston St; Fenway; 617.424.1260
Named for exactly what Chicago (and probably you) is going to be by the end of the series, this take on a Dark & Stormy blends rum with sassafras liqueur and tops it off with equal parts ginger beer and Sam Summer.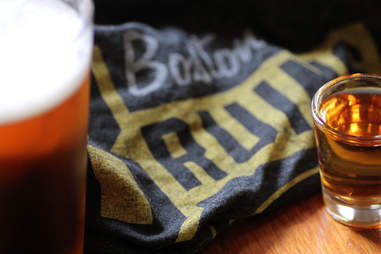 Dave Baldwin
Patrice Booze-u-Ron, Parlor Sports
3 Beacon St; Inman Square; 617.576.0231
It doesn't get any more locals-only than a straight up Boston Boilermaker: a pint of Harpoon IPA chased by a shot of Bully Boy aged whiskey. Go Bruins!

The Honey Pot, Church
69 Kilmarnock St; Fenway; 617.236.7600
Possibly, but probably not, what Claude calls the B's 2-3 neutral zone trap, this "enter and you're going to get stuck" Bruin-friendly libation rocks gin, honey syrup, and rhubarb bitters, and is served down with a flamed lemon twist.