It's March, which means soon it'll be MADNESS, and you are about to dunk yourself in the annual glorious gluttony of Springtime college hoops. Your bracket picks are doomed to fail before you even make them, so at least make sure you pick the right spot to set up camp and try to monitor a million TVs at once while consuming an irresponsible amount of Buffalo wings. These are the eight best spots in Boston to do just that:
The Four's Restaurant and Sports Bar
North Station/TD Garden
The Four's gets as loud as a Craig Sager suit during just about any sporting event, so you should probably be there for the NCAA action. This bi-level memorabilia-soaked mecca has plenty of brews, miles of screens, and more big-portioned meals than Verne Lundquist can handle (and that's A LOT). It may be the wrong sport, but the Bobby Orr steak sandwich -- hand-cut tips and melted American cheese on a fresh braided roll -- will help you make it through the marathon of action.
The Harp
North Station/TDGarden
For more than 20 years, this Causeway Street staple has hosted frothy fanatical hordes for every tip-off, kick-off, face-off, and walk-off worth its weight in nachos. It's got up/down bars (three total), all the requisite tasty indulgences (pretzels, wings, burgers, 'za), 40 beer options (drafts + bottles), approximately one bazillion TVs (plus a HUGE projection screen), and plenty of fantastically bad decisions.
Cask 'n Flagon
Fenway
If you're a sports nut and you live on Earth, you've definitely braved the friendly, rowdy crowds at the Cask. If you're a Martian, chances are still about 50/50 you've been. Executive Chef Donley Liburd recently upped the game in the kitchen with a fresh menu deep on protein-heavy sustenance like slow-smoked BBQ courtesy of an award-winning pit master.
Jerry Remy's Sports Bar & Grill
Seaport District
Jerry Remy's waterfront location posts some serious numbers -- 5,000sqft of space, a 50ft bar, seating for 120, 46 plasma screens, and their own Jumbotron: a 32ft video wall with a state-of-the-art sound system. The hot streak continues with four types of wings (buffalo, bbq, honey bbq, teriyaki), 20 sandwiches/wraps/burgers/dogs (poblano chile roast beef!), 30-plus brews, and one great view of the harbor.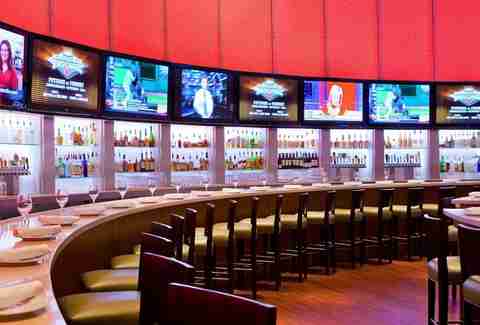 Champion's Boston Sports Bar & Restaurant
Back Bay
The motto here is "Eat. Drink. Sports."... which, when it comes to sports bars, is a pretty solid motto. Eat the Champions Sampler Tower -- two dozen wings, eight beef & cheddar sliders, fully loaded waffle fries, a stack of onion rings, and various sauces (it really is a tower). Drink 36 craft beers on tap, 30 craft and not-so-craft beers in bottles and cans (clap your hands… PBR 24oz for $6!). And thanks to an ingenious curved panorama of TVs, the views are solid from just about everywhere.
Stadium Sports Bar & Grill
Faneuil Hall
Boasting "Not a Bad Seat in the House", Stadium delivers with 20 hi-def TVs including a 90" flats-creen for the biggest of games. Bring the house down with $2 Coors Light drafts, loaded waffle fries (YES!), and a chili burger (double YES!)… and then kill the clock (and your diet) with a Guinness float. Also keep an eye out for Slider Sundays, which offer three for $3.
Stats Bar & Grille
Southie
With 22 screens, a substantial menu of napkin-demanding comfort food, and your favorite beers on tap, Stats has everything you need for days of continuous basketball indulgence. If you're a fan of all things Buffalo-sauced (like a true sportsman), there are SEVEN different brain-melting options: Buffalo Tenders, Buffalo Calamari, Buffalo Chicken Spring Rolls, Buffalo Chicken Dip, Buffalo Chicken Wings, a Grilled Buffalo Chicken Sandwich, and Buffalo Chicken Pizza. (Sorry, no Buffalo Chicken Cheesecake).
Parlor Sports
Inman Square
If you like your game time vibe a bit more laid-back yet still sufficiently lively, then this sports micro-haven is the place to be. Don't let the size fool you, because they have mad skillz: $4 'Gansett tall boys, pitchers of high-octane brews (Dale's Pale Ale, Pretty Things Jack D'Or), and plenty of fancied-up arena-inspired eats (pepperoni rolls, sweet/spicy or BBQ wings, pork belly, and steak 'n cheese sammies) to keep you happy while some 14 seed is ruining your bracket hopes.