Just because Monday is Labor Day doesn't mean your Summer has to come to an end. Although if it does, we can't think of a better way to bid it a fond adieu than by watching The Sound of Music!!! spending an afternoon playing hooky from work and day-drinking on all the Seaport's top patios. Which is exactly what we did last week, in order to uncover the eight best cocktails to imbibe while strolling down Seaport Blvd. Peach Julep at The Barking Crab In addition to a new streamlined Summer food menu and raw bar, the Crab's also rolled out a fresh list of libations, highlighted by their peachy take on the Southern classic.
The Faceless Man at Sam's
Kick back on one of the Seaport's most raved-about rooftop patios (seriously, people won't shut up about this place) and enjoy Andrew's refreshing rum creation, which's mixed with plum wine, maraschino liqueur, lime juice, and ginger beer.
Flight of whiskeys at Whiskey Priest
This may be a bad idea as you're only three stops in -- but why not eschew a cocktail at Whiskey Priest in favor of some nachos and their Aer Lingus flight of Connemara, Clontarf, and Kilbeggen Irish whiskeys? Just a thought.
Pomegranate Margarita at Rosa Mexicano
Grab some shade behind the foliage of Rosa's Seaport Blvd patio whilst you take down their signature (since "When Doves Cry" topped the Billboard charts!!) frozen pomegranate margarita made with silver tequila and pomegranate juice. And, as you just knocked back a flight of whiskey, you should be completely secure in ordering a pink drink.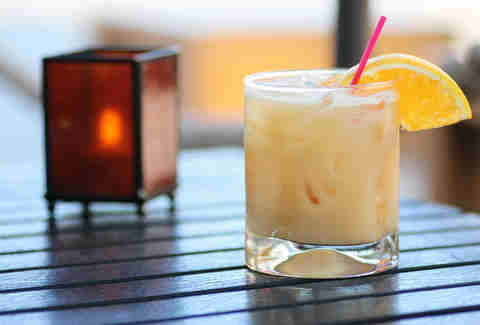 The Cure at 75 on Liberty Wharf
Friday won't be the only day you're in love once you try 75's The Cure, a true Summer classic boasting Gosling's Black Seal rum mixed with cream of coconut and orange/pineapple juices.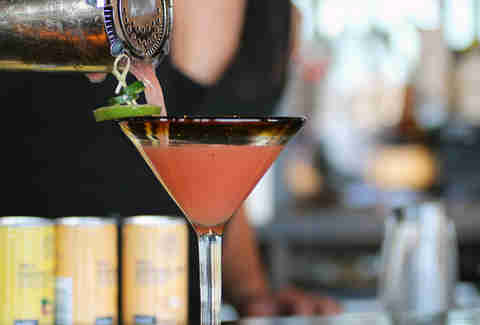 The En Fuego at Temazcal
Don't be scared away by yet another fuschia-colored beverge, as the En Feugo from this popular waterfront tequileria brings the heat courtesy of jalapeno-infused El Jimador Blanco tequila mixed with Patron Citronage, agave nectar, and blood orange puree.
In case you want to see it all close-up like.
Chupacabra at Legal Seafood Harborside
Upon entering, immediately make your way to the third-floor roof deck and get your own incredibly tall, muscle-handled mug of mezcal (mixed with St. Germain, black tea, and pilsner) named for the legendary blood-drinking Latin cryptid.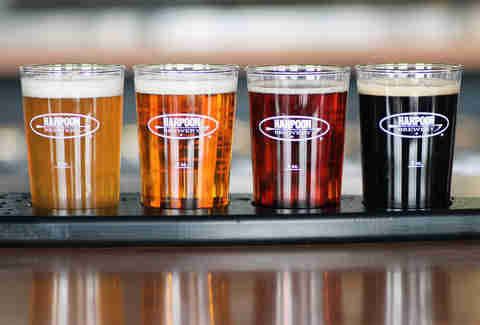 Flight of suds at Harpoon Brewery's Beer Hall
Finally, as you've pretty much just spent the entire day baking in the sun, perhaps you should pop inside Harpoon's Beer Hall and finish the afternoon with a tasty flight of their latest releases?