Drink in a bar made entirely out of ice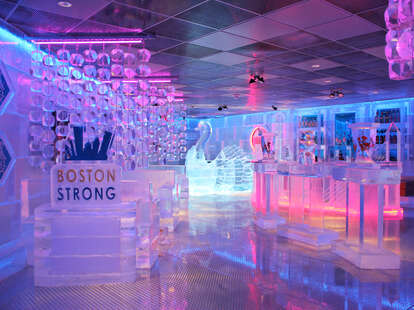 Thankfully just in time for the… uhhhh, tropical New England Winter or something, Frost is Boston's first -- and the world's largest -- indoor (frozen) watering hole built in a meat locker almost entirely out of ice. It's from the crew behind the Duck Boat Tours. It's located above the American Eagle Outfitters at Faneuil Hall. You'll need a ticket to get in -- but you can look inside for free below.
After scoring the aforementioned ticket that guarantees you at least 45min inside (Pro tip: they won't toss you out if you feel like staying longer), throw on one of these crazy-light, insulated, military-grade capes and a pair of gloves. They're included in the price of admission.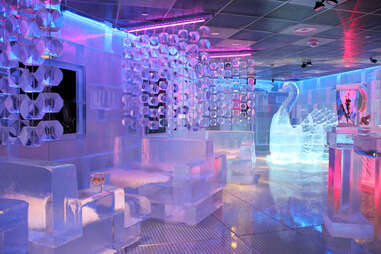 Now nod approvingly as you get a better feel for the space. Also, immediately regret wearing Tevas and not paying extra for rented boots.
"Wonder Twin powers… activate!!! Form of… a bar made of ice blocks that maintains a steady 21-degree temperature inside… all the time." Also: "shape of a meerkat."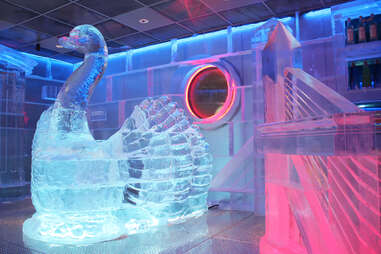 Ice sculptures throughout the room are designed to replicate Boston landmarks, like the Zakim Bridge and Public Garden's swan boats...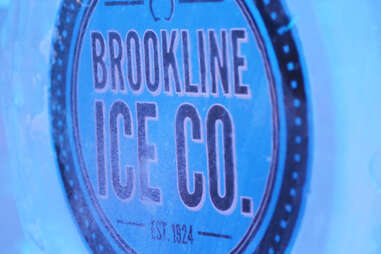 ... and are skillfully crafted right here by these dudes.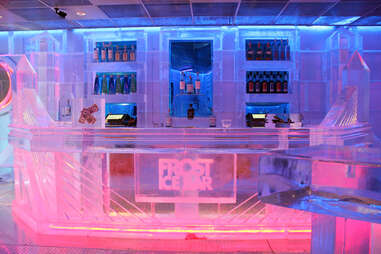 Whatever you do, do not try to dance on top of this bar. You will likely slip and die. It's almost guaranteed.
Yes, the bartenders have already heard the, "But wait, I can't pay because my money is frozen in a block of ice!" line before. Many times. You're hilarious. They've also heard the "cold hard cash" joke. Please, stop.
If you were expecting scantily clad bartenders in bikini tops and cut-off jorts, you may be slightly disappointed.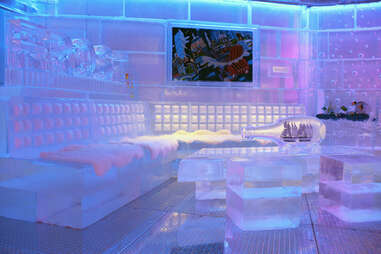 After getting comfortably settled on a fur pelt...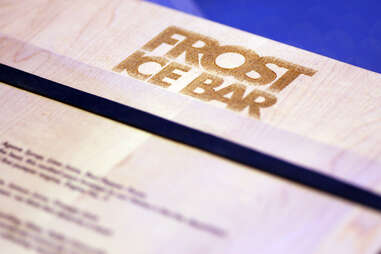 ... take a gander at the rotating menu of pre-made drinks (since they can't mix them in the bar) that boasts choice 'tails, like The Lion & The Unicorn (gin, Pavan & Lillet) and the Camarena reposado- and red pepper puree-mixed Engine No. 7.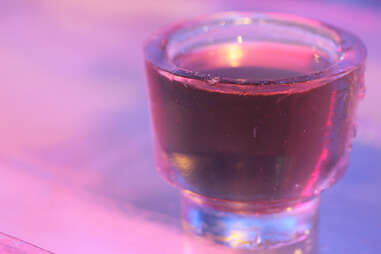 Yes, even the glasses are made of ice. Be careful not to drop your beverage, as it costs $11.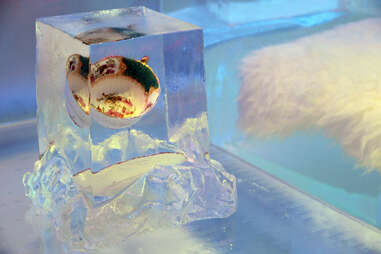 So… cold. If only I could order a cup of hot tea.
The art, which is not made of ice in case you were confused, is also rotating. They're currently paying tribute to the 50yr anniversary of JFK's death.
Despite the fact that he just passed away on Saturday, the bar is also not dedicated to late, great journalist David Frost.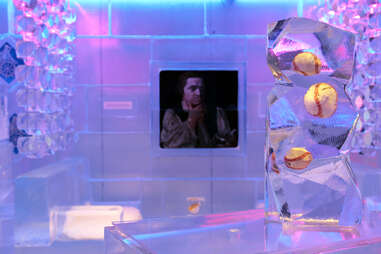 "Hmmm… if only I could get one of those baseballs out of the ice." That's the painting talking, by the way.
From a different angle. Yep, they're frozen in there good.
Finally, you're admiring a cocktail full of ice crystals that's served in an ice glass and resting on a table made of ice. Also, your 45min are up.