Everywhere in the Hub to celebrate not-Mexican independence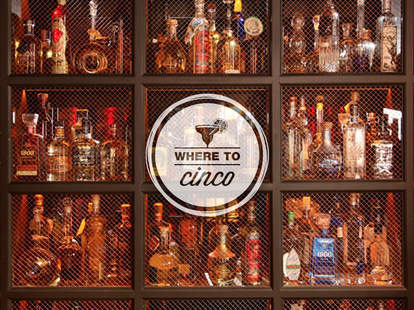 Because drinking watered-down margaritas is practically a slap in the face to the brave Mexican soldiers who valiantly fought for your right to co-opt a day they don't even really celebrate, don't do that, and instead just hit our favorite places to ring in Cinco de Mayo:
Best MargaritasLone Star479 Cambridge St; Allston; 617.782.8226While it boasts a solid eight-deep bench of margaritas and tequila 'tails ripe with faves like the gimlet-style Mexico City and 20oz Mug-A-Rita, it's the spicy mezcal & reposado El Diablo, with jalapeno-and-habanero agave syrup and a chili-lime salted rim, that pushes this Allston taco joint over the top.Click here for more gourmet tacos and tequila
Craziest Taco FillingPoe's Kitchen at the Rattlesnake384 Boylston Street; Back Bay; 617.859.8555Despite your first thought, no, rattlesnake tacos are sadly not on the menu. Chef Brian Poe does, however, snag top honors for infusing ground antelope with duck fat before dressing it up with a fried corn tortilla, smoked Fresno chiles, jalapeno-bacon ranch, salsa fresca, and Chihuahua cheese.Click here to find out more about Poe's
Hottest Hot SauceLa Casa De Pedro343 Arsenal Street; Watertown; 617.923.8025Assuming you can't get enough of it in your Camarones al Ajillo, this boisterous, palm-tree-laden Venezuelan joint off the beaten path in Watertown actually sells bottles of their super spicy, sinus-clearing, homemade jalapeno and habenero sauce, all for your home dining pleasure.Get more info on this Venezuelan hotspot here
Best GuacamoleOle Mexican Grill11 Springfield Street; Cambridge; 617.492.4495Hand-made tableside before it was even cool to make guacamole at the table, the award-winning avocado mash at this authentic Mexican eatery in Inman Square blends tomato, cilantro, and jalapenos, and is served chunky in a stone molcajete.Click here for more info on this classic Mexi-joint
Best Outdoor SpaceTemazcal Tequila Cantina250 Northern Ave; Seaport/South Boston; 617.439.3502Because sipping margaritas on a sunny afternoon is always more enjoyable while flipping Rolaids to seagulls, the deck at this Seaport tequileria offers scenic waterfront views of Boston's inner harbor. If your idea of a "scenic view", however, is staring lovingly at Fenway's Green Monster, then you can't go wrong taking down tequila flights from the patio of Lansdowne Street's La Verdad.Click here for more info on the waterfront eatery
Best NachosSunset Grill & Tap130 Brighton Ave; Allston; 617.254.1331Known primarily for its ridiculous assemblage of 380 brews, this popular Tex-Mex-leaning Allston beer bar also plates some of the Hub's most acclaimed nachos: the monstrous South of the Border Giant Fiesta, piled high with BBQ pulled pork, jalapenos, a choice of chilis, and both Jack & cheddar cheese.If you like beer and tacos, you'll want to click here
Best SalsaEl Pelon Taqueria2197 Commonwealth Ave, at Lake; Brighton; 617.799.9090Noteworthy for having suffered through two separate fires (the second of which destroyed their Peterborough St location), this popular taco joint rose from the ashes and fittingly slings the Hub's best mild... just kidding... fire-roasted salsa.Get more info on the tasty taqueria, here
Best Tequila SelectionLolita Cocina & Tequila Bar271 Dartmouth St; Back Bay; 617.369.5609The influx of high-end tequila joints in recent years has left the Hub with no shortage of bars pouring hundreds upon hundreds of Mexican firewaters, from Faneuil Hall's Mija Cantina & Tequila Bar, Ft Point's Papagayo, and Davis Square's Painted Burro, to the Seaport's Temazcal, to Back Bay's Tico. Our fave, though, is Dartmouth Street's dimly lit gothic temple to tequila, Lolita, which boasts over 200 varieties -- including rare/expensive bottles like the limited edition Jose Cuervo 250 Aniversario and 1800 Coleccion.Sound good? Click here for more on this tequila temple...