Jared Sadoian on MIT, Low-Alcohol Cocktails, and the Future of Boston's Bar Scene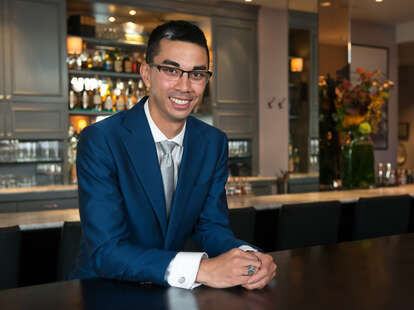 Melissa Ostrow
Melissa Ostrow
A graduate of MIT who started as a tech analyst at Barclays Capital? Apparently that's what it takes to make it as a bar manager today. Sadoian has taken that genius and applied it to The Hawthorne bar program for a couple of years now, but it was only in 2016 that he graced us with his expertise in rum and agave, expanding those spirit menus considerably, and focusing on small-batch producers. We feel a little less envious of his regular trips to Mexico when he rewards us this handsomely.
What currently excites you most about the Boston cocktail scene?
Jared Sadoian: The sheer number of restaurants and bars opening both excites and terrifies me. On one hand, it's stretching our talent pool in a way that sometimes makes it difficult to fill open positions in our restaurants. On the other hand, it's giving an incredible amount of creative opportunity to up-and-coming bartenders to try their hand at creating their own program or driving the vision of new restaurant owners. There are lots of different concepts all around town now, so the amount of choice I have when going out is pretty awesome.
What was your vision for The Hawthorne bar program when you first came aboard?
Sadoian: At its core, The Hawthorne is a logical extension of the celebrated bar program of Eastern Standard. We are lucky to have an intelligently designed venue and the flexibility to be a small bar with big ambitions. Learning and education has always been important to me, and thankfully it has always been a core part of the mission of our restaurant group. Part of my early days at The Hawthorne was to figure out a way to channel that into specific action items that can directly benefit my staff and our guests. One way is exposure -- we have expanded our spirits offerings (specifically in rum and agave distillates) to give our bartenders more ingredients to play with, more history to delve into, and more stories to share with our guests. Another is group readings of books on hospitality, spirits, and the like. We're currently making our way through Setting the Table by Danny Meyer, and enjoying weekly discussions on how we can apply some of his values to our service every night. Finally, we have engaged in more public-facing classes and offerings to give our guests a chance to learn along with us -- I am in the midst of planning a series of hands-on cocktail seminars for over 120 MIT students during their January term.
What's your favorite drink on the menu right now?
Sadoian: We change our menu every week, so by the time this goes to print it will probably be off! The Black Princess is one of our newest drinks on the menu from bartender Nick Frank. Named after one of Privateer Luke Ryan's famous ships during the American Revolution, it features Privateer Rum's Navy Yard, mixed with Michter's rye whiskey, Amaro di Angostura, and sweet vermouth. It's rich, textured, and full-flavored. A great winter warmer as the leaves change colors and we begin to welcome the season.
You're a fan of the lower-alcohol cocktail -- sell it to us.
Sadoian: Yeah, you're right. I love lower-alcohol drinks. First and foremost, I appreciate the longevity it affords me when I'm out and about. I'd rather be able to visit a few bars and try several different drinks, rather than sip two heavy-hitting cocktails and be done for the night. Lower-alcohol cocktails also tend to play a little better with food -- either lighter flavors, higher acid (think sherry, vermouth, etc.) -- and of course, they won't put you under the table.
After graduating MIT, you started your career in finance high-tech. How does the world of bartending compare to the world of finance?
Sadoian: While I was in New York, I was part of a company that employed 125,000 people. When I moved back to Boston to work at Craigie on Main we were just under 50 employees. Ten-year roadmaps and long-term strategic growth flowcharts were replaced with "This service step isn't working, let's pilot a change tomorrow" and "How can we earn more repeat business next month?" You can bet that felt different! Even now, as a part of a much larger group of restaurants, we still remain agile and responsive to our staff, our guests, and our surroundings. On some level, both industries suffer from long hours, big egos, and a sometimes too-competitive atmosphere. I'm thankful that our community of bartenders here in Boston is far more friendly and collaborative than the finance culture I was exposed to years back.
What will you be drinking on December 31st?
Sadoian: You can bet I will be working a busy service at The Hawthorne on the eve of 2017, so I'll be drinking a lot of water before a glass of bubbly at midnight!
What are you most looking forward to in 2017 in the Boston bar scene?
Sadoian: I'm curious to see how we as an industry and community handle the rapid expansion of restaurants and bars. How can The Hawthorne, as a more established venue, help train and develop our people for the next step in their career (whether in our group or outside)? Gone are the days of the five-plus-year commitments to a single establishment, unfortunately, so we need to find ways to be an impactful part of a young bartender's journey right from the get-go.
Sign up here for our daily Boston email and be the first to get all the food/drink/fun the Hub has to offer.
Meaghan Agnew's home bartending game is weak, which is why her bar-hopping game is so strong. Track her drinking tra(va)ils on Twitter and Instagram at @meaghandeth.