5 Boston mug clubs you'll want to join
Boston Since you really don't need to watch any more Red Sox games this season (too soon?), you're going to need a new hobby. Or better yet, further indulge in one of your existing hobbies (drinking... we mean drinking). To make said imbibing less lonesome, join one of your local mug clubs -- don't worry, they aren't picky. Whether you're a beer, tequila, or whiskey fanatic (or all three), these five boozy programs will occupy your newfound free time.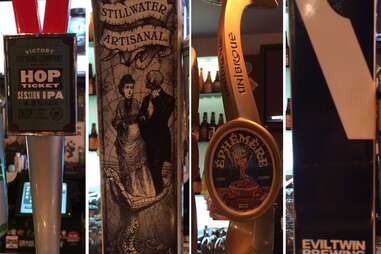 The Lower Depths
Kenmore
You've got to be one of the cool kids (i.e. a polite, friendly regular/good tipper) to be invited into the exclusive Lower Depths Mug Club. Once you're in, you have six months to drink 150 delicious beers, which should be no problem if you already have a favorite bar stool there. Perks include a 26oz mug with your name on it and a discount on the draft brew du jour.

Continue Reading
Penguin Pizza
Mission Hill/Fenway
Penguin Pizza packs a ton of moxie, suds, and good neighborhood vibes into a tiny package. Their tasty pies (like their duck confit) will make you thirsty enough to journey through the daunting "passport" of 335 brews (35 drafts with 20 rotating, 300+/- bottles). If you survive the arduous trek, you earn a personalized 22oz mug stored on their wall of fame and full mug pours for the price of a standard pint. Pro tip: good chance (100%) you will be "iced"… but that only means you've been accepted into the tribe.
Citizen Public House
Fenway
If you're crazy for brown liquor, commit yourself to Citizen Public House's Whiskey Club. Request a card and get cracking on their impressive globe-trotting 100-whiskey menu. Your efforts will be generously rewarded with a bottle of Citizen Public House Hand Selected Four Roses Single Barrel Whiskey, a fancy silver-banded crystal whiskey glass engraved with your name, and a complimentary ice sphere with every glass of whiskey… if you so choose. Yes, please.


Bukowski Tavern
Back Bay
Join the Dead Author's Club (in honor of their grizzled eponymous scribe) and work your way through 150 "barley sandwiches" in half a year (again… no problem). Upon "graduation", you score a numbered 25oz glass mug (inscribed with your favorite long-gone writer's name) and deals on drafts. And a dash of street cred. FYI: mugs are non-transferrable between the Boston and Cambridge locations.
The Painted Burro
Davis Square
For the truly brave, The Painted Burro recently launched their Agave Club... a veritable gauntlet of their ENTIRE mezcal and tequila list. And there are some serious prizes for those who make it through the catalog. Or even parts of it. Try 25 and receive a make-your-own margarita kit; 50 nets you a four-course dinner for two at the Burro with tequila and mezcal pairings; 100 puts you on a plane to Cancun. Seriously. Good luck remembering the trip.