Why do people still ask what you're up to this Summer? The answer's always the same: "Drinking outside. As much as possible." To usher in yet another season of open-air imbibing, we've assembled the ultimate guide to the city's newest patios. You can toast us later.
Nebo (info and address)
Waterfront
Technically, this one debuted last Fall, but playoff fever kept us indoors and in the dark. Make up for lost time on the brick patio lined with umbrellas, all the better to enjoy the Gin Ginger, an elixir of ethereal gin, Lillet, and ginger beer poured over an oversized grapefruit of an ice cube.
Legal Crossing (info and address)
Downtown Crossing
Legal's newest urban enclave just debuted a 30-person patio, exclusively made up of date-friendly two-tops (begone, insufferable family units!). Baked oysters, butter poached lobster, and that inscrutable cocktail menu will keep you in your seats for a while -- don't let those staid post-theater types bully you out.
Audubon (info and address)
Kenmore Square
So, your Sox tix had you eight rows underneath the overhang on the first bona fide scorcher of the year. Soak up some post-baseball rays just blocks away on this 30-seat backyard patio that boasts a total Zen vibe (you'll need it after the latest Buchholz meltdown). The crafty draft menu (Founders, Notch, Pretty Things) sure beats what you were tossing back at Fenway.
Commonwealth (info and address)
Kendall Square
This vast 96-seater serves up the full lunch, brunch, and dinner menus and offers waterfront views of the totally under-appreciated Broad Canal. Still not satiated? Encourage your engaged buddy to book the resto's 18,000sqft private roof deck for his big day -- nothing says eternal love like a sky-high luau.
il Casale Cucina Campana (info and address)
Lexington
This one's been open for approximately a nanosecond, so you'll be breaking in the outdoor wrought-iron banquette system that was personally designed by Chef/owner Dante de Magistris and his brothers. Toast their ingenuity with a Campari martini (blood orangecello, house-infused fig-apricot-citrus vodka) and a smattering of dishes from the Neopolitan street food menu (salt cod fritters, panzarotti).
Ribelle (info and address)
Washington Square
Not like Tim Maslow needed to up his game, but up it he did, flinging open Ribelle's front doors to create an indoor-outdoor oasis. The 18-seat patio end of things gives you a great view of that crazy-ass light installation over the communal table indoors, but you'll probably be too busy knocking back glasses of fine wine to notice.

Ester (info and address)
Lower Mills
Ledge is dead; long live Ester. The renamed and revamped Lower Mills space hung onto all the good stuff, including an epic back area that includes an eight-seat patio bar, side lounge area, and main 60-seat dining zone shrouded by a Japanese cherry tree. Rumors abound of a pig roast later this season.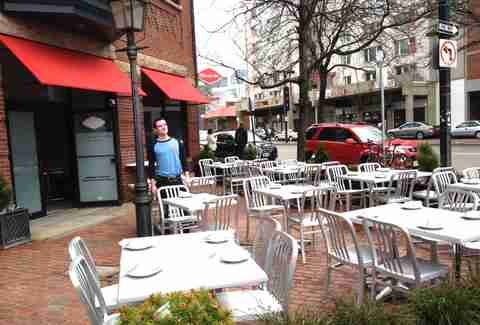 Merrill & Co. (info and address)
South End
You like to be sly with your South End people watching, which is why this ever so slightly tucked-away spot lets you scan the passersby with impunity. Work your way through the epic Sherry menu (seriously, it's impressive) before moving on to a Pimm's Cup Slushie.
Centre Street Sanctuary (info and address)
Jamaica Plain
"Don't fence us in" is our usual motto, but we make an exception for this 20-seat enclosed area right in the middle of the JP action. Breathe deeply of the fresh herb garden, then resume inhaling the new Gluttony Burger, a -- wait for it -- gluttonous medley of ground sirloin, aged cheddar, hand-cut bacon, house pickles, and smoked shallot aioli, best chased with a 22oz Slumbrew Happy Sol Hefeweizen.
Precinct Kitchen & Bar (info and address)
Back Bay
Sometimes you want to overindulge in peace, which is where this subterranean spot comes in. Below-ground drink options include the Nor'Easter (gin, lemon, simple syrup, 'Gansett) and an Old Fashioned made with peach liqueur; don't go skimping on the charcuterie or shishito peppers either.
Pier Six (info and address)
Charlestown
Life truth: day drinking is best enjoyed with a side of salt air. And the city's latest waterside haunt is a two-parter -- if you can't wrangle a seat on the 30-person roof deck astride the Charlestown Navy Yard, mosey below-deck to the 200-seat first-floor patio. Either way, we vote for a few rounds of the Bellini Bucket (one bottle of B&G Champagne with strawberry and peach purees).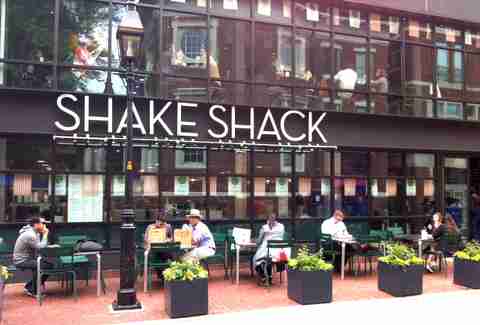 Shake Shack Harvard Square (info and address)
Harvard Square
Do we really have to make the case for bacon double cheeseburgers and custard shakes enjoyed in open-air bliss? Our only advice is to start hovering early to nab one of the five outdoor tables. And yep, you can drink wine and beer outside, too.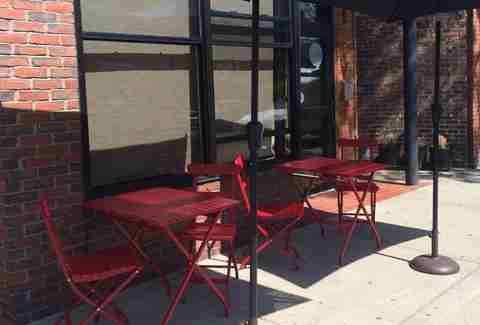 Spoke Wine Bar (info and address)
Davis Square
Patios don't get more exclusive than this: just two outdoor tables shrouded by oversized umbrellas, with a third tucked around the corner (dibs!). Start brushing up on your vino speak and then call up that fetching oenophile for an impressively intimate date night.
Belly Wine Bar (info and address)
Kendall Square
The question becomes, do you nosh on Belly's just-introduced outdoor spare parts menu before or after you've cozied up to the restaurant's new eight-seat, L-shaped patio bar with a full drink menu? We vote for Summer cocktails first, sweet and spicy duck wings second.
West Bridge (info and address)
Kendall Square
After a strike-season debut last September, this drinks-only patio has re-revealed itself. Cop a squat at either the eight-seat bar or 12-seat communal table to cool down with a Heatwave (mezcal, Averna, ginger, lime, jalapeño) and nosh on complimentary snacks like the epic fried chicken skin. Did we mention it opens at a hooky-friendly 3pm?

Brass Union (info coming soon)
Union Square
Normally you reserve your excessive cornholing for backyard barbecues (amirite), but exceptions should be made for this spankin'-new watering hole in Union Square (they're setting up the furniture as we speak, hence the tasty looking shrimp photo). The powers that be have helpfully divided the forthcoming patio (set to open June 12th) into two areas: serious diners on one side (damn, that pulled beef brisket sammy looks good), game-playin' fools on the other. Tip: cornhole gets hella easier once you've had a few Rum & Smokes (Bully Boy aged rum, smoked lime juice, Orgeat, Ginjinha, maraschino cherry garnish).