Eat pork belly while you brew your own craft beer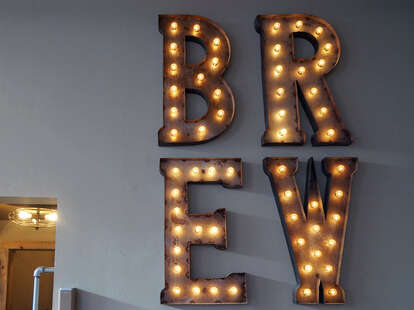 Jacqueline Dole
Jacqueline Dole
Because fermenting beer in the foyer of your Beacon Hill apartment building tends to be frowned upon, jump the express bus to Newton and hit Hopster's Brew & Boards, a just-opened DIY community brewery & restaurant hybrid (from a beer-obsessed husband-wife team) where you can brew up to 10 kettles of suds in one sitting while enjoying cured meats and pork belly flatbreads.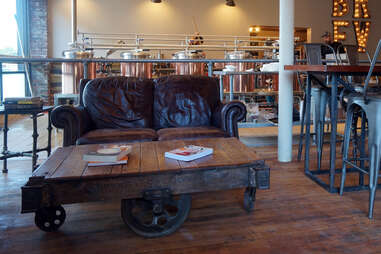 Relax on one of their plush leather couches as you brush up on your beer knowledge and contemplate which of the 30 master beer recipes you're going to brew...
... or perhaps grab a seat at this handsome reclaimed table that looks like it should drive somewhere with all those gears, and jot down some written notes?
Got a recipe in mind? Going porter, aren't you? Nice… good call. Now make your way behind the kettles and -- like a kid in a candy store -- begin selecting your barley, hops, and malt. With ingredients in hand, you're free to run wild if you know what you're doing -- just don't break anything!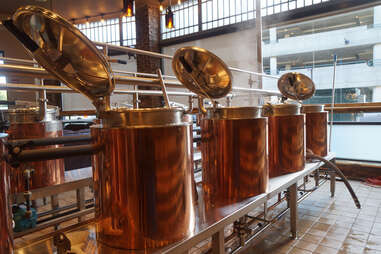 Or, if you have no clue what the difference between barley and hops is, fret not, as their beer experts will walk you through the entire process step by step. After mixing everything in the copper kettle, you're looking at two to three hours of brew time...
... during which you should sample some of the beers made in-house and admire the original brick walls, restored windows, and hardwood floors.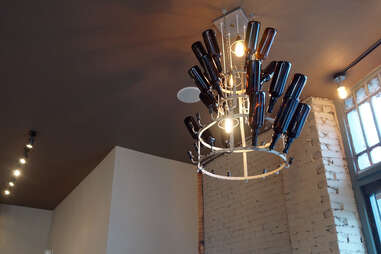 Not to mention these sweet custom-made bottle light fixtures.
As it's not called Brew & Boards for nothing, you can also feast on locally sourced brats, bierwurst, and cajun-style boudin (from Waltham's New England Charcuterie), artisanal cheeses, and flatbreads, like the ale-braised pork belly with spicy orange vinaigrette.
To help you sleep at night, know that the spent grains are all sent to the Wood Family Farm in Dudley and fed to the animals that you'll eventually end up eating next time you're back at Hopster's. So, yeah… go farm-to-table?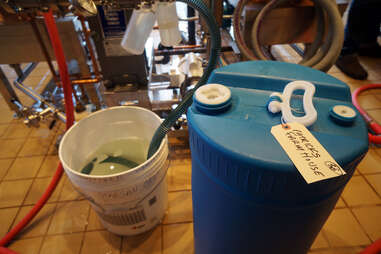 After your brew sesh, it takes two to three weeks for the beer to ferment before you can return to Hopster's to bottle your masterpiece -- custom label and all. No time to waste on bottling? Not a problem; for a small fee, they'll take care of it for you, and even deliver it to your door if your Neon's in the shop.
Why stop there, though, as they'll let you reserve all of the kettles at once and brew up to 30 cases of beer. Another round?