Where to watch the World Cup in Boston
Boston Break out your old-school Sambas and rally scarves and get amped for the World Cup! The quest for global soccer domination is here (it's been four years already?) and you need to be front and center for every bicycle kick, head butt (cough Zidane cough), coiffured coach, and red card. Here's the breakdown on where you can scream your painted face off: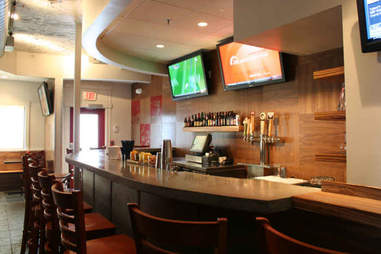 Dave Baldwin
Parlor Sports
Somerville
Parlor Sports, the tiny drinkery that could, is going BIG for World Cup action with their own "study abroad" program. Because they can. They will have Brazil's national beverage, the caipirinha, and stadium beers from participating countries around the globe (e.g. Brahma from Brazil, Kronenbourg from Germany). On Monday, June 16th, Peak Organic Brewing Company takes over the taps while Team USA steamrolls Ghana in its first match.

Continue Reading
SKYBOKX 109 GastroSports
Natick
They're doing their own set piece with a themed menu and, of course, more caipirinhas! Go tiki-taka on the Maracana Plate (grilled London broil, jasmine rice, black beans, sweet plantains, pico de gallo), Brazilian Glazed Wings (zesty citrus glaze), and the Fried Yucca Basket (garlic and cilantro dipping sauce). Bonus: they'll be raffling off New England Revolution tickets all month long… thusly reminding you that we have soccer here, too.
Hopster's
Hopster's
Newton
After recently securing the first commercial brewing license in Newton since the 1600s, Hopster's scores the go-ahead goal with their very own Cup-inspired beers. House-brewed German Hefeweizen, Belgian white, American Summer ale, session English cask ale, and Japanese Sorachi Ace IPA will rotate through the craft tap lines all month… and flatbreads, charcuterie boards, and small plates will provide additional fuel. Their new hi-def 110-inch screen ensures you won't miss a single header, hook, or hat-trick.


Briar Group Venues
Multiple locations
Participating Briar Group venues around the Hub will be showing every game and giving you the flavors of the festivities (you deserve it). M.J. O'Connor's (Park Plaza) morphs into Spain/Portugal with World Cup White Sangria, Ned Devine's goes Italian with Black Pepper Fettucine, The Harp channels Germany with Bavarian-style pretzels, and The Green Briar conjures the UK with spicy Chicken Curry (because you don't want actual British food).
Olde Magoun's Saloon
Somerville
Olde Magoun's Saloon hosts World Cup Wednesdays throughout June, featuring food and drink specials with international flair. Don't get caught square trying to decide between the German Sausage Plate (beer-steamed bratwurst & knockwurst, ale-braised sauerkraut, Dusseldorf mustard), Argentine Steak Skewers (with chimichurri), or Portuguese Cataplana Stew (clams, mussels, spicy sausage, onions, and tomatoes simmered in Estrella Damm Lager). Finish your lineup with a fresh beer on tap from one of the competing countries.