There's been a lot of love shown towards our dining community these past few weeks -- and please, keep it coming -- but we have to remember our bar brethren, too. Everyone from bar managers to the folks cleaning the tap lines are affected by the pandemic right now, facing similar financial and professional uncertainty. As of now, Governor Charlie Baker is still considering adding wine and beer purchases to our restaurant takeout orders -- fingers crossed.
"Allowing beer and wine takeout would be a major help to not going so crazy locked up at home, but also great for businesses," says Brian Moy, owner of Shojo, Ruckus, and BLR. Moy has also launched Chinatown Delivers, offering door-to-door delivery from Teado, New Dong Khanh, and his father's restaurant, China Pearl. "Restaurants have turned to all extremes to keep the revenue stream flowing, like becoming a grocer for deliveries, so why not let us do what we do best and sling some good drinks and dope food?"
Plus, a one-stop order of food and drinks makes for a really easy date night at home while you're self-isolating. In the meantime, here are some of the ways you can still drink local while also funneling needed funds into our local drinking scene.
Order delivery from your favorite wine store
On Monday, Governor Baker confirmed what we already know: liquor stores are essential businesses. And that includes your favorite indie wine shops, from The Urban Grape (which is now accepting text orders!) to Social Wines to Brix. Check in with these or your favorite local wine store, then stock up now to assure your sanity later.
Are you looking at your paltry home bar and wondering what the heck to make of it? Send your dilemma to Naomi Levy, the revered mixologist and beverage director at Better Sorts Social Club. She's taken to Instagram to offer tips for how to make the most of existing ingredients. In return, she asks that you make a donation to her GoFundMe page, where she's raising money for Cambridge and Somerville hospitality workers.
Learn some more cocktails tricks from a Backbar maestro
Sam Treadway doesn't want you to be bored. The Backbar owner has donned an epic tuxedo tee and taken to YouTube to share daily cocktail demos, the better to keep your panic and ennui at bay.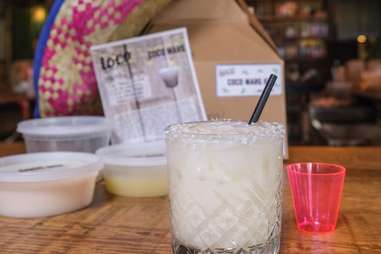 Now this is homeschooling we can get behind. Every Sunday at noon, your favorite wine bar will discuss natural wines from different regions around the world. Send $10 via Venmo and you'll be sent a Zoom link for class. And if you're a learn-by-doing type, order the featured wines ahead of class for pickup or local delivery to Cambridge, Somerville, and Watertown.
If you're anything like us, you miss shooting the shit with your favorite bartender. Maggie Campbell wants to rectify that a bit. The president and head distiller at Privateer Rum in Ipswich is taking to Instagram every Wednesday and Friday at 4pm for an "Ask Me Anything" sesh. And given her myriad skills -- baking, beekeeping, sign language, and of course distilling -- you're sure to learn something.
Visit a brewery curbside
Thank god breweries also fall under the "essential businesses" umbrella. Check out a spot you've never been to before, as more than a dozen across the state are still offering takeaway six-packs and curbside crowlers. Harpoon and Trillium are even offering porch delivery (and Harpoon is including a free pretzel with every drink order). If you're also in search of lunch, spots like Dorchester Brewing and Winter Hill Brewing are offering food takeout, as well.
What will they think of next? On Tuesdays at 8pm, Aeronaut Brewing Company is hosting a virtual trivia night on Zoom, complete with virtual answer sheets. All the brewery suggests is that you stock up beforehand by ordering some cans of beer ahead of time for pickup.
Sign up here for our daily Boston email and be the first to get all the food/drink/fun the Hub has to offer.