Courtesy of Brian Samuels
Fun fact: Bay Staters consume more wine per person than the residents of almost any other state -- a whopping 23 bottles a year each! (Only Vermont and New Hampshire have us beat.) Given this obvious oenophilia, it makes sense that bars devoted to sipping, swilling, and slurping the great grape have been cropping up all over Boston. Here's where the locals go to get some wining with their dining:
Downtown
While the place looks a bit like a gussied-up version of a corporate cafeteria (complete with televisions and angular lighting fixtures), the food is anything but institutional -- the chefs plate everything from fresh sushi to Kobe sliders to bronzed swordfish belly. Wines are served in 2, 6, and 10oz pours and, since Sip's located a stone's throw from the Theater District, it's an ideal place to grab a glass (or two!) before you see Kinky Boots.
Kendall Square
The folks behind popular Cambridge enoteca Central Bottle have created the sexiest wine bar in Boston, complete with mouthwatering meats, exposed brick, good music, and hot people. But Belly has more than just swagger; it boasts a staggering wine list organized by flavor profile and a staff of wine geeks who will happily lead you to a new favorite.
South Boston
If you're looking for classy snacks to pair with that medium-bodied red, this hybrid café/deli/bar peddles sandwiches, charcuterie, and desserts, not to mention cheeses from around the world. (But you probably guessed that from the name.) It's open for every meal, but mostly caters to an after-work crowd who enjoys killing half a bottle while debating which cheese to take home.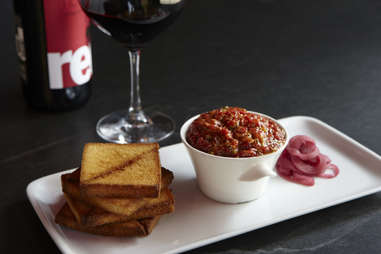 South End
For those who can get past the severe hipness of an expensive South End restaurant resembling an old-timey meat emporium, Barbara Lynch's take on a European butcher shop is worth a taste. The tiny establishment serves house-made charcuterie and a host of wines from Italy, France, Spain, and Australia -- including several proprietary blends -- alongside appetizers that are small, swanky, and best paid for by someone else. While the bottle list is long, there isn't much in the way of hand-holding for the uninitiated, so wine newbies may want to choose from one of the four daily house picks (one each of white, red, rosé, and Madeira). Be warned: Butcher Shop is popular, so seats are scarce. You may end up sipping that summer rosé while leaning on the meat locker.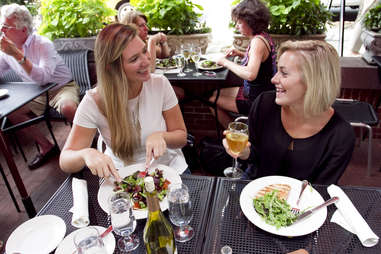 Back Bay
With dozens of wines by the glass and a huge selection of bottles, Piattini's wine list offers something for everyone, from the dedicated wine enthusiast to the friend along for the ride who prefers the chewy tannins and earthy aroma of Charles Shaw. Each wine is accompanied by a card describing its origins, flavor notes, and other facts, making the tapas-style Italian eatery a particularly good place to take less-experienced drinkers who want to sample and learn without derailing your conversation about the Pats.
Leather District
Located near South Station, this French bistro is home to a diverse selection of French and Italian wines, as well as a by-the-glass list featuring more than 50 vinos from around the world. With live jazz Tuesday through Saturday and a gorgeous interior, it's a perfect date location.
Beacon Hill
Beacon Hill is already full of high-end restaurants, so the friendly, chill atmosphere at Bin 26 is refreshing. The staff is knowledgeable without being overbearing, and there's always something different going on: a wine of the day, #bottlesatbrunch every Sunday, tons of local food events, and constantly rotating wine dinners. Nobody's going to judge if you aren't Mr. Wine Expert, either -- the menu even includes a glossary and a pronunciation guide to help you out.
Davis Square
Spoke is just enough off the beaten path that the whiskey-swilling Saloon crowd hasn't discovered it yet, which means it's the least crowded bar in Davis. Don't let that fool you -- the service is excellent and the food (especially dessert) is beyond delicious, making it the best date spot in the area. Also, the unusually well-crafted seasonal cocktails will please even those that aren't interested in popping a bottle.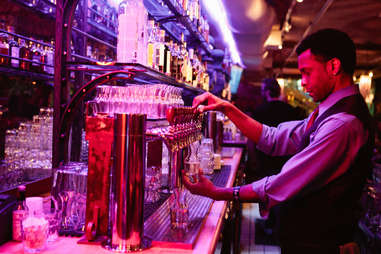 Harvard Square
One of the most notable wine programs in the city belongs to Beat Brasserie (formerly Beat Hotel) in Harvard Square. The trippy '70s-inspired space has 36 all-American wines on tap, many of which are made exclusively for the place. Combine that with craft cocktails and live music in the style of The Beehive, and you've got a funky underground wine bar that'll make you yearn to learn macramé.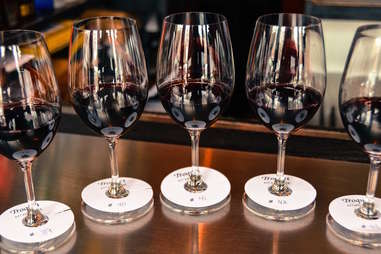 Theater District
OK, so it's not a wine bar per se, but it would be a shame to leave it off our list. This Theater District French restaurant was voted one of America's top 100 wine restaurants for its insane selection and rare vintages. Plus, with a pairing for every dish on the menu, you can't not know what to order. If you're feeling adventurous, try a 2oz taste for just $3.75.
Sign up here for our daily Boston email and be the first to get all the food/drink/fun the Hub has to offer.
Kim Prosise is a Boston-based travel and lifestyle writer whose thinking about drinking is published frequently on Thrillist. Follow her @kimprosise.