Last month, we unveiled our eight favorite outdoor bars across the Hub. Today, we're going all new, ranking the best decks, patios, and places to drink outside that've opened this season. And the list is lengthy, so get ready to clock some solid out of doors time before Summer waves goodbye. Almost New Ok, so these first two squeezed in under the wire at the tail-end of last season, but -- as few folks really got to enjoy them -- we thought they deserved a shout-out in their first full Summer.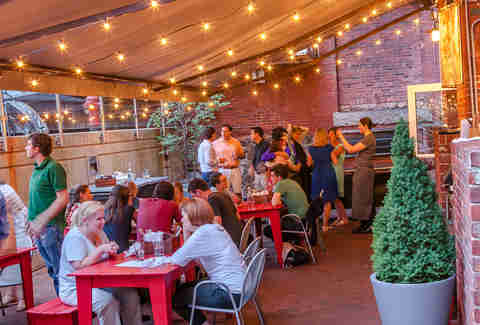 14. Belly Wine Bar
One Kendall Square; Kendall Square; 617.494.0968
Not only can you now enjoy their whole-animal "Arm + A Leg" or fried-chicken dinners on the canopy'd brick patio, but they've also unveiled a Summertime-fun, tiki-styled daiquiri stand serving Plantation rums on Wednesday and Thursday nights.
13. 75 on Liberty Wharf
220 Northern Ave; Seaport/South Boston; 617.227.0754
Because few things beat an evening spent drinking on the water, soak in scenic harbor views (and an assortment of organic booze) in this new Seaport space.

Brand Spanking New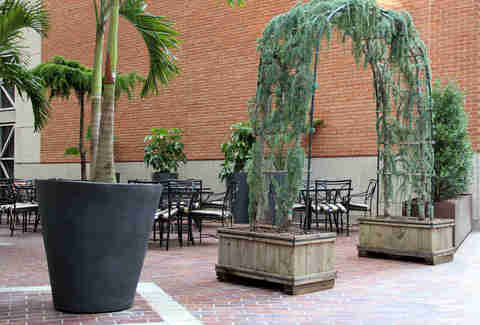 12. Society on High
99 High St; Financial District; 857.350.4555
If not for the fact that it's actually still not open, the palm-tree decked patio at Society on High would be a lot higher on the list. There's going to be sand. A raw bar. Bartenders slinging frozen drinks. Movie projections on the brick wall. Again, illuminated palm trees. Come on, Department of whoever needs to sign off to make this happen: pull it together.
11. MJ O'Connor's Waterfront
425 Summer St; Seaport/South Boston; 617.443.0800
Sure, it's not technically on the water, but at least you'll never have to leave the final day of the International World Extreme Medicine Conference & EXPO without saying goodbye to new friends over a frosty beer outside.
10. The Independent
75 Union Square; Union Square; 617.440.6022
It is entirely possible that this popular Somerville pub built a handsome foliage-lined wooden deck in the parking lot in response to the just-opened Bronwyn biergarten across the alley. Or it could have been in the plan for years. Who knows? Either way, it's a good-looking space.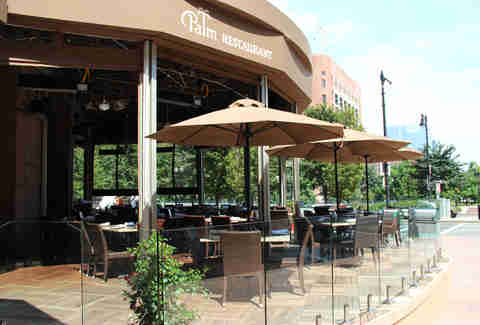 9. The Palm
One International Place; Financial District; 617.867.9292
Enjoy the sun. Enjoy the shade. It's your choice on this versatile, glass-enclosed & teak-floored patio that boasts retractable walls and overlooks the Greenway's Urban Arboretum.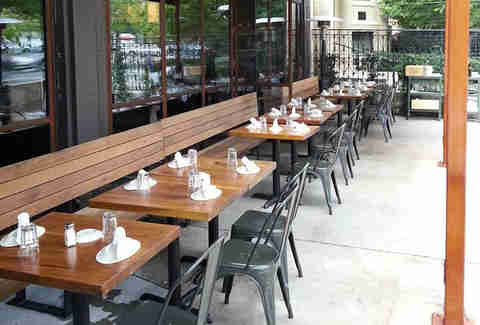 8. Barcelona Wine Bar
1700 Beacon St; Brookline; 617.264.8900
Pretend you're dining on Las Ramblas and not on Beacon St (not that there's anything wrong with Beacon St) as you take down tasty tapas and sangria on what's billed as Brookline's biggest patio.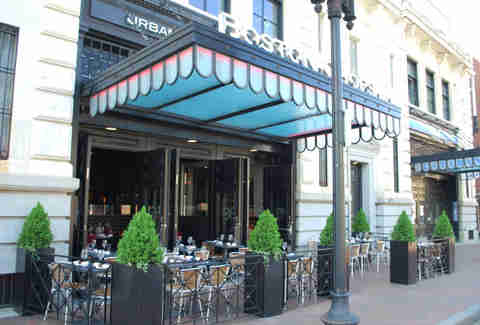 7. Boston Chops
1375 Washington St; South End; 617.227.5011
After nodding approvingly at the slick interior of this sexy South End steakhouse, have a seat outside and enjoy their 22oz bone-in ribeye under the stars.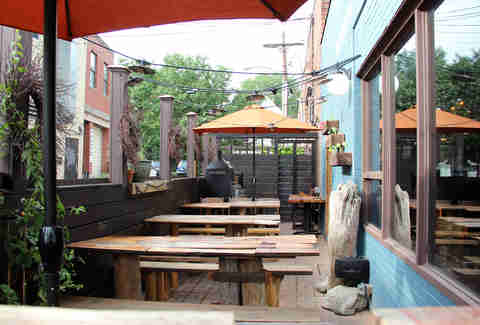 6. Bronwyn
255 Washington St; Union Square; 617.776.9900
And now the aforementioned Bavarian-style biergarten in Union Square, where you can enjoy wurst, wine, and pints of Polish pilsner whilst comfortably settled on benches made of reclaimed driftwood from Maine.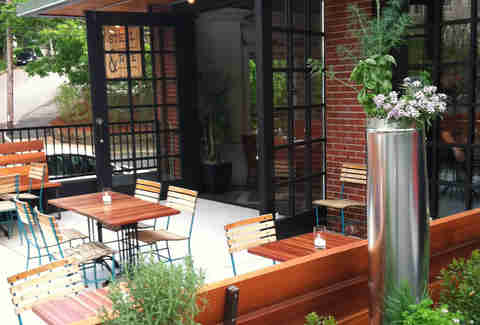 5. Steel & Rye
95 Eliot St; Milton; 617.690.2787
Worth the short Red Line trip to Lower Mills (you get to ride the high-speed trolley!!), this bar and kitchen built into an old garage has unveiled a beautiful 25-seater on which you can enjoy Chef Parson's Colorado lamb meatballs and Bar Harbor mussels w/ smoked tomato and chorizo.
4. Rooftop at the Revere
200 Stuart St; Theatre District; 617.482.1800
Billed as an "urban oasis and chic lounge" on the Revere Hotel's seventh-floor pool deck, this much-needed rooftop space boasts scenic city views, rentable cabanas, and a nine-seat bar, not to mention imposing flower pots and a small-bites menu complete with lobster roll sliders.
3. Cinquecento
500 Harrison Ave; South End; 617.338.9500
A bottle of red. A bottle of white. Why not knock back one of each, along with some charcuterie and antipasti, while enjoying the tree-covered shade of this South End Italian spot's intimate new patio?
2. Sterling's
60 State St; Faneuil Hall; 617.531.8200
Escape the throngs of tourists watching Kilted Colin perform next to Samuel Adams as you sip '60s-style cocktails on this massive, 41-table, brick patio perched above Faneuil Hall that rocks an exclusive 20-seat bar.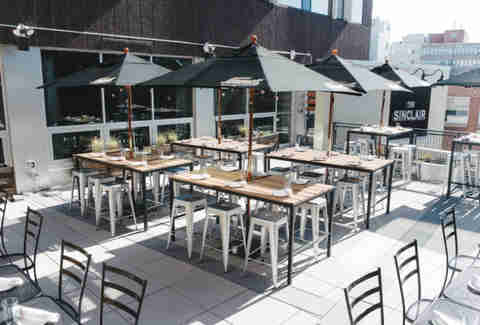 1. The Sinclair
52 Church St; Harvard Square; 617.547.5200
And finally, nestled atop a sun-soaked roofdeck that's overlooked by jealous desk jockeys trapped in their offices, this outdoor oasis tucked away from the masses offers sunset views and shaded high tops, not to mention tasty 'tails like the Kentucky Luau (bourbon, pineapple-cinnamon gomme, Peychaud's/Angostura bitters) to be enjoyed before the big Gold Panda show.