Connie Miller/Russell House Tavern
Connie Miller/Russell House Tavern
We already told you about some of the best spring beers in Boston. But what good is that if we don't tell you where to find them? Rather than sitting around adding entries to your beer journal (we actually have a bar that'll do that for you), or waxing your hip-beyond-hip moustache (no bar can help you do that), you should meet up with some folks who wouldn't be caught dead chugging a Pabst and head out to one of these great beer bars in and around Beantown.
Allston
Don't let the fratty décor drive you away: this place has, hands down, the biggest and best beer selection in the city proper. With 113 taps and 380 different bottles and cans, you're bound to discover something new and different to pair with that heaping pile of pork nachos you're definitely going to order. Plus, there's always a ton of cider and mead (try the African one) for the non-beer crowd.
Allston
Lulu's brew menu isn't as enormous as our other favorite Allston beer place (Sunset), but it's very well curated. The 100% domestic craft drafts reign supreme here, but it does have bottles for your Guinness-loving friends. Right now, there are more than 20 hoppy beers on the menu, a few lagers & wheats, and a robust selection of ales. The bar bites (specifically those soft pretzels with a grapefruit IPA mustard and cheese sauce), burgers, and desserts (the Smore's Tart has chocolate stout mousse in it!) are also essential for a good order. This is the kind of place that's low-key enough for watching the game, but nice enough for a night out.

Brookline
Publick House's accolades are too many to name, so we're just going to say the beer is top-notch and the food is excellent (or we wouldn't be talking about it). Drafts are an even mix of Belgians and local craft beers, with a few oddities thrown in (think: Kiuchi, Dieu du Ciel!, or the occasional Flemish sour). Whether you're looking for an eisbock, geuze, sweet stout, or this summer's best "lawnmower beer," you can find a quintessential example on the bottle list. Make sure to arrive early or you'll never get a table. If you do, you should order the mac & cheese and the moules frites, which are drenched in one of four different beers.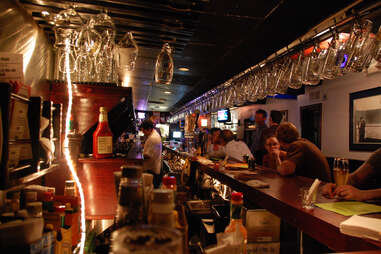 Inman Square/Back Bay
Named after Charles Bukowski, a man some people consider to be America's sleaziest author/poet, this bar is not a 300 hangovers kind of place... unless you get the hobo special: a 40oz of your choice in a paper bag with a hog dog. Then it kind of is. The rest of the time, it's a perfectly respectable gastropub with a knowledgeable staff that offers up creative beer snacks and burgers (seriously, peanut butter on a burger??). Drafts rotate constantly, though you can always count on a hyper-local selection.
Harvard Square
Russell House is a great all-purpose restaurant with a solid beer program. Each of the 13 taps represents a local craft brewery, and most are rotating, with two dedicated to interesting nitro and cask selections. The fresh-obsessed will be happy to know that a brand new cask is tapped every Thursday at 5pm in time for the weekend. In addition to an extensive bottle list, the restaurant also serves growlers of hard-to-find beer. Be sure to stick around until 11pm when oysters are $1 each.
Cambridge
Lord Hobo is a beer bar through and through, with over 30 unique bottles and an enviable draft list that includes everything from the Lord Hobo brewery in Woburn, plus a wide array of microbrews from across the US. Rotation is so frequent that extremely rare beers crop up on tap every now and then, and the staff is very good about steering customers towards the ones they'll love (the menu includes full descriptions of each beer, too). This place has a great neighborhood vibe, and the fact that the pub food is reliably un-boring also makes it a must try. Go for the Hobo Chili, which is made with steak, pork, confit, and veal.
Kenmore Square
Just a stone's throw from Fenway, this underground (cash only!) temple of beer geekery keeps track of everything you drink so you never have to break out the beer journal. Why do the bartenders keep track? Because, if you manage to make it through the 30 taps and over 150 bottles, you get your own congratulatory mug. Gimmicky? Maybe. But with nine Flemish sours on the menu, the beer list certainly isn't.

Downtown
Brian Poe's exotic chop house is best known for its kangaroo steaks and rattlesnake dishes. But with 46 craft taps and 50 different bottles to choose from, it's also one of the top beer bars in town. The classic dark wood interior and thoughtful cocktails make it perfect for anything from brunch with grandma to a pretty serious date.
Downtown
One thing Downtown needs is more decent watering holes, and Stoddard's certainly delivers. Walking in the door feels like stepping on to the set of a film noir, complete with a dark wood bar, stainless steel taps, and vintage furniture. The selection includes 25 rotating casks and drafts and over 90 craft bottles both domestic and international. It has a perfect pub atmosphere, and the kegs to back it up.
Sign up here for our daily Boston email and be the first to get all the food/drink/fun the Hub has to offer.
Kim Prosise is a Boston-based travel and lifestyle writer. The last draft she drank was Lost Abbey Angel's Share. Follow her on the Twitter machine @kimprosise.