St. Patrick's Day is to Boston what Mardi Gras is to New Orleans: a no-holds-barred, citywide party. But how should you spend said day of reckless Irish (and faux-Irish) enchantment and ballyhoo? From singing along to Dropkick Murphys at your favorite local spot, reading some Joyce over a quiet pint, or even just quoting Boondock Saints while some chick wearing a "Kiss Me, I'm Irish" bra sprinkles green glitter on all the recently laundered stuff you own, you can't go wrong with one of these great Irish pubs.
Cambridge
The name says it all: during the week, this dark brick, bookshelf-lined pub is on the quieter end, hosting trivia night and regulars hoping to catch some of whatever game is airing. On the weekends, it turns into a party spot, with all 11 TVs on and a low roar reverberating through the room. The hearty pub food is exactly what you might expect, with a few offbeat options, like the kale potstickers with mango habanero dipping sauce, or spicy Scholar mussels.
Jamaica Plain
Named after an Irish playwright, the Behan is in many ways the bare minimum: no kitchen, no TVs, no schmancy cocktails. Meals are BYO, which turns some people off, but we're OK with that. While the bar occasionally hosts live Irish music and local bands, we love it, because it's not about watching what's going on around you so much as having a great conversation over a beautiful black Guinness.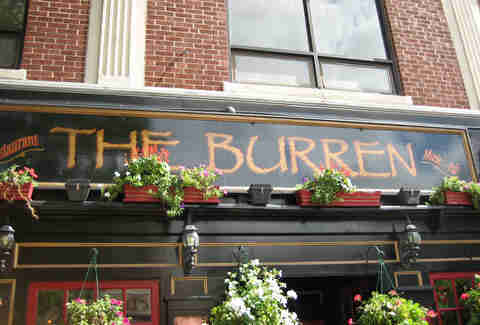 Davis Square
The Burren made our list of 10 bars you're not allowed in after you turn 30 (which is a shame because it's a great place, when it isn't infested with Tufts students). St. Paddy's Day, however, is arguably an exception. The pub was originally opened by a pair of musicians and features live music more often than not, including some traditionally Gaelic bands. The menu houses Irish mainstays like Guinness beef stew, bangers & mash, fish & chips, and shepherd's pie. On weekends, you can get a full Irish breakfast during brunch (including all the requisite rashers, sausage, pudding, and beans). All this has made The Burren pretty popular, which has resulted in it becoming less of a pub and more of a party spot: perfect if you're looking to kick it with the sparkly shamrock antennae kind of crowd.
Jamaica Plain
Doyle's is the place that has inspired the "iconic" Boston pub scene. It's been around since 1882, during which time so many film crews, politicians, and St. Paddy's Day revelers have left their mark on the place that it almost feels like stepping into a time machine. The vehemently local pub pours Irish imports, microbrews, and the newest releases from the Sam Adams brewery located next door. It's a part of Boston drinking culture you don't want to miss.
Dorchester
Like Doyle's, this Dorchie hangout is steeped in history. It's not actually a "gentlemen's bar," as it says on the sign, but the patrons are still mostly older guys looking to unwind after work. It's basically where your grandpa goes to get a $1 hot dog and a dark pint. Actually, more than any other reason, that's what makes it authentic. It's also where President Clinton kind of danced on a bar and where Mark Wahlberg hung out before he got famous.
South End
Another ancient Bostonian institution, Foley's has a Downtown location in addition to the 1909 South End original. It's a pretty chill spot that doesn't have any one particular kind of patron: everybody goes there, or has been there, or will go there eventually. Guinness is the first thing on the beer list and is what 90% of people order, but there are also a couple more Irish beers and a small selection from East Coast breweries, perfect to wash down your Foley Fireballs (aka deep-fried macaroni with spicy cheese sauce and ranch dip). There's also corned beef and Irish pudding on the regular.
Central Square
More raucous than traditional, Phoenix Landing is where you go to watch the game (any game) or kill some time before heading to the club. The happy hour food is a great deal, and the sports bar/dance club vibe makes it one of the most popular pubs in town. If you're willing to brave the line, you can snag a seat on the patio in the summertime or relax with one of many excellent drafts. St. Paddy's Day here is guaranteed to be a line-out-the-door, high-energy, Murphys-sing-along experience (minus the awful green beer). So break out your shamrock sunglasses and prepare for a crazy good time.
Downtown
This super-old-school pub is chock-full of patriotic Irish swag and features live music every single night. The food is on the pricier side, but it's worth it to sit by a fireplace and devour some Guinness beef stew while your friends misguidedly sing "Sweet Caroline" for the 18th time. Besides, you can always drag them back in the morning for an Irish breakfast.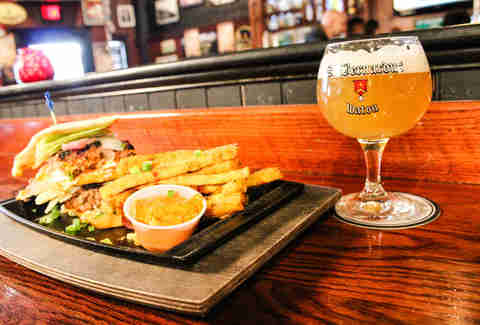 Somerville
This, the most hipster of Boston's Irish pubs, goes way beyond Guinness. The extensive selection of tap beers and cask ales are each served in their own very specific glasses, which means everyone can tell what you're drinking and thus judge you for it. (No, we're kidding: they're actually watching the game -- and that could literally be anything from the Pats to Australian rugby.) This place has something different every day: 25-cent wings on Mondays, Trivia Tuesdays, and Fish and Chips Fridays. Try the short rib poutine, wicked chili, or the Death Wish burger for pub food that's a little different than what you're used to.
Inman Square
A crowd favorite for its Irish staff and all around coziness, The Druid is one of Boston's best spots every weekend. It is often home to barflies from every community and age range, making it one of the safest bets around town. The "Voted Best Fish and Chips" are probably the most popular menu item. On St. Patrick's Day, it blows up faster than you can say "Kiss Me, I'm Irish" -- so get there early.
Longwood
Most pubs stick to beef stew and fish & chips, but Squealing Pig has made a name for itself by branching out. The seasonal Cape Cod fish fry, various curries, and organic pig burger with gorgonzola are just some of the things you should try, along with a pint from the specially curated draft list. It's not exactly a traditional place, but it's definitely a great one if you want to grab a bite and hang out.
Central Square
The Plough and Stars is a no-nonsense little pub that serves some of the best bar food in the area -- even if it's a little on the pricey side. It's good for a solo Guinness but also nice enough for a date. Plus, there's live music pretty much every night... so you'll have plenty to do if you don't actually want to talk to each other.
Harvard Square
At nearly 20 years old, Grafton definitely holds its own against the Hub's other establishments. It's just a stone's throw from The Wrong Kong but, thankfully, couldn't be more different. Named after a cobblestoned street in Dublin's famous Temple Bar area, Grafton is a really modern pub that gets its Irish chops largely from its bartender, Emerald Isle native Paul Barry. He claims to pour the "perfect pint" of Guinness and has put together a pretty robust menu of Irish whiskeys. This, in addition to a rather appealing cocktail list, makes Grafton a popular hangout among local 20-somethings and the theater-going weekend crowd.
Sign up here for our daily Boston email and be the first to get all the food/drink/fun the Hub has to offer.
Kim Prosise is a Boston-based travel and lifestyle writer who is Irish enough to know what she's talking about. Follow her on Twitter at @kimprosise.