Now that St. Paddy's has come and gone, it's time to pack up the sweaters and the Guinness and start admitting that it's actually spring. And seeing as there's no pile of snow sitting in the harbor, we're pretty much ready to break out the lawn chairs. So here are all the best local brews to help you welcome in the warm weather.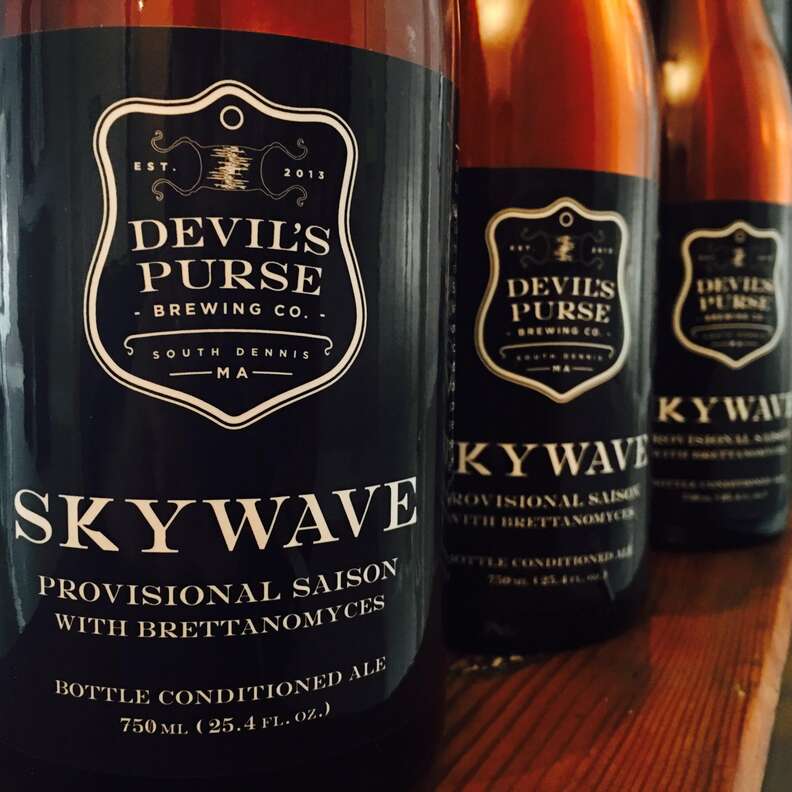 Franco-Belgian saison, 6.2%
South Dennis
The first bottle release of Cape Cod's newest brewery absolutely does not disappoint. While Devil's Purse has made a number of beers so far, including an IPA, kölsch, English ale, and several limited editions, this one is a strong option for fans of the saison style. It's complicated, original, and definitely worth a try. Unfortunately, it's only in bottles, and those bottles are $20. If you want anything else from the super-microbrewery, you'll have to trek out to its Cape Cod tasting room.

Farmhouse ale, 7.3%
Boston
The three-year-old Trillium brewery is known for its extremely small batch pale ales (each of which is named after a Boston street). Free Rise saison is something else altogether, a blended farmhouse ale featuring locally sourced wheat from Valley Malt that produces a strong grain flavor with a spicy, dry finish. Light-bodied yet complex, this beer is the perfect choice for the temperamental New England spring. It's not the easiest to find, so we suggest you use the website's helpful "where to find our beer" list.

German-style pilsner, 5.1%
Framingham
Brewed with all German malts and European noble hops, Sunny Ridge actually sort of looks like sunshine. It's a bright beer that's both bold and easy to drink, with barley and golden hops as the primary notes, and a finish on the drier side. It's named after the neighborhood that brewery owners Jack, Eric, and Sam Hendler grew up in. Expect it in April throughout the Boston area.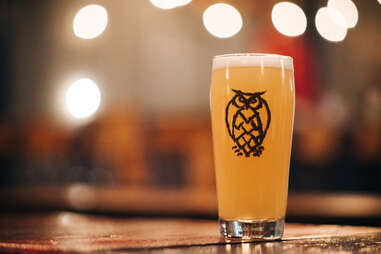 German-style hefeweizen, 5.5%
Everett
Recently released in printed cans, this Bavarian-inspired hefe is an easy-drinking experience for the warm weather. It's a solid, refreshing wheat beer that's more spring than winter, with a good balance of fruit notes and spice. Find it on tap at restaurants and bars throughout Boston and the Greater Boston area.

Farmhouse pale ale, 6%
Newcastle, ME
Although it isn't "new" by any means, Oxbow's flagship brew just became available in Boston three months ago. It's a great example of a springtime farmhouse ale, brewed with American hops and striking a great balance between refreshing and dry. We know it's available at Row 34, Deep Ellum, and The Publick House.

Pale ale, 5%
Boston
When I heard about Harpoon's new mango beer, I was pretty skeptical. Apparently, so were half the people who actually work there. "We held an all-company meeting where everyone drank this beer and only this beer," the head brewer told me. "People converted immediately. There's enough fruit at the beginning, but there's nothing sugary or cloying about it -- you can easily have a few cans." A taste test confirmed that Wannamango is a fairly light, balanced beer with a hint of mango up front -- and not the spring-break-no-rules sugar bomb you might expect. As of April 1st, you can find it on draft at Gather and other nearby restaurants, or in cans throughout the city.
Farmhouse ale, 5.5%
Chelsea
Noble hops are big for New England spring, and Mary of the Gael is a solid Noble hop-based farmhouse ale. It's less bitter than you might expect from a farmhouse ale and more on the sweeter, grassier side, so it's a great introduction to the genre if you're not into funkier, less filtered varieties. Expect it around town in April.

Double IPA, 8.1%
Shelburne, VT
"That really good IPA from Vermont" is pretty tough to get your hands on in Boston, but we promise it IS possible. The bright, hoppy favorite is particularly clean and citrusy, perfect for spring. Starting this season, cans will be available for purchase at the brewery as well as at the Beeradvocate Microbrew Invitational in Boston on June 3rd. Plus, you can feel good about your drinking habits when the brewery donates 25% of Mastermind's sales to the Vermont Children's Hospital (last year they made over $45,000). So go ahead and stock up.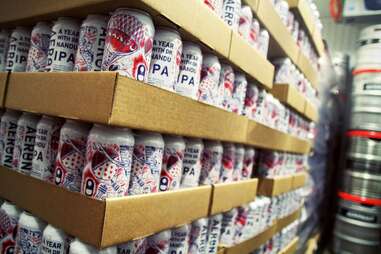 IPA, 6.2%
Somerville
If you're an Aeronaut fan, you'll be pleased to hear that 2015's one-year anniversary beer is getting a legit production run this spring. Soon you'll be able to find the bold, off-beat IPA in 16oz cans all over the Boston metro area. But if Nandu is for you, we recommend getting it at the brewery -- there's always something interesting going on (it's co-owner Ben Holmes' mission to provide a platform for Somerville creatives), and in the warmer months, you'll see live music on the regular. The company will also be showing off Aeronaut Labs, its very own yeast research and growing facility.

Double IPA, 8.5%
Henniker, NH
Henniker's baseball-season beer is different each spring, as it's made with whatever hops the brewery deems most interesting that year. This makes it a highly sought-after brew and one of the company's best sellers. This year the double dry-hopped IPA features a blend of New Zealand's Motueka, Australia's Galaxy, and US-grown Citra and Idaho 7 hops. Really all you need to know is that this beer is huge, bright, and perfect for warm weather, with notes of citrus, passion fruit, and apricot. It is available in 22oz bottles and on draft across NH, MA, and ME. (FYI: the D.H. in the name stands for three different things: "different hops," "dry-hopped," and "designated hitter.")

Gose, 4.5%
Boston
Created for runners and their fans, 26.2 is specifically designed to be refreshing (and it very much is). It only comes out around the time of the Boston Marathon and is available at the brewery, along the marathon route, and at Boston Marathon events. The beer's low alcohol content and light body make it a perfect substitute for Gatorade... if Gatorade is, you know, not alcoholic enough for you. Plus, all the profits get donated to the Greg Hill Foundation, which supports survivors of the 2013 marathon bombings and their families. 2016 marks the beer's fifth anniversary, and the marathon's 120th.
Sign up here for our daily Boston email and be the first to get all the food/drink/fun the Hub has to offer.
Kim Prosise is a travel and lifestyle writer who never thought she'd drink a mango beer in a bazillion years. Follow her on Twitter and Instagram @kimprosise.