The Weekend Playbook: A glorious crawfish boil and a tribute stout for a fallen police officer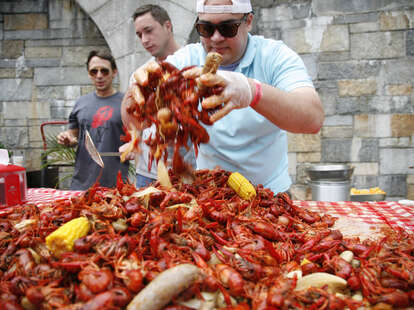 Event of the Week: Saturday at 2p on Pier 4 at the Charlestown Navy Yard, help raise cash for multiple myeloma cancer by taking down hundreds of pounds of crawdads (or as many pounds as you are physically capable), drinking free-flowing Sam Adams (plus mint juleps & sweet-tea vodka 'tails), and soaking in the sun whilst rocking out to live tunes at the first-ever-in-Boston Crawfish for Cancer Boil. All-inclusive tickets are almost gone
Three other events you should probably book early...
Hosted by Red Sox pitchers Craig Breslow and Andrew Bailey on June 24th at Brookline's Alden Castle, Sip Happens is a gourmet wine/food soiree where you'll hobnob with local sports stars while helping to raise money for childhood cancer research. Seriously, the more Jerry Remy talks about this on air, the less likely you are to get a ticket
The dudes at Bully Boy are at it again, unveiling their premium, aged, dark "Boston Rum" Thursday, June 20th, at Trade. A ticket gets you seasonal small bites, rum samples, and a specialty cocktail.
Northern Alliance Dinner. Pitting the US a-GAIN-st Canada in a mildly competitive (but totally friendly, eh?) culinary affair, this epic pop-up goes down June 23rd at JM Curley and boasts 10 top chefs from two great nations (including Matt Jennings, Jamie Bissonnette, Rob Gentile) plating five collaborative courses with beverage pairings. No booing when they play "O Canada".
Dad's Day gift idea...Looking for a last-minute gift for Pops? Does he enjoy watching golf? Yes, to both? Well you're in luck, as the Deutsche Bank Championship is rocking a special Dad's Day package that includes ground passes and food vouchers, and is only on sale until June 17th
And now, back to our regularly scheduled programming:
Thursday, June 13thFor a VERY limited time (as in maybe a week, tops) starting at 5p, the Cambridge Brewing Company will be honoring slain MIT police officer Sean Collier by releasing a special Irish stout they've been brewing in his name. All the proceeds go to charity
The Brattle Theater's weeklong celebration of Quentin, dubbed the Tarantino Chronicles, culminates Thursday night when they'll be showing Django Unchained. Join other aspiring film buffs
Did you know that Southie's popular Lincoln Tavern & Restaurant has recently debuted lunch service? Well, they have. And you should check it out
Friday, June 14thChefs in Shorts. Yep, it's that time of year again, when the Hub's top chefs don their finest business jorts while firing up the grills at this "outdoor, summer-in-the-city barbecue". You know it's going to sell out.
We've been telling you about this for over a week now, and, well, it's finally here: The Hyper-Local Craft Brewfest. Thirty-plus New England beers, homebrewers sharing their suds, smoked meat from Vermont. How have you not already bought a ticket?
Saturday, June 15thWant to escape to the Cape this weekend? Don't have a family house at which to crash? Not to worry. Fresh off of last years' $15 million makeover, the definitely-not-Ryan Sea Crest Beach Hotel in Falmouth is still rocking their Spring Bed & Breakfast package. You can even get there on the new CapeFlyer.
Sunday, June 16thBooze, pork, cigars, reggae... ahhh, all of Dad's favorites. Which is why you should bring him to the Liberty Hotel's annual Father's Day Pig Roast in the courtyard, where he can jam out on the steel drums while enjoying a hand-rolled cigar, bourbon cocktail, and as much roasted swine as he can take down. Reserve your spots today
Subtly tell Father that he didn't raise you properly, under the guise of some good old-fashioned Father-Son bonding, by taking him to Ball and Buck's "Teach Him Something" Dad's Day event, where, for $10, you'll both learn to shuck oysters from Island Creek, taste four small-batch whiskeys, make the perfect cocktail, and tie a bowtie. Space is going to be limited
Headed to see Dad but still don't have a gift? Well, detour your slacker self to the nearest packie and grab a case of of Narragansett, which, through Sunday, is accompanied by their annual limited-edition Father's Day neck tie. Consider yourself covered
Monday, June 17thAssuming Dad was out of town on Sunday, bring him instead to Monday night's Blue Collar BBQ at Biltmore, where you'll take down baby-back ribs, battered & deep-fried burgers topped w/ pimento cheese, and bacon-beer-brittled ice cream sammies, all of which're paired with your favorite suds. Make sure they're holding your table
Tuesday, June 18thHeard about Faneuil Hall's impending Frost Ice Bar? No? It's made ENTIRELY OUT OF ICE!?? Still no? Well, it's opening next month, so don't put your Canada Goose in storage just yet. And to get you psyched, they're throwing a party on the patio at Sterling's on Tuesday at 5p, where they'll be serving small bites and sampling some of their soon-to-be-unveiled signature cocktails. You will not get in without RSVPing, just so you know
If it's the second Tuesday of the month, you know what that means... time for the Teaseday Club, a "rollicking showcase chock full of the best burlesque, vaudeville variety, and outlandish foolishness in Boston" held at the Davis Square Theater. Don't miss it
Wednesday, June 19thDo you enjoy eating half-price apps while playing trivia & Call of Duty for prizes? Well, then consider The Place your new after-work hump day hangout, 'cause that's what they're doing there on Wednesdays now: Game Night. What other video games can you dominate? Find out here
A list of new openings to hang on your refrigerator...
Fresh off two successful years serving authentic Mexican eats to the South End, Shawmut Ave's popular El Centro is branching out, opening a second outpost this weekend at 236 Washington St in Brookline Village. Get excited
And, speaking of Mexican food... and second spots... and Brookline, Amherst's Mission Cantina has migrated East; they're opening a sophomore joint in the former Beacon Street Tavern at 1032 Beacon St. You should go there this weekend
Bringing even more highly sought-after ramen to the Hub, Inaka Japanese Restaurant is now serving in the former Madina Market at 72 Brighton Ave in Allston.