Meat pies, free burgers & lobster bakes. Oh, and 600 beers.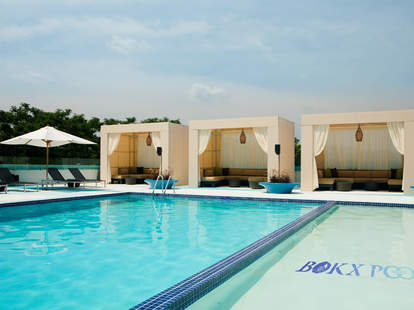 Event of the Week 640 craft beers. 140 American brewers. Three sessions. And, amazingly, a few tickets still available for this weekend's sixth annual American Craft Beer Fest at the Seaport. Don't get stuck drinking on the outside
Thursday, May 30th Help Via Matta officially ring in the patio season at their FREE outdoor party Thursday night, where, just for showing up, you'll be rewarded w/ gratis mini burgers, sausage sammies, $5 Peroni draughts, and "sweet beats" from DJ Knife. Plan on being there
Friday, May 31st Back on Fridays only, Hungry Mother is slinging their popular Lexington, NC-style BBQ pulled-pork sandwiches at lunch. Go early, or take your chances
While renovations continue to Boylston Street's Forum, their new chef is testing out dishes Friday night at sister spot Noche in the South End. Get your tickets before they're gone
Saturday, June 1st No beach this weekend? No problem. Grab your sunscreen and finest floppy hat and hit Hotel Indigo's cabana-lined BOKX pool deck, fresh off a makeover and ready for action
Or cruise down to the Charles and take down street eats while rocking out to live tunes at this year's Cambridge River Fest.
Assuming you'd rather beat the heat drinking indoors and learning about craft beer (!!), spend the afternoon on a chauffeured, three-stop suds expedition about town with New England Brewery Tours. Book your spot now
Sunday, June 2nd Do you fancy yourself an aficionado of fine antique cars? Can you see a Corvette and tell exactly what year it was made? Well, then consider the next two Sundays on your calendar booked, as Brookline's Larz Anderson Auto Museum is hosting a couple of clearly-up-your-alley antique and Corvette shows. Rev your engine?
As you'll no doubt be stopping by the Watertown Mall's Target at some point this weekend, best make it Sunday from 2-3p so you can score free mini burgers at Friendly's celebrity-hosted Burger Bash.
Why bring Ice House to your big weekend cook-out when you can arrive toting just-now-available-on-the-East-Coast suds from Utah's Wasatch (Ghostrider White IPA, The Devastator Double Bock, Polygamy Porter) and Squatters' IPA and Hop Rising. But wait: "Where can I buy them?" you ask?
Six artists, six chefs, one canvas. Don't miss Sunday's CREATE 2, where Hub chefs -- including Michael Scelfo, Alex Crabb, and Jason Cheek -- will prepare dishes "based on the subject matter of six local artists". Get in on all the artsy culinary action, here
Monday, June 3rd Show how much you love bicycles, and cycling, and pedal power, and whatnot, Monday night from 5-9p at Redbones, where they'll be throwing their 17th annual Bike Party complete w/ BBQ sandwiches, beer, and raffle prizes, not to mention bicycle valet parking, of course.
Tuesday, June 4th Yup, it's that time of year again: three days of all-you-can-eat ice cream at the Jimmy Fund's Scooper Bowl. Get your tix now
Wednesday, June 5th Love lobster? Beer? Donating to charity? Well, then spend a festive Wednesday evening on Spectacle Island at the Summer Shack's Spectacular Lobsterbake and enjoy all three of those things. The details and tickets are tucked behind this link
New Openings Some important openings you should know about. Consider yourself informed
 
And right around the corner in the recently renovated Boxer Hotel, Finch: a new bar-eatery boasting communal farmhouse tables, lobster mac n' cheese, and a Dirty Bird martini w/ whiskey sour pickle brine.
Soft-opening this week: popular Asian-food truck Momogoose has gone brick and mortar right outside South Station at 89 South St. Stop by.
Central Square's popular purveyor of "Mexican Soul Food", Beantown Taqueria, has already expanded. Check out their second patio-fronted outpost on Western Ave.
And, speaking of Mexican food, Amelia's Taqueria is now slinging burritos, tortas, and tacos in Allston's former Grill Station and Indian Dhaba, at 180 Brighton Ave.