Patio pig roasts, two-buck shucks, and a first-ever food truck festival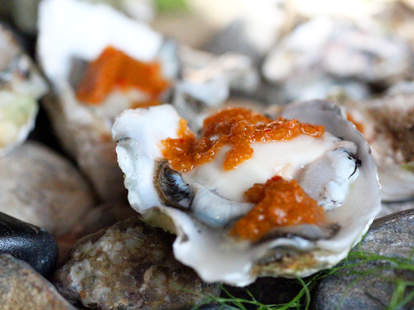 Event of the Week: Why trek around town trying to catch your favorite mobile eateries when you can hit 20 of them all at once in Kendall Square, Saturday afternoon at the first (!)... ever (!)... Cambridge Food Truck Festival? Score your all-access tix in advance and save some cash
Thursday, June 6th Kick back on the patio at Battery Park Bar & Lounge tonight from 6-9p and enjoy two buck shucks as they kick off their inaugural Oyster Thursdays. Make a note in your calendar book.
Tonight at the Sinclair, partake of gratis bites, cheap cocktails, and scantily-clad ladies doing that burlesque dancing while helping raise $$$ for charity at the final DrinkOne for Boston Strong fundraiser. Don't get shut out at the door, snag your ticket here.
If you tasted three cups of coffee, could you tell which one was different from the others? You could? Well, then head immediately to Union Square's Counter Culture Coffee and enter tonight's Cup Tasters Challenge, where you can win fabulous prizes, while helping the city of Boston hold on to its Challenge title belt. Have you no Hub pride?
Friday, June 7th The ICA's First Fridays are back, kicking off this week with a Summer Block Party on the water that includes mini golf, DJs, and, for the first time, a pop-up Island Creek Oyster bar. Don's miss it.
Just so you know, the bar at Beacon St's Taberna de Haro is now serving tapas and bocatas until midnight on the weekends through September. New later hours so that you don't drink on an empty stomach.
Saturday, June 8th Because every year you say, "You know, we should really go down to the Charles and watch them race boats that don't necessarily look like dragons", this is your chance to finally do it, as the Dragon Boat Festival is paddling by this weekend.
Sure you watch it every week for the nudity, but how much do you really know about Game of Thrones? Find out Saturday at 5p at Tommy Doyle's Harvard Square for this epic, first-time "Fire Cannot Kill A Quizmaster, All-Game of Thrones Quiz". Rules, prizes, RSVP... it's all here
Do you enjoy spending your Saturdays participating in crazy Amazing Race-like urban adventure scavenger hunts that involve wearing costumes, solving clues, and drinking beer? Did you just respond that question with a "duh"? Well, pay attention 'cause there are two going down this weekend, the 24hr Common Boston Challenge and CitySolve's Urban Race.
Sunday, June 9th In case you're looking for a new Sunday brunch spot, Back Bay's Bar 10 would like to throw its name into your hat, as they've just unveiled weekend "brunch bites" and bloody Marys.
TICO's following up on its successful Cinco de Mayo pig roast with, yes, another all-you-can-eat porchetta patio throwdown, kicking off at 2p and complete with "tastings from Harpoon Beer, Patron tequila giveaways, and Summer beats from DJ Jaz". Consider your Sunday now booked
Due to popular demand, the just-opened Rooftop @ Revere pool deck and bar is already extending its hours, opening to non-hotel guests on the weekends at 1130a. Be one of those guests
Monday, June 10th If you enjoy eating two, 10-inch, three-topping pizzas while toting a beer in each hand, all for $20, then spend your Monday night at Ristorante Olivio, because that's the deal they're offering.
Because you love bourbon and you love BBQ, roll up to Tremont 647 Monday night for their three-course, family-style BBQ dinner complete with bacon steak and blackened catfish. Call for a spot
Tuesday, June 11th Looking for an old church in which to kick back after work and drink beer? In case you missed it, Centre Street Sanctuary is now open.
And speaking of suds, The Boston Beer Company's mustachioed spinoff craft brew venture, The Traveler Beer Company, is now pouring their various takes on the Summer Shandy about the Hub. Find out where you can score a sixer of their Curious, Tenacious, or Time Traveler Shandys, right here.
Wednesday, June 12th Ring in hump day right, at Bella Luna's Summer MASS CRAFTACULAR outdoor pig roast and local beer tasting on the patio from 7-9p. You'll need a ticket
Or drop by the South End's BoMA instead, where they've unveiled both a new executive chef and Spring dinner menu. Check it out...
New openings... that you should know about:
Uber popular Chilean sandwich shop Chacarero has opened an outpost in the Pru. Get the details
Assuming you can't get enough of Fenway's Hong Kong Cafe and happen to live near Coolidge Corner, well consider yourself in luck as they just opened a second spot at 1391 Beacon St. Stop by tonight