The Weekend Playbook: All-you-can-eat sushi and driving a Lamborghini
Event of the Week This weekend at Thompson International Speedway, trade in the keys to your '98 Chevy Galant and jump behind the wheel of a high-speed Ferrari 360 Modena or Lamborghini Gallardo Spyder, as Circuit One is offering drivers the chance to tear it up on a real Grand Prix Autocross track. You have to sign up first though
Thursday, July 11thImagine what Cuba might have looked like if Castro never got cut by the Yankees as you marvel at stunning photography of the island nation by portrait photographer Sylvia Stagg-Giuliano, whose exhibit Cuba X1 kicks off with a 5p reception at the Fort Point Arts Community Gallery. Score a sneak peek
Pop by Union Square's Backbar during their 4-6p Genius Hour, and you can order an exclusive (only 15 available each day) 1/3-pound burger on baked brioche with housemade pickles, for only 12 bucks. Plus, they're rocking gratis WiFi, so you can "finish up your work day in a more civilized fashion". Hungry yet?
Friday, July 12thDrink Craft Beer's Summerfest. Yup, you read about it here last week and today it actually starts. Eighty-plus farmhouse ales from over 25 New England brewers, including newcomers like Trillium, Two Roads, and Newburyport's Riverwalk. Want to know five things that are new this year? And where to get your ticket? Then click here!
Kicking off Friday night at the Brattle Theatre is the six-day "Stomp Boston: Giant Monsters All Out Attack" movie marathon, rocking 14 classic monster flicks like Godzilla vs. Mechagodzilla, King Kong, and Mothra. See the lineup, buy your tickets
Saturday, July 13thAny chance you look like Brazilian soccer legend Pelé? You do, really?? Well then... want to be in a movie? Check this out...
That's right, it's Chill Out Saturday at the Taza Chocolate Factory. Stop by between 12-3p for frozen treats and chocolate eats. Find out more
Sunday, July 14thDid someone say "patio pig roast"? Hit the DOT's Ashmont Grill at 6p for their "exciting outdoor pork-a-thon" complete with beer, wine, and all the traditional fixins. You most definitely will need to RSVP, though

The first of a new Summer series, Ocean Voyage's an epic collaborative booze cruise from Drizly, Uber, NV Concepts, and Tablelist that sails from Rowes Wharf to the Tommy Trash show at Quincy's Ocean Club. Want to win two free tickets and a $50 Uber credit? Check our Twitter feed @ThrillistBoston today for deets. Or just score your tickets straight up

Monday, July 15th Industry Night at Empire starts at 8p and equals $25 all-you-can-eat sushi. Simple as that

To help ensure that your Monday nights don't involve watching reruns of Two Broke Girls, the Boston Harbor Hotel's Summer in The City Series now includes Rat Pack Mondays, complete with a mod take on tunes from Frank, Dean, and Sammy. If you prefer your music with a twang, well, you're also in luck, as they've just unveiled Country Pop Wednesdays, too. See the full lineups

Tuesday, July 16thIn case you missed it, the Intercontinental's RumBa got a makeover and now rocks a second bar, more seats, an expanded patio, and a new bar menu (!!) complete with lobster cob sliders & fried whole belly clams. Not only that, but Tuesday night they're hosting a three-course beer dinner w/ Cape Ann Brewery. And you should be there

Assuming you're a fan of both new whiskeys and former Celtic Brian Scalabrine -- and why wouldn't you be, really? -- make haste to Granary Tavern on Tuesday night, where the two shall mix as Scalabrine serves cocktails made with just-now-available-in-the-Hub 2 Gingers Irish whiskey

Wednesday, July 17thTake it way upscale Wednesday night at Rialto's annual outdoor BBQ under the stars, a four-course wine feast in the courtyard that pays homage to the Italian region of Puglia and features striped bass, sheep's milk ricotta cake, and a cocktail reception to kick things off. Make your reservation now

Ensuring you're not famished whilst pretending to understand what's being said onstage at this year's Shakespeare in the Park, nearby Earl of Sandwich is peddling tasty picnic boxes complete with some of their popular handhelds, like The Full Montagu and Caribbean Jerk Chicken. Order a day in advance and you're set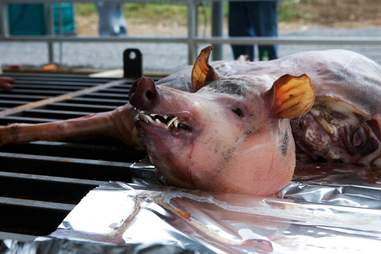 Adam Robb