Event of the Week The Big Party: Building off of last year's roaring success, Opus Affair's back this Sunday with their epic '20s-themed garden soiree at Eastern Standard, although this year -- in addition to the open bar, Island Creek oysters, passed apps "inspired by 1920s circus fare", and gift bags -- they've added "flappers doing dancing demos" and replaced croquet with boozy snow cones and a whiskey smash station. It's gonna be insane. Click this before all the tickets are gone

Thursday, July 25th Good news: You will never again find yourself watching the Red Sox at Fenway and regretfully thinking, "We totally should have grabbed Tasty Burger before the game." Because Tasty Burger is now serving inside Fenway Park. See for yourself

Friday, July 26th Don't even think about standing in line at The Good Life Friday night when you can jump to the front with Guest Listers, a just-launched service from a couple of buddies out of Babson's Summer Venture Program that lets you sign up for events/bars/clubs ahead of time and then laugh at the suckers who are waiting to get in. Check it out

Saturday, July 27th In case you missed it earlier this week, Urban RAID's the first obstacle race to actually be run in Boston proper, around Faneuil Hall, Government Center, and the Waterfront. They're even scaling City Hall. It's going down Saturday. And you can still sign up
Recommended Video
The 'Game of Thrones' Pop-Up Bar Is Now Open in Washington, DC
Sunday, July 28th
Assuming your Friday/Saturday night dates were, how shall we say, uninspired, immediately get back on the horse with Hinge, a just-launched-in-Boston dating app that uses Facebook to hook you up with friends of friends. Watch a hilarious video of our DC editor trying it out here. Or just download it.

Monday, July 29th
Hit the House of Blues Monday night, where Jon Lester and his wife will be hosting their star-studded, second-annual NVRQT ("Never Quit") cancer fundraiser complete with a Hollywood Squares-style game, "3 Up, 3 Down", and an after-party next door at Lansdowne Pub. Score your tickets here

Tuesday, July 30th
Now that you've downloaded Hinge and are going to be dating, like, every night, make sure you look sharp by hitting the just-opened Blank Label showroom on Gloucester St for a custom fitting and some sweet bespoke threads. Don't forget to make an appointment

Wednesday, July 31st
Round one of the inaugural "Battle of the Bars" is going down Wednesday night at the Harp and will pit drink slingers from area bars (Sterlings, Hurricane O'Reilly's, Porter's) against one another in a bracket-style competition to see who can make the best classic Sidecar. You should definitely be there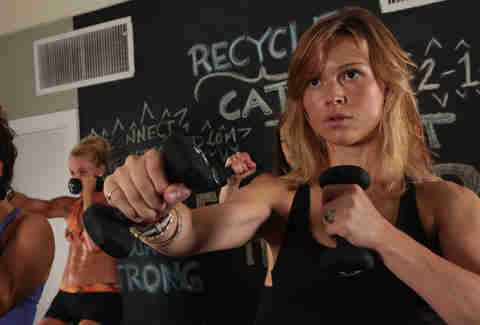 Local Lady We Love, and Where to Meet Her
Meet Cate Brinch: Hub native ("born and raised!"), Georgetown grad, needlepoint aficionado (she can knit you a belt right now… seriously, go ahead -- dare her), and the owner/founder of South End/Back Bay's popular Recycle Studio. Oh yea, and exercise enthusiast, obviously. If they played one song over a loudspeaker when Cate arrived at work every day (like a pro baseball player strolling up to the plate), it'd be Nina Simone's "Feeling Good (Bassnectar Remix)". Make a note.

When not shadow-boxing with an intimidating expression on her face, strolling her King Charles Spaniel about town, or hitting a show at The Sinclair, you can catch her slurping late-night ramen at Uni with a glass of bubbly.