10 things you didn't know about Narragansett
Hi, Neighbor! Narragansett Beer, the pride of Cranston and all of New England, had a great run, but went sadly dormant in the early '80s. After a depressingly extended break, the beer "Made on Honor, Sold on Merit" is back, and we couldn't be happier. Here are 10 things you didn't know about 'Gansett:
1. It's New England's oldest beer
For 124 years, except for that unfortunate hiatus, frosty Narragansetts have fueled countless barbecues, family parties, and beach bashes (and probably a few breakups). In 1888, six German-Americans (aka the "Original Six") did what German-Americans do best and started a brewery. By December 1890, the suds were flowing and 'Gansett was born. Prost!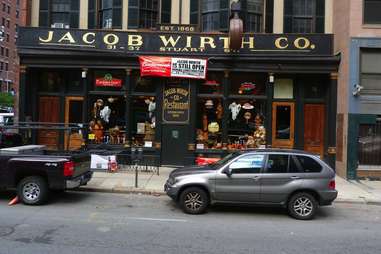 2. Jacob Wirth was one of the Original Six
Yes, that Jacob Wirth. You've probably had a pint or 10 at his old-school German beer hall/time capsule on Stuart St. Ol' Jake was quite the captain of industry with over 20 different business ventures such as running his eponymous restaurant, distributing Anheuser-Busch products (the first in the US), and funding Luchow's in NYC (home of the Reuben) as well as the now-defunct Locke-Ober in Boston. Not too shabby.
3. Dr. Seuss created Chief Gansett
During the '30s and '40s and long before How the Grinch Stole Christmas, Theodor Seuss Geisel (of Springfield, MA... hollah!) drew many of Narragansett's first ads, including the beloved Chief Gansett. Pro tip: beer pairs nicely with roast-beast.
4. Narragansett is a movie star...
In Jaws, it's no secret that Quint loved beer. You can spot Narragansett cans (the vintage '75s) in his garage and he drains a bunch of them while looking for that big shark. In one scene, Quint stares down Hooper, chugs a 'Gansett in one gulp, then crushes the can. Hooper responds by crushing his little Styrofoam cup. Nice try. Advantage: Quint.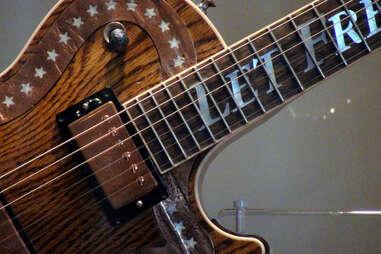 5. ... and a rock star
After the Summer of Love, the brewery hosted the Gansett Tribal Rock Festival from 1969 to 1971 at several regional venues (BC, RI Auditorium, The Garden, Springfield Municipal Auditorium). You may be familiar with some of the featured acts: Led Zeppelin, The Band, MC5, Johnny Winter, Taj Mahal, Dr. John, and Crosby, Stills, Nash & Young.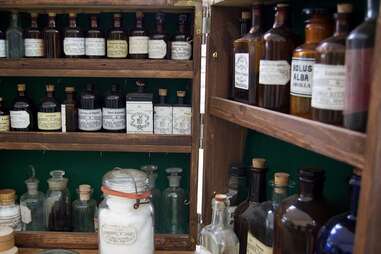 6. It's good for what ails you
Well, at least it was during Prohibition (ok, it still is). The brewery weathered those stormy days by producing more soda, ice, and malt extract. Good idea. Even better, their porter was deemed to have medicinal properties (clearly) and the US government allowed them to brew and sell it in small quantities. Drink two beers and call us in the morning.
7. Sox broadcaster Curt Gowdy coined the phrase "Hi, Neighbor, Have a 'Gansett"
For 30 years ('46-'76), Narragansett sponsored the Sox and was their official beer. So logical. During the radio broadcasts, announcers Jim Britt, Kevin Baker, and Curt Gowdy extolled the virtues of this fine beer and its "straight from the barrel" taste. But it was Mr. Gowdy who first uttered their oh-so-friendly catchphrase. Go ahead. Treat your pal next door to a 'Gansett. It's the right thing to do.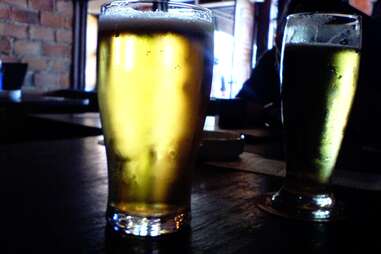 8. They were "light beer" pioneers
Back in the '60s, Narragansett created one of the first light beers, called "96" -- thusly named because it had only 96 calories (see what they did there?). Unfortunately, America was not quite ready for these delicate selections. Also, according to lore, the packaging was regrettable and did not help sales very much.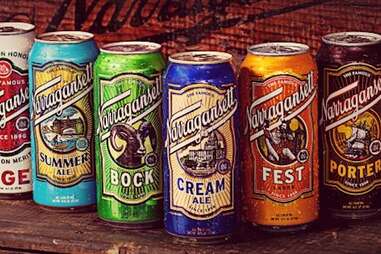 9. They make many styles of beer. Always have, always will.
The classic lager propelled 'Gansett to the beer stratosphere, but their other potables helped earn them the title of #1 Brewery in New England for decades. Today they offer a mix of old and new brews such as Summer ale, Del's shandy, Bohemian pils, fest, bock, porter (still medicinal), and imperial India pale ale.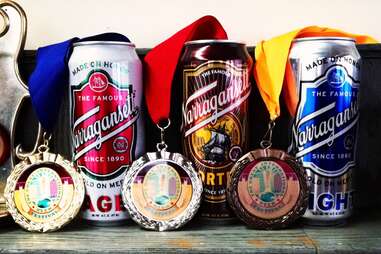 10. It's still made from the original lager recipe
As 'Gansett rose from the ashes in 2005, Mark Hellendrung (Nantucket Nectars, Magic Hat) tracked down Bill Anderson, the last known brewmaster, to bring back the exact flavors of the original signature lager. And the results speak for themselves. The beer that first made them famous won the Bronze Medal at the 2008 World Beer Cup and First Place at the Great International Beer Festival in 2010.