Is Boston's Third-Wave Coffee Scene Any Good? We Asked Some Experts.
Boston often struggles to find a balance between tradition and innovation, especially when it comes to the food and beverage industry. As a city, it wants to be recognized on the international stage. And in some ways, it is (just look at how it's becoming one of the country's next best food cities). But in other ways, like its third-wave coffee culture, the city is still in the shadows.
Don't get me wrong, there is fantastic coffee here. There are roasters, brewers, and baristas doing great things for our scene, trying to build a culture that actually appreciates high-quality java (despite those people who are still somehow obsessed with Dunkin' Donuts in 2016). But compared to other cities around the world -- Seattle, Melbourne, Berlin, London, New York -- where the third-wave coffee scene is thriving, Boston seems to be lacking the support of its coffee drinkers. Or is it a lack of innovative cafes?
But before we dive into the intricacies of our city's coffee scene, let's make sure we're on the same page...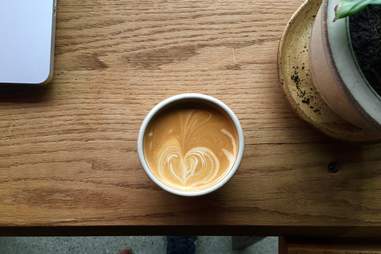 Courtesy of Loyal Nine
What is third-wave coffee?
The definition is up for interpretation, but it's generally understood as a new movement with a focus on high quality, specialty coffee; it's about being involved in the entire lifecycle of the beans, from where they're grown to how they're roasted and brewed.
The first wave dates back to the 1800s and was all about creating a mass market based on a growing worldwide consumption of the drink. It was about getting coffee into the homes of people around the world (think: Folgers and Maxwell House and the way they became household names).
The second wave came about through a criticism of quality in the first wave's mass production. After getting used to readily available coffee and taking more of an interest in where it came from, consumers expressed a desire for a better product. This prompted the rise of companies like Starbucks, Peet's, and any other barista-style coffee.
Third wave is essentially an extension of this growing interest in high-quality coffee. According to Patrick Barter, co-owner and roaster of Downtown Boston's Gracenote Coffee, "Third wave seems to be a movement created by a body of people who've built their businesses on highlighting quality, innovation, transparency, and craftsmanship, as it relates to coffee."
It's partially about sourcing the beans
Barismo's Jaime van Schyndel believes third wave is more so about being involved in the coffee from start to finish. This means starting from where the beans originate. "We source based on a mix of quality and relationships," he tells me. "We look for farms with natural potential -- elevation, good shade, quality varietals with separation, a consistent process and control, and an owner willing to move forward."
Most of Barismo's coffee involves years of discussion about the future and how it and the farms can improve. "We take it seriously and try to provide pragmatic and analytical feedback to the farms we work with."
But what about where the coffee is sourced from? Patrick has been sourcing and roasting Gracenote's beans since 2012. He's been working responsibly and transparently all the way back through the supply to, in the case of some of his coffees, the farmers themselves. "The coffee needs to have very distinctive positive attributes that are identifiable -- as coming from a particular continent, country, and region -- with a balanced, harmonious flavor profile," he says. "It needs to have the potential to taste good, and, at the same time, be distinctive, interesting, and tell a story to those who care to listen."
For the crew behind Cambridge's Loyal Nine, third wave is about "showcasing different brew methods and engaging guests in conversation about these processes." When choosing guest roasters to source from, Lena Johnson (Loyal Nine's cafe manager) explains that they look for a few specific qualities. "From where and whom we source is very important. Working in small batches is also key; this attention to detail shows that the roaster is committed to treating their green coffee well."
Courtesy of Barismo Coffee Roasters
But it's also about roasting the beans
Treating coffee well means taking care of the beans at every point in the process; and yes, roasting is one of the most crucial parts. Barismo has been roasting beans for many of Boston's best cafes since 2008. "We look to avoid roasting errors and dial in sweetness first," says Jaime. "Many roasters fall in love with all the flavors, loving everything about coffee -- even tastes that could be defect-driven. We look for a cause and effect and try to draw lines as to what quality is. You avoid error, focus on consistency, then dial in the flavors to be what you want to highlight."
Patrick is passionate about the coffee he roasts at Gracenote, and he explains how there's a give and take. "If the roaster doesn't pay attention to the coffee's potential and limitations, but instead tries to impose their ideals on it, that coffee will not turn out well. Alternatively, if the roaster tries to completely 'get out of the way' of the coffee, they're ignoring/devaluing their influence and decision-making on how the roasted coffee turns out."
He explains what kind of flavor profile he looks for in the perfect roast:
"First and foremost, it's a requirement that the coffee not have roast problems, like underdevelopment, being roasty (burnt), astringent (roasted too fast), or flat/metallic (roasted too slow). After that, the goal is to find a balanced and interesting flavor profile that tastes good and is appropriate for the brewing style for which it is intended."
What is Boston's third-wave coffee scene like now?
One of the biggest names in Boston's third-wave scene is George Howell, who's been roasting and distributing coffee since 2004. He opened his first cafe, The Coffee Connection, in 1974 in Harvard Square and somewhat pioneered the third-wave movement in Boston. But how far have we come since then? Compared to other cities around the world, maybe not far enough...
"The scene in Boston is dominated by a few chains and a handful of shops entrenched in their particular focus," says Jaime. "Most of the roasters used in Boston are large, with national scale that lacks uniqueness and creativity. The few smaller startup roasters in town aren't taking risks to either innovate or source directly, so the quality bar hasn't pushed beyond latte art and espresso."
But that's not to say the Boston barista community (and consumers) don't care. "We've hosted so many jams, throwdowns, and get togethers over the years that the base is there," he claims, "but the community has declined since we started. The shop and roastery owners are too focused on competing and positioning. There is a deep well of resistance to change and investment against much of what third wave is. The noted lack of voices leading us forward will induce more chains and national roasting operations to move in.
"I often feel our scene in Boston is out of step with progressive concepts already proven abroad. Our customers are amazingly educated and really hold up to any peer scene, but we're definitely different within our local scene."
In hearing this, we turned to Lena of Loyal Nine, who believes while this may be so, the coffee scene is quickly growing. "While we might not have a high number of shops here, the people who are making coffee are doing a fantastic job. It is a very tight-knit community."
Patrick agrees, explaining that the scene is evolving thanks to the people of Boston becoming increasingly interested in third-wave coffee, and the local shops who continue to push for change. There are quite a few cafes pioneering the progressive coffee culture in Boston. Gracenote, Barismo, George Howell, and Loyal Nine are a start, but there's also Render Coffee, Thinking Cup, Ogawa, Cafe Fixe, and several others scattered throughout the city.
Courtesy of Gracenote
What's next for the city's coffee scene?
It depends who you ask. Jaime believes the city is the target of several chains that want to spread their brand, but he doesn't see it helping better coffee to be served in the community. In fact, he believes it could be on a small decline. "Many shops are paying the price for unsustainable practices or an unwillingness to modernize. At Barismo, our goal is to move into the future and lead ourselves forward regardless of our peers."  
Barismo is focused on a new wave of draft coffee bars that Jaime believes are the future of coffee. "It's great coffee without pretense, quality without defining 'craft' as slow. The new wave should be about sustainability -- great coffee that doesn't take burnout baristas to make it."
Lena has a more hopeful outlook. "We can only go up from here!" she says. "With existing shops opening second locations and new cafes emerging, the community can only grow stronger. By creating a new standard for coffee, we're starting to see a demand."
Patrick agrees and believes Boston will soon start to shape its own identity through its coffee scene. "It will certainly continue to mature. I feel like Boston is an innovative area, and we'll see some genuinely new ideas come from this area rather than just assimilating specialty coffee ideas from the West Coast and elsewhere."
Over the years, these industry professionals have proven that change can indeed be made in Boston's small third-wave coffee scene. It might just take a little time and persistence to catch up.
Sign up here for our daily Boston email and be the first to get all the food/drink/fun the Hub has to offer.
Rachael Perry is a writer and editor who floats around Boston in a glorious, thick wave of caffeine. Find out where she's sipping next @_rachael_perry.