Ho, hum, here we are again, Boston. Oh no, wait, our bad: THIS NEVER GETS OLD -- as indicated by the 35,000(!) fans that gathered at Gillette to send the Pats off to Atlanta. As always, it's safe to say that every single restaurant or retail establishment in the New England area will be showing the Super Bowl this Sunday, so it's about sussing out the choicest bar seats for the game. We're talking comfortable and/or guaranteed seating, enormous and multiple screens, and food and drink specials that'll outshine a sure-to-disappoint Maroon 5 halftime show. Here are the best bars in Boston to watch Super Bowl LIII.
The Los Angeles Rams face off against the New England Patriots at 6:30pm EST on Sunday, February 3. Watch at any of these bars or live on CBS.
South Boston
We know what you're thinking. An après-ski "lodge" set up inside an indoor atrium seems more like the place to watch a little figure skating. All in good time, grasshopper. But on Sunday two 12-foot projection screens (and the two more TVs built into the fire pits), the large-format cocktails, and the flannel blankets. If you have a house party to get back to, they're also offering three pizzas to go for 20 bucks.
Beacon Hill
Now that our beloved dive bar has reopened, and with nary a gentrifying change, it's the perfect time to show some love while watching the game with fellow loyalists. And the pub's game-time drink special doesn't disappoint: The Gronk Spike is a potent blend of Tito's vodka, blue curaçao, and Red Bull, with a crushed Red Bull can served on the side of the glass like a garnish.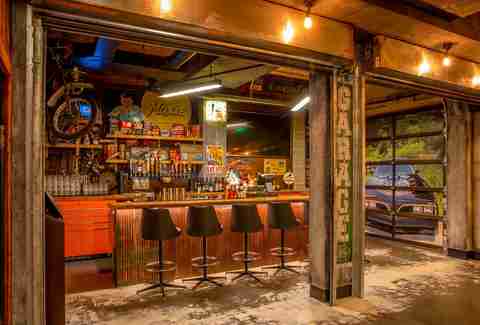 South Boston
Projection screen in the dining room? Check. Multiple TVs at the bar? Check. $3 drafts? Check. And lawn games that have been brought indoors for the winter and that'll help you calm your nerves before kickoff? Check check check.
Seaport
A little 10-pin before the big game? Come on, you know it's what Gronk would do. Believe it or not, the Seaport outpost of the bowling mini-chain has its own "football headquarters," with 12-foot LED screens on top of the expected HDTVs. A $26 standing room ticket earns you one Bud Light, one raffle ticket for the halftime giveaway, and one hour of unlimited gameplay in the 1up Retrocade (think air hockey and retro arcade games).
Fort Point
Both the regular ol' 80-inch screens and the one-night-only big projection screen beckon; just don't forget to order food before ordering your fourth 90 Minute IPA. (The whole game is 60 minutes, man!) The pregame party starts at 4pm and includes live music from the Royal Furs and a patio tailgate party with games and giveaways. Food-wise, you can order the G.O.A.T Plate, or "Great Of All 'Tizers" ($22) with four wings, a half order of nachos, and two tacos.
North End
If it's a more mature game-day experience you seek, Alcove can deliver, craft cocktails, elevated bar snacks, and all. Plus, you get to watch the Patriots in the shadow of the Bruins and Celtics' home. A seat at the bar affords you easy viewing of the three flat screen TVS, and game day specials will include LA-inspired avocado toast with toasted puffed wild rice and Bora King radishes ($9) and, for the home team, fried New England-style calamari with banana peppers, sauce verge and fried basil ($13). Afterwards, abandon all that adulting and join the throngs over in the TD Garden bar scene.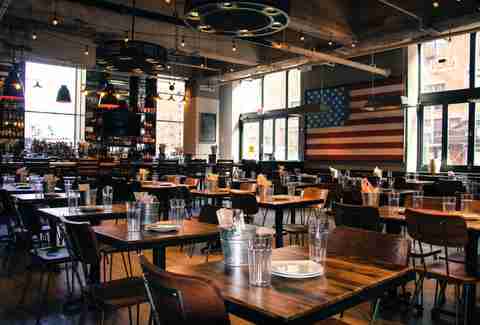 Kendall Square
A big game demands a big spread: wings, ribs, brisket, and pulled pork, with a dessert. This on top of four big screen TVs, surround sound, a Super Bowl pool with prizes every quarter, and guaranteed seating with ticket purchase. At Smoke Shop, $29 guarantees you reserved seats in the main dining room; $49 gets you reserved seats at the bar and includes dinner from the BBQ buffet.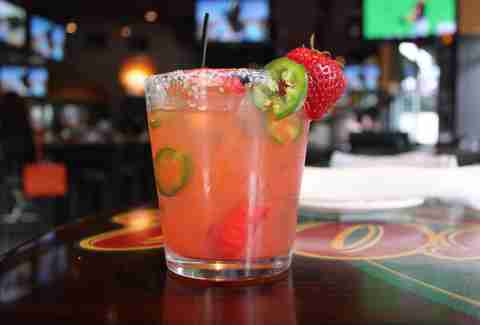 Fenway
Cask 'n' Flagon is on this list because it's an institution that will forever do right by our city's die-hard denizens. And because win or lose, the people-watching will be epic and you'll likely have a story to tell after the game. Here you'll get a $20.99 trip to heaven: pizza, wings, buffalo chicken potato skins, onion rings, and dipping sauces. As for specialty cocktails, you can't go wrong with either the Patriots Pride (Prizefight Whiskey, Rumchatta, blue curacao) or the LA Rammer Slammer (Amaretto, Southern Comfort, orange juice, pineapple juice, blue curacao).
West End
Free is good; free Super Bowl viewing party is great; free Super Bowl viewing party held in a concert venue with state of the art surround sound is the greatest. Not only that, but City Winery is also offering a $15 all-you-can-eat buffet as well as wine and wing flights on top of its regular food and drink menu. Add in a 16-by-10-foot screen for game time viewing, and even Maroon 5 starts to look good.
Somerville
If you seek a non-knucklehead scene, grab a seat near one of the 10 flat screens, nod your hellos to the other fans, order a negroni, and settle in for an evening of adult sports viewing. The 40-something capacity means you won't lose your hearing from the yelps of victory/defeat. No special deal here. You're either in or you're out.
Sign up here for our daily Boston email and be the first to get all the food/drink/fun the Hub has to offer.