Where to watch your favorite college football teams
Just because the entirety of New England claims only three Division I-A football teams (so sad) doesn't mean that you won't find large groups of amassed alums cheering their team on to victory, or -- in the case of Boston College -- to a late second-half field goal to cut the deficit to 31. Which school's fans are watching where? Grab your foam finger and follow this handy 2013 breakdown:University of Nebraska: The Dubliner Pub, Porter SquareAssuming you enjoy talking about the finer points of growing corn and/or how Taylor Martinez completes only 10% of his passes between 15 and 19yds (dear Lord), you'll be happy to know there are a surprisingly large number of Cornhuskers in New England. And every Saturday in the Fall, when they should be helping harvest the crop, more than 120 of them cheer for Big Red at The Dubliner Pub (formerly Spirit Bar) in Porter Square. University of California: Stadium Sports Bar and Grill, Faneuil HallComing off a 3-9 season, the Golden Bears have a new coach, a new (true) freshman QB, and a new, fast-paced, no-huddle spread offense. Boston alums also have a new spot to root on the Golden Bears: Stadium Sports Bar at Faneuil Hall.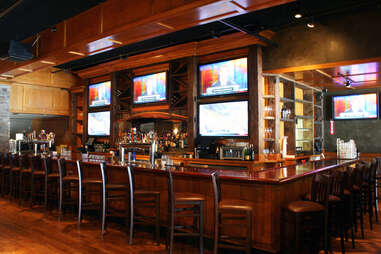 University of Michigan: Sweet Caroline's (Fenway) & Tavern in the Square (Porter Square)
No doubt so that one bar can yell "Go" while the other screams "Blue" in the most disjointed two-city team cell-phone chant ever, U of M alum catch games at both Tavern in the Square Porter and Sweet Caroline's in Fenway. Cheer for the Wolverines, even if you don't mean it, and you'll score 20% off food at either bar.
University of Notre Dame: Battery Park Bar & Lounge, Financial District
If you're eager to watch the Irish prove that running the regular-season table and playing in the national title game wasn't a fluke, even though it was totally a fluke, plan on hanging out with area bookstore basketball champion Hal Munger (come on, Hal!) and other die-hard Domers at Battery Park, where they serve a Notre Dame Tailgate Menu and special "Golden Dome Brew".
University of Oklahoma/University of Southern California: McGreevy's, Back Bay
Show your support for Bob Stoops by joining the Boston Soonahs in their first season watching at McGreevy's, and you can play cornhole whilst enjoying Southern-inspired specials like fried okra and frito chili pie. Or, if you prefer to chat about the artistic stylings of former USC QB Todd Marinovich in between ripping on Lane Kiffin for being an absolute awful human being, not to mention a terrible coach, Trojan fans also congregate here.
The Ohio State University: Game On!, Fenway
Urban Meyer is a winner. It's what he does: he wins. At Utah. At Florida. At Ohio State. The question now is, can his bowl-eligible-again, number-two-ranked Buckeyes win it all in only his second season. Hit Fenway's Game On! to hear what the OSU faithful think.
University of Georgia: Clery's, Back Bay
Five yards from a chance to play in the national title game, the Bulldogs are looking for redemption. And if if they can make it past the brutal Clemson-South Carolina two-week opening stretch, they could find themselves back in SEC Championship. Assuming you can't be between the hedges in Athens, hum along to the best worst college orientation video of all time at Clery's while taking down fried pickles/chicken, biscuits, and pulled pork flatbreads. Go Dawgs!
University of Oregon/University of Washington: The Hub Pub, Downtown Crossing
Listen to Pac-12 fans whine about how it's soooo much better watching games at 9a at DTX's The Hub Pub, where both New England Ducks and area Huskies fans catch their games. Want real fireworks, though? Put October 12th on the calendar -- that's the day the two schools play each other.
University of Wisconsin/Louisiana State University: The Baseball Tavern, Fenway
Bringing a little Baton Rouge to Beantown, the LSU alumni chapter has been calling The Baseball Tavern in Fenway home for a while. Joining them mostly to talk about how good Montee Ball is going to be in the NFL: the Badgers of Wisconsin.
Also receiving votes...
Finally, other schools of note and their respective game-watching bars: Oklahoma State (Anchovies… yes, this is for real), South Carolina (J.J. Foley's), Louisville (Tavern in the Square Porter), Florida State (Brownstone), Vanderbilt/Clemson/Texas/Penn State (The Greatest Bar), Miami (Lir), Stanford (Jerry Remy's Fenway/Tavern in the Square Central), Syracuse (Pour House), Alabama/Virginia Tech/Kansas State (White Horse Tavern), Michigan State (Baseball Tavern), UCLA/Colorado/Arizona (North Star), Northwestern (Game On!), Florida (Stadium Sports Bar & Grill). Who are we missing? Add 'em below in the comments.