9 Unspoken Rules of Bringing Your Dog to the Bar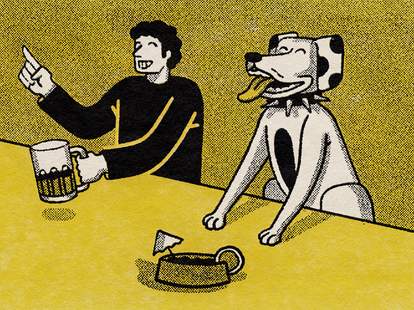 We love dogs. Even the person in the office who is allergic to dogs loves dogs. And, lucky for us and our four-legged pals, some bars out there are making everyone's dreams come true by welcoming dogs (even if it's hush hush, under the table so the health department doesn't find out). If you are a dog owner who has a neighborhood bar willing to accommodate you and Barkley, though, there are a few rules to follow—at least, if you want to be welcomed back.
Don't go after 8 p.m. on a Friday or Saturday
No matter how well behaved your dog is or how well he fits inside a purse, when it starts to get crowded and crazy at a bar, bad things can happen. Someone might come in who is afraid of dogs or they might just really not want to spend their evening getting slobbered on. And worse, the chances of your dog getting freaked out by a noisy bar at capacity are much higher and you shouldn't put him through that.  
Don't bring your dog to a fancy bar
Most upscale cocktail bars won't let you in with a dog anyway, but, honestly, you shouldn't even try. They aren't dive bars with sticky floors or breweries with 10,000 square feet of open space. They are all deep wood or rare marble with pricey glassware and uniformed staff who shouldn't have to be covered in dog hair.
Don't sit at the bar if you can avoid it
Your pup shouldn't have to try to find space between barstools, and he can't just sit in the middle of the floor. Look for a table, preferably in the back corner. People who want to come say hi to the dog will have the option of coming to find you and everyone else will have their space.
Actually, sit outside if the place and the weather permits
Unless you're the one person with an agoraphobic dog, he will almost certainly prefer being outdoors anyway, especially if he's been cooped up in the house all day.
The dog will let you know when it's time to leave
Just like bringing a baby to the bar, the decision of whether or not to leave is not in your hands. If the dog is getting too excited or making too much noise, it's time to go.
Be ready to go at a moment's notice
If your dog gets nervous and starts causing a scene, you don't want to have to go wait in line and settle up while your shepherd paces and barks.
Be absolutely certain that your dog is good with other dogs
It goes without saying that your dog is good with people—otherwise why would you ever bring him to a room full of people? But if a bar is dog friendly you are almost certainly not the only person taking advantage of that fact. There will probably be at least one more dog at the bar, and if your dog needs to show his dominance or can't resist the urge to chase another dog around the bar, it's best to leave him at home.
Try to go with someone else
You don't want to sit at the bar, but you also don't want to leave your dog alone across the room while you go order more drinks. It's just easier to keep everything under control if there is someone to watch over a curious dog at all times.
Know whether or not it's OK before you go
A bar's dog policy isn't always easy to look up. Most bars that allow dogs don't readily advertise that fact because it's often against health codes. It may get mentioned in online reviews, but you should do a little in person reconnaissance to get a feeling for the space and how your dog will fit in.