Have you ever woken up after a long night of drinking only to ask yourself, Did I actually do what I think I did last night? Well, yes, you did. But don't worry, it's not your fault... entirely. Many of the bad decisions you made could be due to the bar you decided to go to. Believe it or not, America is littered with bad decision bars, and Charleston, being in the US, has plenty.
Of course, we're not saying that these bars are actually bad; we're just saying the decisions people tend to make in them are such -- especially after taking a "boobie shot."
Upper King
The Recovery Room isn't inherently a bad decision; it's a great after-work or end-of-the-night stop -- because anytime is a good time for a PBR. In fact, the bar sells almost more than anyone else in the country. Of course, Recovery Room Mondays aren't about beer; they're about getting LIT... and by that we mean Long Island iced teas. So if someone invites you, just know that Tuesday is more than likely going to have some challenges of its own.
Upper King
While Midtown is an easy stop thanks to its location smack in the middle of the Upper King entertainment district, it's also a destination for college students who indulge their love of Fireball shots, missing their 8am Harry Potter lit class, and drinking far too many of the bar's specialty drink, the "Trashcan" (this). Which is what you'll be hugging at some point in the evening if you indulge in the concoction.
West Ashley
Named after the famed Civil War submarine, the odds of you going under, too, are quite high. The place is filled with cheap well drinks being consumed by a crowd who is all too familiar with the menu. And with the added attraction of sports constantly being televised, the local scene, and someone always willing to talk -- even if it's not the bartender -- it's easy to understand why the phrase "just one more" hits close to home here.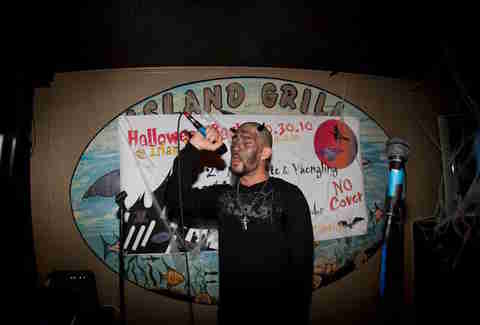 James Island
Long days on Folly Beach often make for long nights, and if you're headed back from the beach, this oasis among drugstores and strip malls seems like a good idea to keep the party going. Of course, it usually isn't. After a while, you are more than likely going to think that you can hit that high note like Mariah as you step behind the karaoke mic, which means IBG might be a bad decision for you, but your friends are going to love filming that butchered version of "Vision of Love" for YouTube.
King St Shopping District
The Upper Deck is a good decision, bad decision bar. In other words, it's going to be one of those bad decisions that you look back on fondly... one day. This hole in the wall (with no sign) has those tables from the roller rink you remember as a kid, cheap beer, and, once again, karaoke. And you better drink up, because you want to have a real "devil-may-care" attitude by the time you visit the bathroom -- which once had a mop bucket in front of the sink with dirty water for so long that regulars were shocked when the water was dumped and the bucket shoved under the sink.
Folly Beach
Depending on the kind of barfly you are, there can be a bit of a space-time continuum in this place. If you're down with bachelorettes on the beach, $3.50 oyster shooters, and lots of (loud!) talking, music, and general bro-ing, this place is a beach paradise where you can go in when it's light and come out way later without a sense of it having been that long.
Wagener Terrace
Moe's is a neighborhood haunt that is known for its sports, prices, and good burgers. Got a kickball team, a soccer league, or cycling buddies that love to spend time in nearby Hampton Park? Well, chances are you know the inside of this bar and how easy it is to order a late brunch, some beer, and, sure, an after-brunch burger. So what we're saying is we hope you didn't have any plans for the day -- other than downing a donut-bun burger with a shot of Jameson and Bud Light.
French Quarter
Opened over 20 years ago and now considered a legend in town, The Griffon is one of the best bad decision bars largely because it is really one of the best bars in the South. What makes it so great is what makes it so dangerous -- loads of F&B folks getting off shift and treating the bar as their own space, tons of history, and a lot of Jagerbombs, which never really went out of style here (Anthony Bourdain took one for the team during his recent Griffon visit). Just a warning: sometimes people feel they might want to pay for said Jagermeister by pulling off the dollar bills on the walls and ceiling. Yeah, don't do that.
Upper King
AC's Motto is "up all night." Thanks to the late-night kitchen where you can order up some chili-cheese fries to soak up the cheap beer you downed all night long, the bar easily lives up to the motto.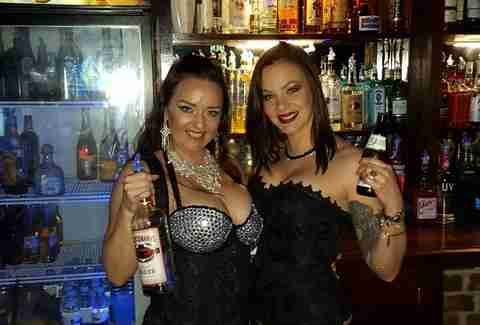 Neck Area/North Charleston
Old-school Charleston partiers sometimes kept the party going after an early last call by heading to the former Thee Southern Belle. If you went, you found a strip club that was friendly to partiers of any gender. With a recent revamp into GoodFellas, "thee" good ol' days might be gone, but the bad decisions still make for good stories.
Sign up here for our daily Charleston email and be the first to get all the food/drink/fun in town.