11 Essential Charleston Breweries You Need to Visit
After trailing North Carolina through the aughts, the Palmetto State's craft beer scene has truly hit its stride, and nowhere is it more apparent than Charleston. The most populous city in South Carolina is also its center of beer-making gravity, with almost two dozen breweries plying the Lowcountry with local lagers & ales. All those options can be overwhelming, especially if you're only here for a visit, so instead of trying to hit them all you'd be better served with a more selective approach.
Here's the skinny on a 11 Chucktown craft breweries that you ought to have a drink at -- some relatively old, some extremely new, all with unique taprooms as top-notch as they suds they serve. Are they Charleston's "best" breweries? You'll have to decide for yourself, but we think they're the city's most essential ones, and they'll give you a representative taste for the fine flavor of Lowcountry beer.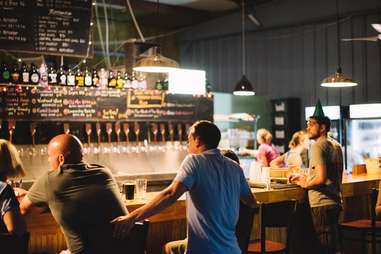 Est: 2011 | North Charleston
Rolling up to this Dorchester Road brewery, you'll be absolutely convinced that you made several wrong turns -- but down the insanely pot-holed driveway and behind the auto body shops and warehouses sits the comfy, casual taproom/production facility of Holy City. This is one of the relative OGs of the Charleston scene, and they've got the regulars to prove it. Sidle up to the long bar, order a Pluff Mud Porter (2012 gold at Great American Beer Fest!) off the sprawling tap list, then adjourn to the outdoor picnic tables to bask in the Carolina sunshine. Don't miss Tuesday evenings, when they do 64-ounce growler fills for a paltry $5. (And if you've got the time, tack on a quick visit to Pawleys Island Brewery, which is just one street over.)
Key beers: Pluff Mud Porter, Overly Friendly IPA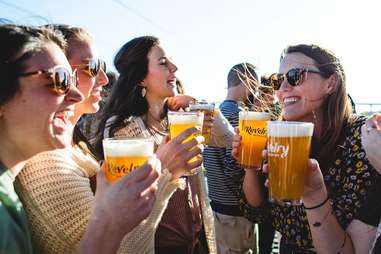 Est: 2014 | North Central
You can't miss Revelry: the three-story structure towers over its block of Conroy Street between Meeting and Morrison Avenue, and if it's nice out, you can almost hear the party on the super-popular rooftop before you see it. This North Central mainstay is a beloved post-work/-kickball bar (an intramural league plays in the park) thanks to its genuinely great view and big-flavor beers, several of which have brought home gold from GABF. Revelry is where you party, but The Hold -- their extremely relaxed sister location up the block -- is where you unwind with a pour of a spectacular, limited-run sour beer from their barrel program. Enjoy the fancy glassware and comfy inset benches outside.
Key beers: Poke The Bear Pale Ale at Revelry, Family Jewels at The Hold
Est: 2014 | NoMo / King Extension
This James Beard semi-finalist brewpub on Morrison Avenue has been punching way above its weight since the day it opened, pouring excellent housemade beers alongside hard-to-get stuff from brewing pals across the country (and around the world, for that matter.) This is definitely a restaurant, with in-house charcuterie & legit entrees, so don't roll up expecting tater tots, pizzas, and the like. For that, you're better off a little further up the road at Edmund's Oast Brewing Co., their full-scale production brewery in the new Pacific Box & Crate development on King Extension. There you'll find more of their beers, a slightly more casual atmosphere, and a chill patio favored by many young Charleston parents with kiddos in tow. Be prepared for a family-friendly vibe!
Key beers: PB&J Beer, Something Cold Blonde Ale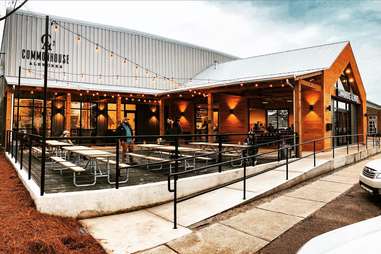 Est: 2017 | North Charleston
One of many reasons to make the journey to North Charleston's darn-pleasant Park Circle neighborhood is Commonhouse, a one-year-young brewery/taproom tucked away just a block off the main drag. For a newcomer on the brewing scene, the beers here are dialed in -- try the flagship Park Circle Pale Ale for hops, or the easy-drinking White Point Light (named after the historic gardens at Charleston's Battery) for something to beat the Lowcountry heat. That primo patio/yard with all the picnic tables and rocking chairs greeting you out front is "The Commonground," where thirsty locals young and old will gather for outdoor music from the mini bandstand in the corner. Grab a crowler to go, or better yet, grab some food from Florie's (the in-house food partnership) and just never leave.
Key beers: Park Circle Pale Ale, White Point Light
Est: 2017 | King Extension
With the trucking corridor of upper Meeting Street out front, and the working train tracks out back, Munkle is an unexpected destination for Charleston's finest/only Belgian-style brews. Yet they're here, and legit -- in its first-ever GABF, Munkle took home gold in the French & Belgian Ale category. Get a Gully Washer Wheat and waste some time on the hook & ring game on the patio, or kick back on a couch with a Brugge City Brune and soak up the air-conditioning while your pals shoot pool. Like its neighbor Fatty's Beer Works down the street, there's no kitchen here (it's all about the beer), but a steady rotation of food trucks keeps drinkers sated out back, and if you're there for a while, you just may see a freight train rolling by.
Key beers: Gully Washer Wheat, Brugge City Brune
Est. 1994 | North Central
When Palmetto first opened its doors, it was the first brewery in the Holy City to do so since Prohibition (and in fact, it's named for one that existed beforehand). The Lowcountry beer scene looks dramatically different these days, as does the neighborhood -- what was once an empty lot across from the Huger Street brewhouse is now a row of fancy apartment buildings, and there's another going up right next door. Acquired by North Carolina's Catawba Brewing Company in 2017, Palmetto is amidst a brand refresh that includes everything from new packaging, to a taproom expansion. The labels of its beloved Palmetto Amber and Huger Street IPA look… well, new, but South Carolina's oldest operating brewery perfected the liquid inside long ago. Drink up.
Key beers: Palmetto Amber, Huger Street IPA
Est: 2012 | Johns Island
It's not as easy to get to as some of the other breweries on this list, but what Low Tide Brewing lacks in convenient access from Downtown, it makes up for with letter-perfect Lowcountry vibes once you arrive. Though it opened just a few years ago, Low Tide is the first craft brewery on rural-ish Johns Island (about 20 minutes from Charleston proper), and feels as much like a community meet-up as it does a production facility. The low-slung warehouse has tables both outside and in, and frequently welcomes food trucks for snacks during drinking sessions. Post up with a pint of whatever they're pouring that day (Basil Better Have My Honey Ale won bronze at the 2018 GABF, just sayin') and enjoy a break from the bustle of King Street.
Key beers: Tie One Off IPA, Basil Better Have My Honey Ale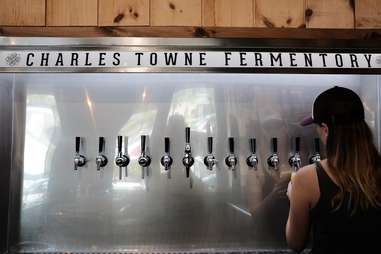 Est. 2016 | West Ashley
Holding down the popular Avondale neighborhood across the river from Charleston proper is the Fermentory, a double-wide storefront on Savannah Highway that's been churning out some of the city's best beer (to those in the know, at least) ever since it opened. They'll roll up the garage doors out front when the weather is nice, but even when it's not, you'll still enjoy the focused taplist, comfortable bar, and vittles from the dizzying array of rotating guest chefs working wonders in the in-house kitchen. The Sungazer IPA and Vistula Baltic Porter are on two opposite ends of the flavor spectrum, but equally tasty, and the coffee for their porter comes from their West Ashley neighbors at Broomwagon.
Key beers: Sungazer IPA, Vistula Baltic Porter
Est. 2007 | North Charleston
A true OG of the Lowcountry craft beer movement whose founders were instrumental in getting brewery-friendly laws on SC's books, COAST brews organic-ingredient beers out of a squat production facility in the sprawling North Charleston Navy Yard. This is a brewery first, and a "taproom" a distant second (we're talking folding tables amongst keg pallets, and lawn chairs on the loading dock), so if you're looking for bells and whistles (or food) this ain't the place. But it's so pleasant that to COAST's many repeat visitors, the decor is part of the charm. Besides, you're here for beer, aren't you? Grab a 32°/50° Kolsch or a Dead Arm IPA and savor the flavor!
Key beers: 32°/50° Kolsch, Dead Arm IPA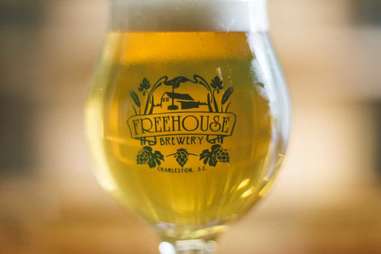 Est. 2013 | North Charleston
If you head up to Holy City Brewery, make sure you budget time for a stop at Freehouse; the latter is just a few blocks from the elder brewery, and totally worth a push deeper into North Charleston. The taproom is gloriously homey, with picnic tables in the parking lot and a deck with a very-chill view of the Ashley River just a football field or so away. On a sunny Saturday afternoon, it's good clean living -- and Freehouse brews certified organic suds that are also certifiably delicious, from the Green Door IPA to the Battery Brown Ale, so you'll be drinking clean (ish) too. Smaller batch releases are available by the bottle, and you can buy 'em to go, if for some reason you want to leave.
Key beers: Green Door IPA, Battery Brown Ale
Est. 2010 | Mount Pleasant
From Downtown, you'll have to take a ride over the iconic Ravenel Bridge to get to Westbrook, but A) the bridge is actually really cool, and B) it's worth the trip to the Charleston suburbs for this beer. The Mount Pleasant brewery boasts some of the Lowcountry's most widely recognizable beers, from One Claw Rye Pale Ale (cloudy before it was cool!) to Mexican Cake, a once-a-year imperial stout that sells out on the quick up and down the East Coast. The taproom is sleek, and can get crowded on weekends (it's a popular spot!), so don't hesitate to wander out to the parking lot beer garden. (If it's just too jammed or you're with a big group, you might try Ghost Monkey or Two Blokes, a pair of newcomers just down the road from Westbrook, and each other.) They maintain a robust schedule of food trucks, so you won't go hungry while you're out there.
Key beers: One Claw Rye Pale Ale, White Thai Witbier
Sign up here for our daily Charleston email and be the first to get all the food/drink/fun in town.
Dave Infante is a freelance journalist in Charleston, SC. Follow @dinfontay.