The Best Cocktail Bars in Charleston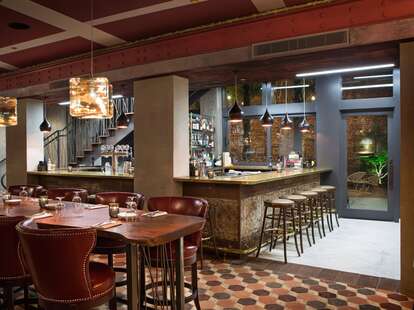 No event or night out in Charleston is complete without some sort of alcoholic beverage. While there are some pretty amazing local breweries churning out tasty beer, there's something undeniably decadent and romantic about going out for cocktails. As the Holy City's cocktail scene grows bigger and better each year, you owe it to yourself to imbibe at Charleston's best cocktail bars.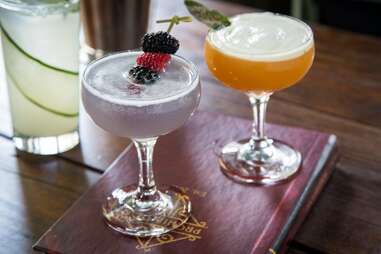 King St. Historic District
Prohibition's self-proclaimed "cocktail wizardry" has won this speakeasy-inspired cocktail bar several awards, including "best cocktails" in City Paper's Best of Charleston 2016. But the hooch isn't the only reason to visit (although you'll definitely want to try the bacon maple Old Fashioned) -- it also has an intimate back patio with live music six nights a week. Enjoy jazz, big band, and funk musicians, or stop by for swing and salsa lessons. Since the addition of executive chef Greg Garrison, Prohibition also dishes out great small plates and entrees.
King St. Historic District
Although it is smaller than most of the bars on this list, Proof features one of the most versatile and robust craft cocktail menus in the city. A perennial favorite is the Hemingway daiquiri, featuring caña brava, rum, maraschino liqueur, lime, and grapefruit. Still not seeing the perfect cocktail on the menu? Let the bartenders know what you like and they'll whip up something special just for you.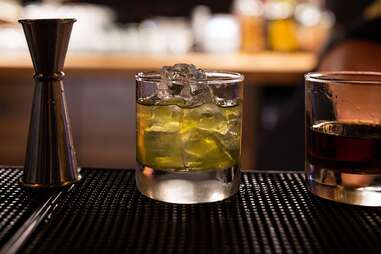 Eastside
One of the newer additions to the Charleston cocktail scene, Bar Mash has already made quite a name for itself thanks to amazing bartenders like Teddy Nixon. Mash features a number of classic cocktails, originals -- try the Endless Summer, made with Pimm's, cucumber-infused Cocchi Americano, and jam ginger vinegar, among other speciality ingredients -- "spirits of the month," and daily Jell-O shots (who says Jell-O shots are just for co-eds?). Bar Mash also has fantastic food options (get the fried oysters & boudin -- you won't be disappointed), making it a one-stop shop for a great night out.
King St. Historic District
We would be remiss to make a list of the best cocktail bars in Charleston without mentioning The Cocktail Club; the name alone should guarantee it makes the cut. But aside from its extremely appropriate moniker and speakeasy atmosphere, Cocktail Club is one of those places where you'd be unsurprised to find Don Draper in one of its dark corners, sitting on a leather couch and sipping an Old Fashioned. A friend once commented, "Everything I learned about bourbon, I learned at Cocktail Club." So if you're in need of a bourbon education, you should definitely put Cocktail Club on your list of places to go.
French Quarter
You don't have to be a gin fan to enjoy a great cocktail at The Gin Joint. In fact, you don't even have to know what kinds of liquors you like at all. Just think of your favorite cocktail and describe it using two of the words provided on the "bartender's choice" portion of the menu (think "fizzy" and "refreshing"), and the pros at Gin Joint will whip you up a custom drink that's sure to be your new favorite.
Market St.
Often overlooked because of its location inside the Belmond Charleston Place Hotel, Thoroughbred Club is a dark, leathery bar with a low-key, upscale atmosphere. It switches up the cocktails seasonally, which means you can have a different experience pretty much every time you visit. For an extra touch of class, Thoroughbred Club often has a live pianist playing so you can feel like you're truly living the life of understated luxury.
Wraggborough
492 eschews the idea of a "classic cocktail bar" for something a little more modern and trendy. Its creative, somehow whimsical cocktails are artfully crafted by cocktail virtuoso Megan Deschaine, and are, in at least one case, color-changing. Everything from the decor to the drinks to the food (the menu changes daily) will make you feel like you fell down the hole to Wonderland.
King St. Historic District
If you've ever been to a '50's-style diner and thought, "If this place served cocktails, it would be heaven," then Rarebit is the place for you. Although it's most well known for its Moscow mules, other cocktails are just as worthy of appreciation. If you're a fan of the bubbly stuff, the Champagne Cocktail with cava, Smirnoff, St-Germain, and seasonal soda is a fun and refreshing option that pairs surprisingly well with the chicken & waffles.
King St. Historic District
If you're in a hurry to grab a drink and get on with the rest of your evening, we suggest skipping The Belmont. If you want to appreciate an artfully crafted cocktail that is made with the dedication and pride of someone who truly cares about their craft, this is definitely the place to go (it's also the "Bar Most Likely To Be Frequented By Your Favorite Bartender," so you know it's good). Pair that with the cozy space and homemade Pop Tarts, and you're in for a stellar evening.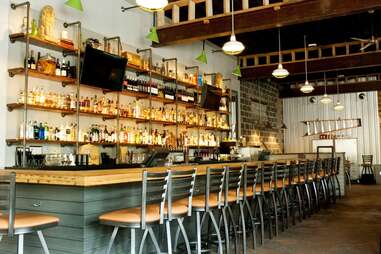 Cannonborough
Much like a chameleon or the Room of Requirement in Harry Potter, Warehouse is one of those bars that can easily transform into exactly what you need for the night. Whether you want a low-key glass of wine after work, a night of playing pool and pounding PBRs, or to indulge in a few craft cocktails (like the Where The Crosswalks End) with friends, Warehouse is the bar that keeps on giving.
Market Street
For a night when you want to feel really fancy (and don't mind dropping some serious bills on a few drinks), then head to The Bar located inside The Spectator on Market Street. This 1920's-inspired bar makes you feel like you're drinking in the living room of a friend who also happens to be a millionaire. For a cocktail that's just as fun to drink as it is to say, the Kimchi-huahua (with sesame mezcal, sake, kimchee puree, yuzu, cucumber, palm sugar) is the way to go.
Sign up here for our daily Charleston email and be the first to get all the food/drink/fun in town.
Sydney Gallimore is a food writer from Charleston whose favorite cocktails (and personality) could both described as "refreshing, fizzy, and unusual." Follow her adventures on Twitter @Sydney_Inc.