The Best Dive Bars in Charleston
While there's nothing wrong with upscale cocktail bars or lounges with 13-page wine lists, sometimes all you want is an ice cold can of cheap beer, and a dark hole-in-the-wall in which to drink it. At varying levels of diviness, what these Charleston dive bars lack in frills, they make up for with friendly bartenders, cheap drinks, and being a safe haven from the stresses of the outside world.
East Side | Est. 2014
Co-owned by Shep Rose of
Southern Charm
fame, Palace Hotel has gained something of a cult following over the years (especially during the year they were closed after a fire destroyed some of the building). With its vintage wallpaper, bright colors, and cozy back patio, the atmosphere is sort of Alice-in-Wonderland-meets-your-grandmother's-kitchen. The menu is beer-focused with craft, imports, and domestics, with a few cocktails and wine thrown in for good measure.
North Charleston | Est. 2017
A sort of reincarnation and evolution of the King Dusko space that once sat downtown on King Street, The Purple Buffalo (a reference to
The Never Ending Story
) in North Charleston is a dive bar, local music venue, and art space all in one. Hosting acts and artists that often don't have any other opportunities to perform, this counterculture bar also features excellent drink specials and a rotating list of local food trucks to satisfy all your cravings.
North Central | Est. 1970s
Although it looks like an abandoned bunker from the outside, with no signs to indicate that it's a bar at all, ring the bell to be let in and inside you'll find a dimly lit, cozy bar full of locals and regulars who enjoy a more upscale vibe with dive bar prices. Come early for a happy hour that features $1-$6 specials of varying quality that will give you a buzz without burning your wallet.
Cannonborough | Est. 2012
Frequented mostly by the college crowd, Cutty's is an under-the-radar hipster oasis that stands out from the rest of Charleston's bar scene with $2 beer specials, cat-themed decor, and a vending machine that dispenses art and condoms. What more could you need, really?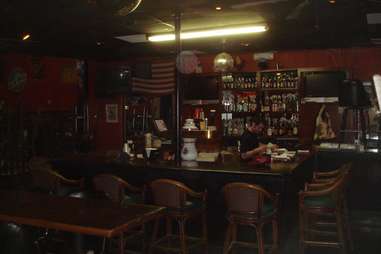 Westside | Est. 2008
Rec Room is the quintessential dive bar: It has an owner who goes by "Boston," it's always dark, the music is loud, and there's plenty of PBR flowing (it's the No. 2 purveyor of Pabst Blue Ribbon in the country, after all). The bar hosts all kinds of events, like bar trivia, live music, corn hole tournaments, and bocce leagues, and Sunday brunch features NFL Sunday Ticket and plenty of Tater Tachos to go around.
Downtown | Est. 1997
You can spot AC's on King St thanks to the line of college students that weaves its way through the cloud of smokers lighting up out front on a Saturday night. That line continues inside for drinks and at the bathroom, so be prepared to wait. The trade-off is that the kitchen stays open until 1:30am, so you can order a Death Burger (it packs the heat with banana and jalapeño peppers, plus an insanely fiery sauce) and loaded fries whenever the mood strikes.
Westside | Est. 2013
If you like the atmosphere of a dive bar, but you're more of a cocktail person, Local 616 is your spot. The Westside bar serves up tasty craft cocktails and a whole section of the menu devoted to mules that'll make you feel like you're at a fancy club (but really you're in a dark bar watching soccer on the big screen).
NoMo | Est. 2011
Royal American settled into NoMo before it was cool, and it's easily stuck around thanks to the laid-back vibe of a dog-friendly patio, cheap beer ($5 pitchers of High Life), and being one of the few Downtown bars with a parking lot. Menu standards include patty melts, Brussels sprouts, and disco fries. Plus, there's a stage that's constantly showcasing live, local bands who sound even better after you've had a shot (or two) of housemade cinnamon whiskey.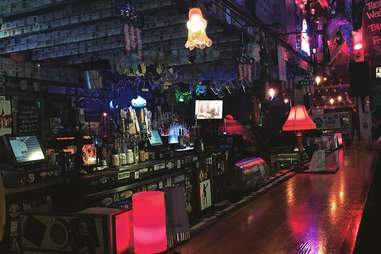 King Street Historic District | Est. 2006
Another hidden treasure on King Street, Burns Alley is rarely crowded (except on weekends) and always a good time. The bar doesn't have food, but it does serve up a mean GrandMa shot and lots of local beers on tap. The bar also features live music five days a week, $5 PBRs, and arcade games for a true dive experience.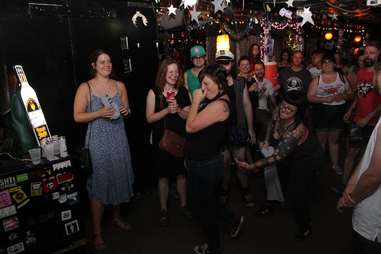 West Ashley | Est. 2007
Hands down the best bar in West Ashley, Tin Roof was featured in the music video "Birmingham" by Shovels & Rope (a bit geographically inaccurate, but we'll forgive them). Stop by and snack on the schnitzel plate as you listen to some live music played the way it was meant to be heard -- loud enough to create waves in your pint glass.
French Quarter | Est. 1996
Most famous for its feature in the Charleston episode of
Parts Unknown
with the late Anthony Bourdain, The Griffon is the kind of no-frills joint that's been a staple in Charleston for more than 20 years. The walls (and ceiling) are papered in autographed dollar bills, the beer is cold, and the food -- fried pickles, mozz sticks -- is exactly what you're looking for on a divey kind of night.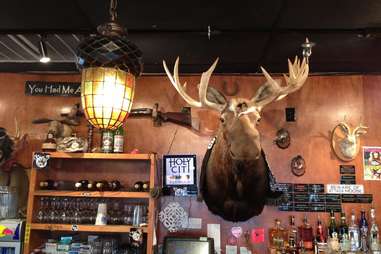 Various locations | Est. 2010
Tattooed Moose is the kind of dive bar you should visit on an empty stomach because you'll want to sample the duck fat fries, chocolate and bacon pie, and its famous triple-decker duck confit club. Bring a Sharpie, because you'll definitely want to leave your mark on the walls; it's ok -- the bar encourages this kind of delinquent behavior.
Avondale | Est. 1952
Charleston's "oldest bar by far," Gene's gets high marks for having pretty much every bar game known to man, and then a few more: darts, pool, shuffleboard, foosball, Connect 4, Jenga, and the list goes on. Bring your competitive spirit and a thirst for cold beer -- the bar boasts more than 180 different beers, ranging from Abita to Yuengling and almost everything in between.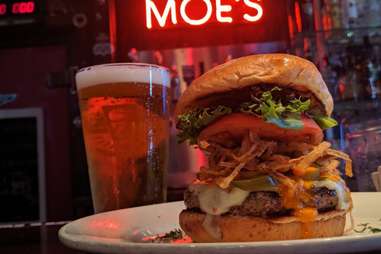 Hampton Park | Est. 2002
Moe's is a beloved haunt for those who live north of the Crosstown, thanks to its delicious food and cozy atmosphere. Sports fans of all denominations can also rejoice that it has NFL Sunday Ticket, NHL Center Ice, MLB packages, and college games all playing in HD. Plus, happy hour goers enjoy $5 food items, like mozzarella sticks and pimento cheese.
Sign up here for our daily Charleston email and be the first to get all the food/drink/fun in town.