Charleston Has Fantastic Coffee Shops. Here Are the Best Ones.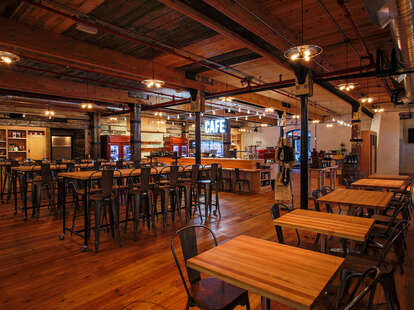 Coffee is more than just caffeine. Don't get us wrong: we're not knocking the kick-in-the-pants, get-you-going quality that makes it so great. What we're saying is that it's a culture, a lifestyle, and maybe (read: definitely) a lifesaver that extends far beyond that morning cup. Several coffee shops in Charleston recognize this culture and celebrate it through and through. From Summerville to James Island, this city gets jittery for that java -- as long as you don't ask for flavored creamer (seriously, "bless your heart").
Eastside
There's one reason this is the best coffee shop in town: manager Michael Mai. He's the mad scientist behind Charleston's leading java shop, offering some unique twists on traditional favorites (read: cold brew with limeade, Vietnamese-inspired nitro). But no matter what you get, the coffee here is smooth, potent, and goes great with the ever-rotating and ever-inviting selection of pastries. So do yourself a favor: put this place in your rotation ASAP.
James Island
Muddy Waters has a few things going for it: it's convenient for people on both James and Johns Islands, the staff is always friendly, and the coffee is on-point. The lavender honey latte is a popular choice for adventurous drinkers, but there's plenty for those who would prefer a standard cup. Hell, even if you don't want any coffee (but really, you're missing out), this place has plenty to choose from, from a Lemonata -- or another fancy soda -- to several herbal concoctions in a bottle. The menu, paired with the relaxed vibe and communal feel, is exactly what keeps folks coming back.
Upper King
Kudu's coffee, craft beer, inside seating, outdoor courtyard (that allows dogs), and live music at night easily make it one of the best places in town to meet friends. There's also a cask beer program with 20 taps and a slew of wine and snacks to boot. But above all, the coffee is what calls. Just ask some College of Charleston students; many of them can't start the day without an Americano (iced or regular) from this hopping shop.
Harleston Village
It's honestly hard not to Instagram your perfect cup from this ultra-hip spot. It's bright. It's airy. It's located right on Beaufain. Black Tap's reclaimed pine tables provide the perfect backdrop for your pour-over; and since it's not only a coffee shop, but also a roaster, the selections and quality are easily top-notch.
Cannonborough
Sure, maybe we're suggesting a coffee date here just so we can snag one of those chocolate chai muffins or bacon cheddar scones. But really, you can't blame us for wanting to spend time sipping coffee in this converted Charleston single house -- especially when the scent of fresh-baked everything is wafting around. And yes, we'll have another espresso, thank you.
Summerville
Downtown Summerville's vibe is "cute-as-a-button," and Coastal Coffee Roasters fits right in. Hardwood floors, cafe tables, and a chalkboard menu convey a comfortable feel, and locals can't get enough of it. The shop serves more of a full menu in addition to some killer coffee, including breakfast BLTs and salads for lunch. But still, the coffee is a must-try, as it's roasted in small batches to remain ultra-fresh. Bonus: you can take home a bag of beans (for a price).
Mount Pleasant
If you're looking for a dairy-free vegan mocha latte, Metto has you covered. If not, you've still got plenty of options: pour-over coffee made from beans ground to order, cold brew, sandwiches, and that quiche with the house-made crust (locals swear by it). Maybe the best part is that you can get all of this through the drive-thru window if you're running late from traffic. It's all very Mount Pleasant.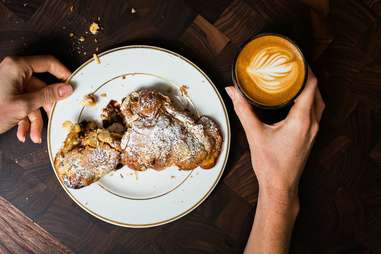 Upper King/Westside
Butcher & Bee knows how to do things right. When it opened The Daily a while back, the spot quickly gained a local following. This place has some great coffee from Stumptown, cold juices, to-go items, growler fills, and hell, even last-minute gifts (it has a well-curated selection of cookbooks and local items). But at the end of the day, it's the coffee that keeps people coming back... especially the strong cold brew.
West Ashley
This shop is located well beyond the tourist locales, but conveniently near many a local on their way to work down 61. You'll find a lot of sweet coffee confections in this tucked-away spot, along with sweet smiles from the staff (they're very friendly), many of whom have been with the company from the beginning. If you're visiting and headed back to town from the plantations, this is a great stop for an afternoon snack and a shot of espresso in a chai tea latte.
Sign up here for our daily Charleston email and be the first to get all the food/drink/fun in town.
Stephanie Burt is a Thrillist contributor in Charleston who begins each day with black coffee -- and lots of it. You can follow her on Twitter at @beehivesteph, or catch her in your earbuds weekly as the host of
The Southern Fork
.