10 Bartenders You Need to Know in Charleston
We don't just appreciate our bars in Charleston; we appreciate our bartenders. If you're here, there are several you need to know -- whether because of the way they're creating drinks, the knowledge they bring to the scene, or just their overall vibe. So take some time and get to know these people (and their mighty concoctions). And please, be nice when you belly up to the bar. They deserve it. After all, not everyone is willing to listen to your less-than-sober stories.
Kyle DeGolyer
Where to find him: Poogan's Porch (address and info) and Poogan's Smokehouse (address and info)
Specialty: As beverage director of both Poogan's Porch and the new Poogan's Smokehouse, Kyle is part of a famed Charleston brand. Poogan's is one of the most popular tourist destinations in town, has a documented ghost story, and cranks out down-home Lowcountry classics in a decor that feels like your rich grandma's living room. What Kyle's done is create a place locals come to for both classic and updated cocktails, making the drink programs better than they had to be. Because of that, he's getting some serious notice. From bartender competitions, to hosting "King Cocktail" Dale DeGroff a couple of years ago for Charleston Wine + Food, he's quickly become one of the most-favored bartenders in Charleston.
What he's doing when not behind the stick: Working the bar at a '90s-themed takeover at 492 with Megan Deschaine (in a plaid shirt with a wallet chain).
Leslie McKellar
<strong>Specialty:</strong> Lesley is the co-owner of this great nook of a craft beer bar with excellent food and a growing cocktail list. But she'll still take time to match you with your favorite new beer, if that's what you're looking for. Just answer a few simple questions and get ready to be introduced to your next go-to brew. Though small compared to some other spots on Folly Beach, this place is a far cry from the cases of Coronas served at other spots down the street. There are tripels, sours, seasonals, reserves, and the occasional "whale" on tap.<br />
<strong>What she's doing when not behind the stick:</strong> Buying booths from former Mexican restaurants to retrofit Jack of Cups.
JWKPEC/Paul Cheney
<strong>Specialty:</strong> From ice cubes that change color through a natural chemical process, to tinctures and syrups concocted from South American teas, Megan's cocktails are a delightful <em>Alice in Wonderland</em>-esque adventure. With a wide-eyed enthusiasm, she's really taken the focus of 492's modern molecular gastronomy approach and brought it to the bar -- not only creating fun libations through science, but also interesting flavor combos the average drinker probably didn't realize they liked.<br />
<strong>What she's doing when not behind the stick:</strong> Organizing and rallying the <a href="https://www.facebook.com/USBGCharleston/&quot; target="_blank">Charleston USBG Chapter</a>.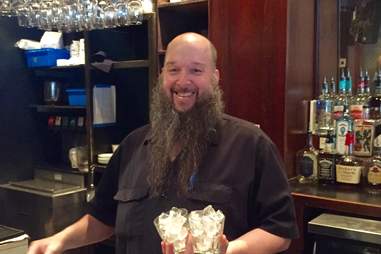 Stephanie Burt/Thrillist
<strong>Specialty:</strong> Hospitality, speed, and patience are a bartender's bread &amp; butter. Rob Hayner has them in spades. This bar is hopping during every happy hour (Monday-Friday from 4-7pm), with guests two and three rows deep just waiting for those 600 oysters to get shucked (and probably for another drink from Rob). Luckily the crowds don't faze him at all: his co-workers love working with him, and his regulars can't get enough of him. After all, he is the ringmaster of Pearlz, and all of us are just lucky to get a seat ringside.<br />
<strong>What he's doing when not behind the stick:</strong> Watching his kids incessantly jump on an indoor trampoline.
Neighborhood Dining Group
<strong>Specialty:</strong> Bethany isn't trying to knock you on your ass with her whiskey-on-whiskey-on-whiskey (with a splash of vermouth) cocktail. Instead, she's quietly organizing and directing an orchestra of flavors to accompany the refined plates coming out of the McCrady's kitchen. Whether it be those lemon peels she carves to look like leaves, or just a delicate concoction of flavors in an elegant coupe glass, it's almost as if she's creating beautiful music behind the bar, and you just can't take your eyes off of the maestro.<br />
<strong>What she's doing when not behind the stick:</strong> Getting fresh air by foraging for indigenous ingredients.
Andrew Cebulka
<strong>Specialty:</strong> In a place that already excels at beer and food, Jayce is bringing another full-barrelled shotgun to the party: inventive cocktails. From the favored Red Wedding with hibiscus tea ice cubes; to barrel-aged cocktails; and even the Summer Stinger, with white brandy, white creme de menthe, and mint, Jayce's cocktails are what keep patrons coming back to the Edmund's Oast bar. And luckily for us, he's not greedy about his recipes: he hosts occasional bartending classes in order to let the rest of us in on how to make his famous libations.<br />
<strong>What he's doing when not behind the stick:</strong> Experimenting with creating new flavors of bitters and tinctures with local ingredients.
Courtesy of Proof
<strong>Specialty:</strong> Craig (the owner) and Roger excel at the craft bar, and Proof is where they hold court. They are both excellent bartenders in their own right, but if you can get them together on a weekend night, they make magic. At this "bartender's bar," be on the lookout for obscure classics from the cocktail menu and drinks with an emphasis on gin and absinthe. These two are so good that they recently brought some Charleston hospitality to NoMad in NYC, and wowed the crowds there as well.<br />
<strong>What they're doing when not behind the stick:</strong> Chatting and connecting with some of the best bartenders in the industry, and creating a ground zero for the best bar takeovers in town.
Jessica Smith
<strong>Specialty:</strong> Barman Teddy Nixon recently graced the cover of <em>Imbibe</em>. Ask him about it and he'll gladly give you a copy to peruse. Is that a tad self-promoting? Not to Teddy. He's just excited because he's a guy who truly loves what he does. He's more than just a pretty face; this guy's a meticulous creator of cocktails. Whether it be gaining inspiration for names via historical references, or adding little garnishes of floating Angostura jewels, there's always something interesting about Teddy's drinks. Be sure to keep an eye out for his seasonal specials, from spring Tiki inspirations, to autumn bourbon-fueled toddies.<br />
<strong>What he's doing when not behind the stick:</strong> Reading bar books on the beach in a Boston Red Sox cap.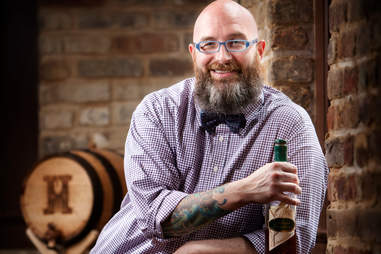 Neighborhood Dining Group
<strong>Specialty:</strong> Weaver excels at the creation of cocktails, yes, but beyond that, the creation of the cocktail menu. It rotates seasonally, so sit down and take a while to read it before ordering. Rod's not interested in recreating the wheel, yet each modern concoction has an idea attached to it, which is communicated through the glass and flavor (example: "Representations of Governmental and Social Law and Structure"). If that's all too cerebral for you, never fear: Weaver's about as approachable behind the stick as they come. You'll feel at home by the end of the first round.<br />
<strong>What he's doing when not behind the stick:</strong> Making, bottling, and selling his <a href="http://weaverfamilywhey.com/&quot; target="_blank">Weaver Family Whey</a> in the Lowcountry.<br />
<br />
<em><a class="vortex-open" data-campaign="5881" href="https://signup.thrillist.com/&quot; target="_blank">Sign up here</a> for our daily Charleston email and be the first to get all the food/drink/fun in town.<br />
<br />
It should be evident that <a href="https://www.thrillist.com/authors/stephanie-burt&quot; target="_blank">Stephanie Burt</a> believes that a good bartender is more than just a server that can make a mixed drink.You can find her (and her thoughts on everything from booze to bacon) on Twitter <a href="https://twitter.com/beehivesteph&quot; target="_blank">@beehivesteph</a> or in your earbuds on her weekly podcast, </em>The Southern Fork<em>.</em>