E
very four years, soccer fever takes over the Holy City, and we spend our lunch breaks worshipping the FIFA gods by drinking beer, screaming at the television, and arguing over the rules of soccer. Even though the US didn't make it into the World Cup this year, there's still sure to be plenty of action, excitement, and soccer memes -- enough that you'll get FOMO if you're not watching live. That's why we've compiled a list of the best sports
bars in Charleston
that'll be broadcasting the matches and maybe even throwing a party or two during the month-long competition (from June 14 through July 15). We'll be updating as we get closer to the kick off (that phrase works for soccer, too, right?) so be sure to check back so you don't miss out!
Recommended Video
Thrillist's Best (and the Rest): What's the Perfect Fast Food Meal?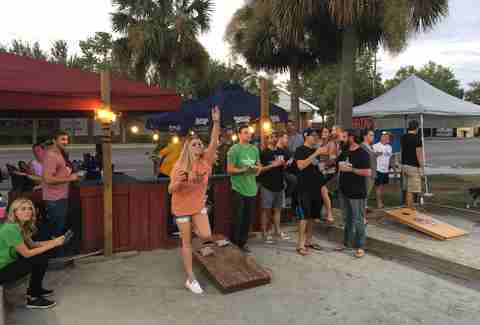 Mount Pleasant
This British-style pub is the best and liveliest to watch Team England
If 2014's World Cup games taught us anything, it's that you'll want to get to My Father's Moustache as early as possible to get a good seat, because Team England fans don't play around. That said, with many of this year's games starting at 8am (thanks, Russia), you might want to just grab a tent and spend the night in the parking lot. Even when the games aren't playing, this adult playground with pool tables, dart boards, and pinball is always a good time.
Wraggborough
Biergarten with patio & interior big screens showing every Team Germany game
You can bet that a place that calls itself a biergarten will be celebrating Team Germany's journey all month long. They'll be running food & drink specials during all the Germany games, which you can watch on many of their big-screen TVs both inside and out on the patio. The beer will be flowin', so you can cheer Die Mannschaft with a full stein, the way Germany intended. Angela Merkel would be proud.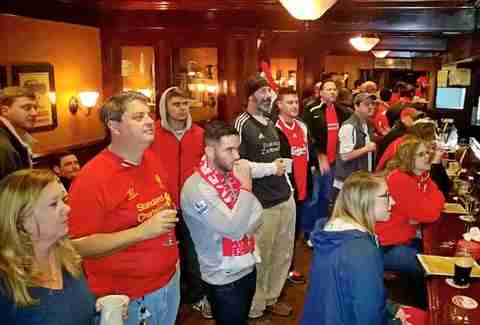 Summerville
Team Ireland's HQ, and a great option for World Cup newbies
You don't have to cheer for a specific team to have a great time at Madra Rua (especially since Ireland's not playing); their Summerville location will be celebrating by giving you a chance to win a New Belgium bike during the finale. You'll definitely be cheering for the drink prices here -- they'll be doing 20-ounce drafts of New Belgium for $4.75 until the final game, and each one you drink will get you a ticket toward winning the bike! If New Belgium isn't your thing, Blue Moon and Yuengling drafts are always $4.50, Fireball shots are $3, and every Sunday during brunch, you can get mimosas and Bloody Marys for just $3, or a beermosa with either Strongbow, Blue Moon, or Son of a Peach for only $5.
Downtown
Cozy local dive that feels like watching the games with your best friends
Local 616 is one of the few bars in Charleston where you'll find soccer fans watching games all year round, so you can bet they'll be flocking there during the World Cup. This place really lives up to the "local" part of its name, as owner Dwayne has made it his mission to make everyone who comes into the bar feel like a regular (which is probably why Local 616 has so many regulars). Grab a beer or a craft cocktail, and settle in to watch a game or two.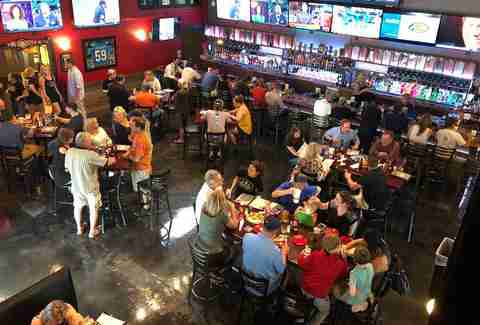 Various Locations
Lively bar chain with four locations in town, all showing the Cup
Any place that literally has "sports" in its name is a probably a safe bet for watching the World Cup, and Charleston Sports Pub is no exception. Yes, you can watch the games here, but the food menu's varied enough for you to theme your to the teams that are playing: get nachos and tacos to support Team Mexico, fish and chips to support Team England, a large soft pretzel for Team Germany, hand-cut truffle fries to support Team Belgium, or go the United Nations route with a combo of all of them.
Cannonborough
Bowling alley with giant World Cup screens... and bowling
There's never really been a sports game that The Alley didn't celebrate with abandon, and the World Cup is sure to follow suit. You can watch the games on either of the two 160-inch projection screens, which are big enough to make you forget you're watching the games at a bowling alley. This is the ideal location for lunchtime games; grab a burger or some loaded tots and a beer or cocktail, and top off your watch experience with a quick 10 frames before heading back to the office.
West Ashley
Craft beer on tap, multiple TVs, and old N64 games
It's nowhere near as much fun to watch the World Cup without a cup of beer in your hand, and where better to cheer with a beer than an actual brewpub? The selection is fantastic, including a rotating selection of in-house drafts along with a few guest beers-- even better, though, is that you can play old N64 games on their TVs between matches, while downing a jumbo slice from Zombie Bob's pizza. We can't all be athletes; Frothy Beard lets you embrace that.
Mazyck-Wraggborough
Lively neighborhood tavern and sports bar
The Brick is the sports bar that rose from the ashes (literally, after the original location burned down a few years back) to bring downtown Charleston a traditional sports bar and tavern experience. They've done big parties for many big sporting events in the past, and the World Cup is likely to be no different. Enjoy watching inside at the bar or out on the patio, and treat yourself to some mac & cheese bites while you're at it.
Daniel Island
Watch the World Cup at a soccer bar... at a soccer stadium
Three Lions is the only true soccer bar in Charleston, as it's the only bar that's located within MUSC Health Stadium, where the Charleston Battery soccer team plays their home games. The 5,000-square-foot, English-style pub is a footballer's dream, as it's fully stocked with soccer memorabilia -- like signed game balls, jerseys, and pendants -- from around the world. Typically the pub is only open when matches are being played, but this year they plan to open for a few select games and the finale in July (full schedule TBD).
Sign up here for our daily Charleston email and be the first to get all the food/drink/fun in town.