The Best Coffee Shops to Work Remotely in Charleston
Exploring a new city for the hottest spot to grab a cup of coffee and get to work can be tricky. Which places have the best food? Where can you find free Wi-Fi? Believe me, I understand the struggles of working remotely. And, while I love those days spent working from the comfort of my bed, I totally get the need to leave the house to get your work done.
Freelancers, entrepreneurs, and creators of all kinds require the right atmosphere to get their creative juices flowing -- and deliciously caffeinated drinks and food to keep their energy up. Check out some of our favorite coffee shops (all with free Wi-Fi) to hit up when you're looking for the perfect place to work in Charleston.
Eastside
Located inside the Old Cigar Factory, Mercantile & Mash offers all the amenities us remote worker folk look for in a coffee shop -- free parking, plenty of tables, a full menu of food, and the ever-desirable free Wi-Fi. With bar seating, high-top tables, and larger short table seating, Mercantile is a versatile work space with no shortage of caffeine. Indulge in a beautifully crafted flavored latte like the vanilla sweet cream, or, if you're in need of a real pick-me-up, order the Paris By Night -- a four-ounce shot of nitrogenated espresso topped with sweet condensed milk and a mint leaf. The food menu changes seasonally with offerings including the double patty Mash Burger, French Dip sandwich, edamame falafel, and fried Brussels sprouts. After a long day of work, pop over to Bar Mash, the connected bar, to enjoy a glass of red wine or a heavy pour of your favorite whiskey.
Best for plant and veggie lovers: Huriyali
North Central
Just north of Downtown Charleston, Huriyali caters to a mix of college students, remote workers, young professionals, and those seeking a veggie-forward menu. This little coffee shop and eatery serves up all the usual caffeinated suspects with a variety of non-dairy options like soy and coconut milk alongside less traditional alternatives like oat and cashew milk. Thanks to Charleston's year-round temperate climate, you can spend your work days catching rays at one of the tables in the back garden. Head inside, and you'll be greeted by a sunny interior with plenty of plants and a strong surfer vibe. The health-conscious menu serves up tasty options like açai and other fruit-centric bowls as well as smoothies and vegetarian meals like a masala omelette and a chickpea patty breakfast sandwich. For the meat eaters, you can opt to add turkey bacon to many of the items, or order the delectable organic turkey panini complete with avocado, heirloom tomato, and beet hummus.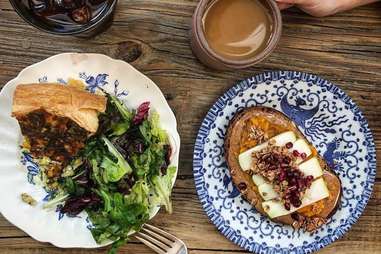 North Central
Opened in 2017 by two friends looking to start a new venture, The Harbinger is a charming little cafe owned by two women who collected many of the shop's eclectic wall decorations (vintage tin tiles, rustic wooden tables and chairs, and assorted knick-knacks) during a road trip along the East Coast on their way up to Maine. During the winter, the entryway is decorated with handmade paper snowflakes hanging from the ceiling to bring a little snowy weather to the city. Spend your workday sipping one of the caffeinated drinks, and if you're feeling hungry, order from a variety of veggie-forward salad dishes like quinoa and pasta salads or vegetable side dishes. Each day, the cafe has two vegetarian sandwich options with artisan cheese that is truly out of this world.
Shem Creek
Just over the Arthur Ravenel Jr. Bridge, you'll discover some quaint coffee shops throughout Mount Pleasant, including Vintage Coffee Cafe, housed inside an adorable restored cottage. Skim the long list of handcrafted coffee drinks for a taste of the tumeric ginger latte or one of its pour-over coffees and spend some time working in this light-filled space. For food, Vintage offers house-made pastries, as well as breakfast items like an egg sandwich with prosciutto and roasted vegetable hash. Lunch options include grown-up grilled cheese or a pesto chicken wrap. On a nice day, find a cozy spot on the front porch or patio, and once your work is done, pop over to one of the nearby waterfront bars along Shem Creek to top off your day.
King Street Historic District
In the heart of the King Street Shopping District, you'll find this little coffee shop tucked away on Market Street between Meeting and King streets. Inside, the cafe has a chill, rainy day kind of vibe with a tight-knit staff that can whip up your favorite coffee drink in minutes. Find a spot at the bar and chat with the baristas while you work or snag one of the tables that line the wall for a bit more privacy. This area of the city can be difficult to find parking in, so this coffee shop is perfect for anyone staying within walking distance.
Harleston Village
Formerly known as Black Tap, Second State Coffee is nestled in the residential Harleston Village near the College of Charleston campus. With a rotating menu of coffee offerings, this cafe has at least three different pour over varieties and a few speciality lattes including a delicious lavender latte. Second State roasts and grinds its own coffee beans, giving the drinks a very unique taste. The large windows lend the shop a light and airy feel, and, while free Wi-Fi is abundant, sometimes seating is not. If the small tables are full, look for a spot at the window bar tops or the large community table in the center of the cafe.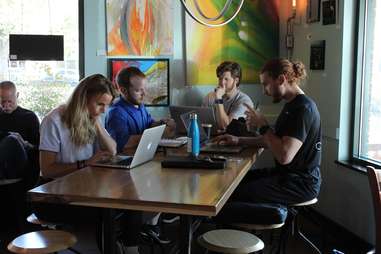 Best for art on the walls (and atop your latte): Muddy Waters
James Island
This cafe may be difficult to spot amongst the other shops and stores in its James Island shopping center, but the drinks here are one-of-a-kind. The friendly staff is always happy to guide you towards the right coffee drink made from beans roasted by Counter Culture Coffee based in Raleigh, North Carolina. Another female-owned coffee shop, Muddy Waters is decorated in local art and provides plenty of spaces for people to work as they indulge in snacks like a daily quiche selection, muffins, bagels, and sweets.
Sign up here for our daily Charleston email and be the first to get all the food/drink/fun in town.