The Best Beer Bars in Charleston
Courtesy of Edmund's Oast
When it comes to the beer bar, it seems the motto could be: "Go big or go home." But of course, size isn't all that matters when we're talking beer lists. (We swear, we are talking about beer lists.) Charleston is seemingly experiencing an explosion of local brew appreciation, which is thus fueling the Lowcountry's love of the beer bar. (Seriously, there's a Facebook page and everything.) So, when it's time to belly up for some brewskis, here's where we go.
James Island
A James Island beer bar with an expansive outdoor beer garden, Bohemian Bull also has a busy indoor bar and an expanding beer list with close to 40 taps and an even bigger bottle menu. It can be loud inside so let the kids play outside. With the ample space, it's easy to find a spot where you can focus to create your own beer flight for just $10.
French Quarter
This beer mecca is mere steps off bustling East Bay St, so it's easy to find for tourists, but it's also a great stop for locals as well -- especially on Sunday Funday when large format beers are half-price. The back patio is a great place to enjoy said brews, so either grab a bottle or ignore them all together and go for one of the 48 tapped brews. If you visit after the sun goes down, you'll still have plenty to sample, including munchies from the kitchen. (It stays open until after midnight.)
Upper King
While this bar isn't nearly as old as Gene's, it was still ahead of the craft beer wave that Charleston is currently experiencing, so it's safe to say the staff knows a thing or two about the scene. What's really fun here is that you can get your pours in three sizes: 10oz, 16oz, or a liter (which is a monster of a beer). If you're staying for one of those, better order the Pork Slap sandwich to go along with it (a piece of fried pork cutlet and some braised pulled pork topped with swiss, tomatoes, pickled mustard seeds, and house sauce on a brioche bun.) But whatever you do, don't take that as an excuse to slap anyone, OK? (Unless they deserve it... )

Avondale
Established in 1952, Gene's is the oldest bar in Charleston, and it has always welcomed in patrons to enjoy its wide selection of beer. It's a dive bar of the best kind (which means the requisite dicey bathrooms) and is where generations of Charlestonians learned a beer language beyond just Budweiser. Not that Gene's doesn't have (and serve) plenty of Bud, of course; there's just a lot more to pick from on this beer list. If you're not sure where to start, find a seat at the bar in front of the beer cooler and take a gander.
West Ashley
On the other end of the timeline is Craft Conundrum, one of Charleston's newest places to park on a barstool. Owned by a husband-and-wife team that was once responsible for the beer variety at select Piggly Wigglys (The Pig), they've brought their extensive knowledge of tapping for growlers into their first bar. It's located in a strip mall anchored by a grocery store (which once was a Pig) and some fast food. But try not to judge. Trust us: you'll be visiting this strip mall over and over once you realize they have 100+ beers available in growlers. Who needs groceries? Beer is food!

Park Circle
Madra Rua is much more than it's annual St. Patty's Day celebration, though we'll admit that's an easy yes to go "on the lash," as the Irish say. But it's great for a pint other times of the year as well. It might not have the heft of some of the other beer lists, but the pub experience, people, and Black Magic (Guinness and Magic Hat No. 9) make you feel at home in one of North Charleston's best 'hoods.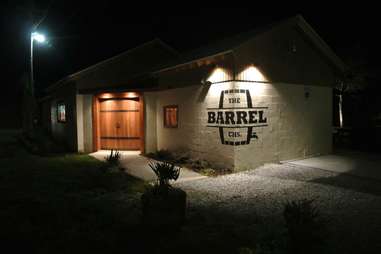 James Island
The Barrel is a barrel. Really. It's a barrel-shaped building filled with local and regional beer set on a creek. There's a grassy, waterfront backyard where food trucks park, dogs play, people chat (and occasionally hula hoop or play cornhole), and of course, toast from one of the 33 selections. There's not a circle of people singing "Kumbaya" yet, but have a couple of brews in this setting and it's possible you'll feel like starting one.

Mt. Pleasant
Well-established Coleman Public House in Mt. P has top-notch truffle fries, but most beer nerds visit to geek out with the other beer nerds behind the bar, discussing the ever-rotating chalkboard tap list of seasonals, tripels, and all those IPAs. Head here to learn the beer lingo you need to go from beginner to pro and to finally know the difference between Cascade and Centennial hops in the nose of a pour.
NoMo
Back in the day when NoMo wasn't "NoMo," the only thing out here was the Tattooed Moose, and we all came for the taxidermy, the duck fat fries, and the beer. All of those things are still worth the trip, as is Craft Beer Tuesday (where all craft beers are $1 off). Follow the bar on Twitter for pics of the draft chalkboard, which always has approximately six rotating craft brews on draft alongside seasonal bottles.

Folly Beach
For such a tiny place, Jack of Cups sure packs in the pints. The beer list is divided by style, and there are plenty of them you'll be hard-pressed to find elsewhere. To help you navigate it all, co-owner Lesley Carroll is usually in the house to guide you in narrowing down a choice, from a 21st Amendment Watermelon Wheat all the way to a Lagunitas Imperial Stout.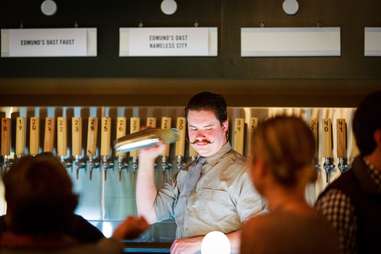 NoMo
Edmund's Oast is the only one on this list to brew its own beer. And frankly, we're blushing a bit to mention this brewpub-meets-cocktail-cottage-meets-restaurant yet again. Maybe we have a bit of a crush, OK? But more than likely, it's just that the beer is damn good, and they don't discriminate, pouring everything from their own beer (including a locally famous PB&J pint), to Evil Twin, to things you've never heard of. Just go, stare up at the wall of beer, and pick one. You'll understand why we're smitten.

Mt. Pleasant
You may not find this place on many lists (until now), but House of Brews is a hidden gem on the way to Sullivan's Island. It has unique beers from around the world, claiming to have the largest beer selection in the area, and offers all beers on draft either at the bar or in a growler (to be taken home). There's always something going on at House of Brews (open mic nights on Friday and Saturdays), so make sure to stop on by and meet all the nice Charlestonians that seem to fill up this spot each and every night.
Sign up here for our daily Charleston email and be the first to get all the food/drink/fun in town.
Stephanie Burt is a contributor for Thrillist based in Charleston who thought she only liked Mexican lager until she discovered saisons, porters, and a good brown ale. Find her random musings and food discussions at @beehivesteph or on her weekly podcast, The Southern Fork.