Springtime in Charleston usually means walking outside to find your car covered in a fine dusting of green pollen that will be semi-permanently fused to your car because of the damn humidity. Of course, it also means it's time to make the switch to a different seasonal beer. With a new brewery opening seemingly every month here in town, your options for spring beers are virtually endless. So we went from brewery to brewery, tasting 4oz pour after 4oz pour of spring options -- for you! -- to narrow down the best of the best. Here are the ones that made the cut.
Kölsch, 4.8%
North Charleston
Charleston beer lovers should thank COAST for paving the way for the craft beer renaissance we're currently experiencing in the Holy City. (After all, it did help get the Stone Bill passed so we could get more than 4oz pours at breweries.) The kölsch is one of COAST's flagship beers for good reason: the beer has a clean maltiness with a nice citrus finish, and is light-bodied enough to please most palates. You can pretty much find it anywhere in Charleston, but the best place to drink it is at the brewery itself while watching the chickens run around and talking to COAST's Jaime and David about what's going on in the beer world.
Farmhouse ale, 6.1%
North Charleston
Freehouse Brewery is unique in that it is completely organic and has some of the best views of any brewery you're likely to visit. (Check out its Facebook page if you don't believe me.) The dry Belgian-style saison is great for spring because it's lighter, with enough citrus and fruity flavor packed in for a nice pairing with a warm day, but not overpowering enough to be a one-off.
Farmhouse ale, 7.8%
North-Central
Palmetto's spring "843 Series" installment, Colonel Rathbun's Farmhouse Ale, is incredibly flavorful, having been brewed with over 60lbs of Hachiya persimmons from Brickyard Point Farms. There's a faint bready complexity here, with a hint of sweetness and spicy notes at the finish. It's available now through May, and all the the proceeds benefit GrowFood Carolina -- meaning every pint you drink helps to support local agriculture. Drink up!
Red ale, 6.7%
Wagener Terrace
Driving up to Cooper River Brewing makes you feel like you're about to be an extra on The Walking Dead. (Seriously, the drive is sketchy as hell and you have to go under an overpass on a not-so-maintained road. Plus, there's a cemetery across the street). But once you get to the actual brewery, you'll be blown away by the modern interior. Of course, grab a taste of the Scottish red ale, and that weird drive doesn't really matter anymore. This beer has a great warm color and a full body at 6.7% ABV. It's a beer that you'll want to sip while you're cruising the Cooper River on your friend's pontoon boat under a hot sun.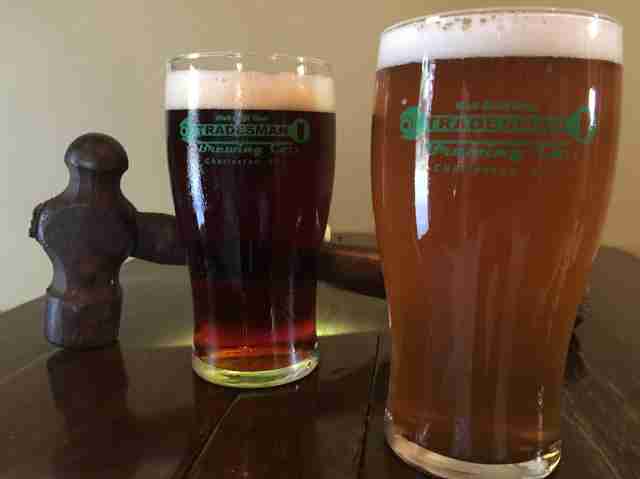 Saison, 5%
James Island
This Tradesman seasonal special is brewed with strawberries, making it both a great beer to sip during a warm Charleston afternoon as well as one that lives up to the company's tag: "Well Built Beer." The sweetness of the strawberries perfectly complements the beer's natural earthiness, and the bright aromas and crisp finish bring it all together. As an added bonus, the strawberries come from GrowFood Carolina.
Wheat ale, 5.5%
North Charleston
The folks at Frothy Beard are constantly coming up with new flavor combinations and unique takes on classic styles that you're not likely to find elsewhere. The It's Cucumber Thyme! is an American wheat-based ale brewed with fresh cucumbers that provide a slightly sweet, cool flavor. Combine that with the earthiness of the fresh thyme, and you're in for a really fresh finish. It's very light, and the added bonus of the cucumber makes this one a sure win.
Blonde ale, 5%
Johns Island
This bright, golden-blonde ale is brewed with Japanese yuzu lemon and coriander, giving it a nice, light body and a pleasant tartness. It's sweet and citrusy, but not too overwhelming -- making it balanced and a good choice for people who might be intimidated by craft beer.
Wheat ale, 5.2%
Wagener Terrace
If you're afraid of fruity beers because they're too sweet or overly fragrant, don't worry, because LO-Fi's blueberry wheat beer is nothing like that. The blueberry flavor is really subtle and harmonizes well with the malted wheat base, so there's no sweetness or artificial taste to it like you might find in other mass-produced fruit beers. It's perfect for picnicking in your backyard (only because we can't drink on Folly Beach anymore).
 
Berliner Weisse, 4%
Mount Pleasant
The most breathtaking of all the breweries in Charleston, Westbrook's multi-million dollar facility produces a number of pretty great beers. The Lemon Coconut Weisse Weisse Baby (which is a winner on the name alone) is a lot sweeter than most Berliner Weisses, having strong notes of vanilla and lemon with just a hint of coconut. Drink enough and you'll probably end up like it's label (which shows a lemon wearing a pair of sunglasses): bright, chill, and ready for the warm water. But just not a lemon.
 
Hefeweizen, 5.3%
North Charleston
Named after the surfer's paradise on Folly Beach, Washout Wheat is perfect for hot weather and for drinking after a long day out in the water. It's brewed with pale and wheat malts, so you get nice notes of banana and clove. The brewery keeps it simple by not adding any additional ingredients. Fun fact: this is actually HCB's first wheat beer.
Cream ale, 5.25%
NoMo
Revelry Brewing is known for being bright, colorful, and a little eccentric, and that definitely shows up in its beers. Most cream ales are made with corn, but this place went a slightly different route and made the Gullah Cream Ale with grits from Geechie Boy Mill out on Wadmalaw Island. It's also brewed via the cold lagering process, so the result is a clear, golden, dry ale that you'll relish sipping out on the brewery's attractive patio.
Helles lager, 4.5%
Summerville
If you're looking for a beer that's really clean and easy to drink, the Joggling' Board Lager from Oak Road Brewing in Summerville is a great option. Named after the quintessential Charleston porch furniture, this brew is a Munich Helles-style beer, which means it's perfect for the Lowcountry's spring weather and front porches. This is a classic "lawn mower" beer, a nice refreshment after a warm spring day of working in the yard.
Wheat IPA, 7.2%
North-Central
The Huger Street IPA is a new addition to Palmetto's "four core" portfolio (complete with an amber ale, a pale ale, and an espresso porter). It recently replaced the longtime staple Charleston lager and is brewed with wheat for a fuller body, richer flavor, and a slightly softer texture. The generous, billowy head carries with it all the aroma from several included varieties of "C" hops (Chinook and Citra), enhancing the hoppy citrus character of the beer.  
 
Belgian witbier, 5%
Mount Pleasant
This beer was inspired by co-owner Morgan Westbrook lamenting the fact that there were no good beers to drink with Thai food. That led brewer and founder Edward Westbrook to brew a classic witbier, but substituting fresh lemongrass, ginger root, and a dash of Sorachi Ace hops for the traditional coriander and orange peel. The result is a wonderfully refreshing ale with notes of lemon candy, citrus fruit, and a slight spiciness from the ginger. Now it's a Charleston favorite all year long.
Sign up here for our daily Charleston email and be the first to get all the food/drink/fun in town.
Sydney Gallimore is a craft beer lover and food writer from Charleston, SC. Follow along with her food adventures @Sydney_Inc.