The Best Wine Bars in Charleston
Courtesy of Indaco
Courtesy of Indaco
Wine bars might not be what comes to mind when one initially thinks of Charleston. Shrimp and grits or BBQ? Sure, we've got that covered. Dive bars? Yes, absolutely. But if you're looking to sit back in a cozier setting, and even learn a little bit from the knowledgeable oenophiles who fill out the scene, then take a look at some of the best wine bars in Charleston. After all, they're pretty deserving of some high praise… and our business.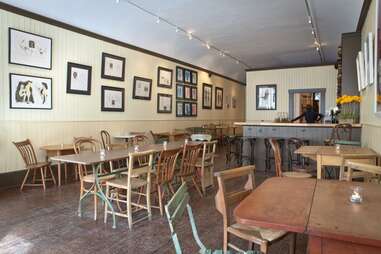 French Quarter
If you're looking for a wine bar recommendation, chances are that locals will point you to Bin 152. We love the decor, the wine list (130 selections), and yes, the cheese selection. Granted, nothing is value priced here -- especially the wine and cheese -- but if you are looking to truly expand your palate, this is a great classroom in which to do so.
Ansonborough
Located just steps from the Belmond Charleston Place, this little nook looks like a library, but the shelves are filled with wine. Cozy, casual, and built for conversation, O'Hara & Flynn houses an interesting mix of tourists and locals. On weekends, you're apt to find more locals because it's when they host live jazz, which makes this place even more charming.
Avondale
As adorable as the neighborhood in which it sits, Avondale Wine & Cheese has a dash of funk just like its 'hood with hand-painted accents and a very local crowd. Weekend antipasto specials are fun, and there is a focus on local partners for the bites -- from Swank Desserts to Charleston Cheese House. Plus, it's always a great place to start a Thursday Avondale Bar Crawl with their $5 tastings.
Mount Pleasant
In the suburban outpost of Belle Hall Shopping Center, The Wine Bar is the perfect place to stop after shopping. Just a warning: your visit may last well into the evening because the wine list is 100 strong. Of course, there are the cheese and snacks offerings, but they have something that is unique -- chocolate charcuterie. OK, it's not really charcuterie, but a selection of six or 12 choices from a bark, bon bon, and chocolate cordial menu, all displayed for your pairing pleasure. Suddenly shopping got so much sweeter.
Park Circle (& other locations)
Started by and staffed with some of the former top-notch Woodlands Resort & Inn staff (now shuttered), Accent on Wine's true appeal comes with the knowledge of the employees. All of the retail wines are available by the glass, which makes picking a pairing for dinner foolproof... and fun! The staff loves to point you in the right direction for a pour that's just what you were looking for without exactly knowing it.
Park Circle
Brand new and steps away from Accent on Wine in North Charleston is Stems & Skins. The bar has some Charleston F&B heavy hitters from Husk Restaurant and Bull Street Gourmet. What this means is excellent wine knowledge and good bite pairings. And yes, some personality... like spinning vinyl behind the bar. That's so Park Circle.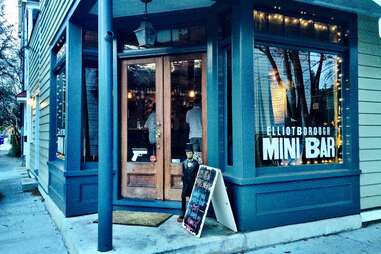 Elliotborough
This spot is tucked deep into a side street but just a short walk from bustling Upper King St. What you will gain from leaving those crowds is a calm respite that is still fun without needing the velvet ropes or loud music. And if Sommelier Kristen Bland is behind the bar, she will often enthusiastically offer you some sips and samples. It's kind of like the best version of a home party, every night.
Mount Pleasant
On the opposite end of the spectrum from Elliotborough is Ardoa, located in Mt. P's Seaside Farms. The space is full of the gleaming modernity of an interactive self-serve wine dispenser. That's right, folks; with the push of a button, you can taste and sample a wide variety of wine, where you decide the depth of pour. Dispense with caution, though, because the bill (and your alcohol level) can elevate quickly.
Sign up here for our daily Charleston email and be the first to get all the food/drink/fun in town.
Stephanie Burt is a contributor for Thrillist and other publications who enjoys a rich red wine with legs, any kind of bubbles, and a crisp white that tastes of limestone. Find her random musings and food discussions at @beehivesteph, or listen to her weekly podcast, The Southern Fork.