Cristina Wilson/Thrillist
North Carolina moonshine conjures images of backyard festivities, cheap -- or shall we say "rustic" -- mixed drinks, and just a little bit of Appalachian rebellion. Look no further than the story of Madison, NC-based Junior Johnson to understand how our state and bathtub hooch are intrinsically linked. Today, the Queen City has rapidly adopted the legal spirit for cocktails that are sophisticated albeit, extremely potent. Here are 10 spots to get your moonshine fix near Charlotte.
Dilworth
The cozy interior and rich Southern flavors (oh, the lobster nachos) are reason enough to visit The Summit Room -- and then we get to the cocktail list. Beyond a compelling specialty cocktail menu brimming with house-made sours and fresh juices, it presents The Seven Summits, signature elixirs each named for, you guessed it, the Seven Summits! North America's Mount McKinley is aptly represented by Midnight Moon, Midnight Moon Apple Pie, house-made honey lemon syrup, apple juice, and finished with a touch of maple syrup sweetness.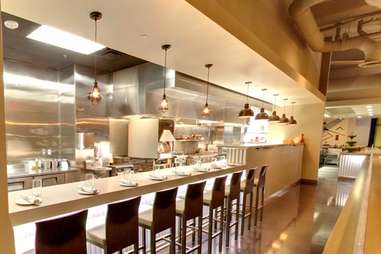 South Park
It must be something about the magic of a Carolina July (or maybe the magic is just mild heatstroke) that makes the moonshine + blackberry combination so appealing. Dogwood's take on the pair features Troy & Sons, blackberry shrub (fresh juice plus Champagne vinegar), its lemon and Key lime house sour, house-made blackberry jam, and lemon bitters. There's a lot of "homemade" going into that one drink, and it tastes as such.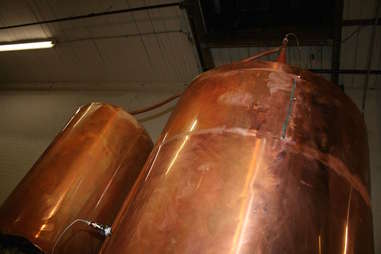 Concord
We love seeing quick growth from a distillery a stone's throw from Charlotte, especially one that just launched in 2014. Tours are available by appointment and also during historic Concord's Union Street Live events, the third Thursday of the month from 5-8pm. For now you can't go wrong purchasing a bottle of its Sun Dog 130 and whipping up a suggested cocktail (Carolina Peach or, dare we say, the Hot Buttered Popcorn with Fireball and butterscotch schnapps), but keep it on your radar for the release of new flavors like pineapple, honey apple dumpling, and pink lemonade.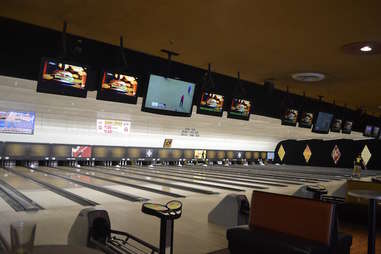 Montford
It's a moonshine bar! Oh, and there's bowling and some of the city's best barbecue. Ten Park Lanes offers a menu with both breadth and depth, serving up varying flavors of moonshine on tap. Though the Blueberry Infused Moonshine Lemonade is a great place to start, we're siding with the bartender on giving the strawberry moonshine "margarita" a try.
South End
Nan & Byron's is a Charlotte staple for good food that's creative, but doesn't overthink it. It only fits, then, that it presents moonshine refined with its G'Night Moon cocktail. Smooth and just sweet enough, the combination of Junior Johnson's Midnight Moon, soda water, Sprite, mint, lime, and simple syrup makes for a refreshing libation that goes down easy.
South End
This Asheville-bred spot is already known for serving a mean brunch, but The Queen Mary takes your lazy Sunday (after noon of course) to the next level. When you pair this decked-out Bloody Mary variation -- pimento cheese-stuffed olives, grilled shrimp, maple pepper bacon -- with the choice of "vodka or jalapeño-infused moonshine," we say, the choice is obvious. Order it alongside the Super Southern Breakfast Bowl with black-eyed peas, goat cheese grits, and farm-fresh eggs for a truly Appalachian experience.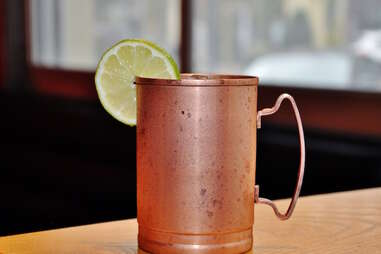 South Park
Sometimes a little summer refreshment is all you need. Among the rest of The Cowfish's complex menu -- hello, Burgushi -- the cocktail list keeps it relatively simple. The Moscow Muleshine is the perfect sip for the season with Junior Johnson Midnight Moon, ginger beer, fresh lime, and shiso.
Plaza Midwood
We appreciate the solemnity with which Midwood Smokehouse presents its "Southern Tradition": a shot of moonshine with a pickle juice chaser. That is respect for the craft. We're also excited to learn, though, that the team is working on a few new concoctions for later this summer, likely featuring Ole Smoky Tennessee blackberry moonshine as the centerpiece. We will happily shoot the pickle juice while we wait. And hey, can we crash those tasting sessions?

Uptown
There are several spots that serve up the 'shine without a designated cocktail listing, so just look at that as an opportunity to be creative. The Asbury is worth a visit for Chris Coleman's decadent take on farm-to-table Southern cuisine, especially when bar manager Pete Ladino is ready to whip up custom cocktails on command. And speaking of those Troy & Sons libations...

Asheville
If there's one moonshine brand you are likely to see again and again in Charlotte, it's Troy & Sons, helmed by the Carolinas' matriarch of moonshine, Troy Ball. If you've tasted all (or even one) of its Platinum-based drinks, it might be time for a day trip to the mothership. It offers free tours and tastings at 5pm and 6pm Fridays and Saturdays.
Sign up here for our daily Charlotte email and be the first to get all the food/drink/fun in the Queen City.