Where to even begin? 
It's the question that even the most intrepid beer lovers find themselves asking when confronted by the variety, prestige, and sheer volume of craft breweries that call Asheville home. This increasingly trendy mountain town in the Smokies has been a microbrewery hotbed for decades thanks to its pristine spring water, boundary-pushing brewers, and eco-conscious drinkers craving tasty beers made with quality ingredients. You'll have a lot of options when mapping your taproom adventure in the Land of the Sky. 
This rundown of Asheville's essential breweries, loaded as it is with exemplary western North Carolina craft producers, is sure to cause a ruckus amongst those lucky enough to spend lots of time in such a beautiful, beer-soaked city. But if you're uninitiated to the AVL beer scene, or visiting for the first time, it'll steer you towards some can't-miss picks. Whether they're the city's best of the best is your call to make.
Oakley
Highland can lay claim to Asheville's oldest craft brewery as it opened its doors way back in 1994. Ever since then, the brewery has been carrying WNC's craft beer gospel throughout the region with widely distributed (and widely loved) classics. East of town and sort of off what's become the beaten path for breweries here, this spacious, shipping-container-studded taproom also boasts a damn pretty attached outdoor venue called The Meadow, where they host music performances and operate weekend bar. Grab a pilsner or Gaelic Ale (extremely coy tagline: "Asheville's first beer") and soak in the local brewing history. 
Beers to try: Highland Pilsner, Gaelic Ale
South Slope
Named for the mythical sylvan woodland creature, Green Man is one of the elder statesmen of the Asheville craft beer scene. Since 1997, it's been plying thirsty Carolinians and their guests with fresh, hop-forward beers brewed on eco-friendly brewing equipment at either the hulking "Greenmansion" (its production facility built in 2016) or Dirty Jack's, its original tasting room where special releases like highly lauded (98 on RateBeer) DIPA The Rainmaker is brewed. The Greenmansion is a bit austere, while at Jack's the decor is funky, and there's a shaded patio on the side of the building that's dog-friendly. You know what to do.  
Beers to try: Green Man ESB, Green Man IPA
South Slope
You really can't talk about Asheville breweries without talking about Wicked Weed, though there are plenty of diehard craft beer fans who would like you to. Since Anheuser-Busch InBev acquired WW 2017, it's been treated as a pariah to true believers in the craft brewing revolution. It's a whole "thing," and this isn't the place to get into it. This is about places to drink great beer in Asheville, and flat-out, the Wicked Weed's sour temple The Funkatorium is one of them. Yes, it tends to get pretty slammed with tourists on weekends (watch out for low-flying bachelor/ette parties on the deck); yes, there's only so much wild/sour beer you can drink; and yes, they're owned by Big Beer. But it's a legitimately good spot with a bunch of well-earned awards to its name, so go have a flight and form your own opinion.
Beers to try: Red Angel Wild Ale, Angel of Darkness Barrel-Aged Sour
Downtown / North Asheville / South Slope
This OG on the scene has been keeping Asheville well-lubricated since 1998, when it opened its original North Asheville location. That one was a glorious brewpub/movie theater concept before it was cool, and also served tasty pizzas that would go on to regularly be named amongst the city's best. Since then, ABC has carried the Beer City, USA torch proudly, and these days has three locations: the original, plus a production brewery and indoor/outdoor taproom in the brewery district, and a pizza outpost south of town. All the beer is good here, but the standout is undoubtedly Ninja Porter, a super-smooth brown porter with two World Cup gold medals under its belt. 
Beers to try: Ninja Porter, Shiva IPA
South Slope / Biltmore Village
The so-called "Craft Beer of the Carolinas" lives up to its slogan with its regional footprint stretching from two Asheville locations in the west, to a new production/taproom set-up about to come online in Charlotte. They also acquired South Carolina's Palmetto in 2017. All that expansion means they're doing something right, and that something is brewing solid beers like their flagship Hopness Monster IPA and widely loved White Zombie ale. Catawba's AVL outposts are yin and yang, with soaring ceilings and tons of square-footage in the brewery district, and a cozy, low-slung, neighborhood vibe out in Biltmore Village. 
Beers to try: White Zombie Ale, Hopness Monster IPA 
South Slope
Of all the taprooms lining streets in South Slope, Burial may just be our favorite. The set-up is sweet: inside, there are two long, staggered barrooms, each with their own bar pouring a dizzying range of one-off brews, most with delightfully morbid names (Born From Death, Vividly Depicted Hauntings, Cavities of Bloodshed, etc.) Outside, the brewhouse is flanked by tables on three sides, plus a truly pleasant roofdeck up top. The bar menu is designed by a James Beard nominee and better than it has to be, and the staff is cool under pressure -- a must, since Burial can get packed on weekends. The gloomy aesthetic and heavy metal typefaces are a welcome change of pace from all the earthiness you'll find around town, too. 
Beers to try: Surf Wax IPA, Shadowclock Pilsner (plus whatever's on when you're there)
South Slope / Biltmore Village
Circus vibes reign supreme at Hi-Wire, an Asheville stalwart since 2013. That year, they earned Ratebeer.com's best NC brewery honors, and haven't looked back since. Check out the original location in the brewery district on South Slope, where they brew limited-run stuff and serve a bustling taproom; or head out to Biltmore Village, where you'll find their newer "Big Top" production brewery and a much calmer scene. You'll be able to sample specialty stuff on the slope, and both locations pour the brewery's flagship lager and IPA (both very solid.) If you're there late summer, keep an eye out for Zirkusfest, their GABF gold-medal-winning Oktoberfest maerzen. Oh, and PS: the Foothills food truck at the Big Top has a killer Cuban. Get to it. 
Beers to try: Hi-Wire Lager, Hi-Pitch IPA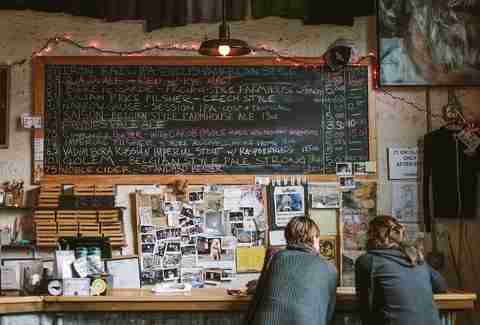 River Arts District
Nestled off the beaten path in the city's wonderfully funky River Arts District, this humble brewer earned gold at the 2017 GABF, and has been consistently churning out one of the city's strongest, most focused all-around portfolios since opening in 2008. The actual taproom, located ground-level in the historic Wedge building, is dark and fairly tight-quartered, so the move is to grab a pint there, then mosey out to one of the shaded, industrial-chic outdoor seating areas that surround it. Grab the aforementioned lager or an Iron Rail IPA and enjoy the repurposed ambiance of this one-time train depot just a few blocks from the banks of the French Broad. They keep the food trucks a-rotating here, as does their new-ish location just down the road at Foundation. Scope the graffiti there, and don't be afraid to get you some BBQ at the beloved 12 Bones Smokehouse next door. 
Beers to try: Iron Rail IPA, Golem Belgian Strong Golden Ale
Westwood Place
Just across the French Broad and almost within eyesight of Wedge is New Belgium's shiny, newly bit East Coast craft colossus. Opened in 2016, this sprawling, well thought out riverfront campus is in town, as opposed to the also-spectacular outpost of fellow high-profile beer transplant Sierra Nevada (20-minutes outside of AVL proper in Mills River.) Here at New Belgium, expect plenty of indoor and outdoor space to enjoy the Colorado company's staggering array, from super-fresh pours of Voodoo Ranger IPA and its flagship Fat Tire, to super-new stuff, like its recently launched agua fresca collab with Mexico's Primus. Food vendors can be found out front, and you can take a tour if you want (the facility is nuts!) Equally awesome is grabbing a spot on the railing and watching the French Broad just flow, man. 
Beers to try: Fat Tire Amber, Voodoo Ranger IPA
South Slope
Just a couple blocks up from the Greenmansion, and just behind Asheville's venerable Orange Peel music venue sits Bhramari, a funky, three-years-young taproom & brewhouse on the corner of Lexington. Now named for the Hindu goddess of bees, this snug spot planned to call itself HiveMind, until they realized that name was already taken. But no one can take their brewing prowess away from them, thanks to a small system handed down from their neighbors at Green Man, with which they make first-rate sour and barrel-aged options. Try a year-rounder like The Good Fight (a sour pale ale) or just stroll into the taproom and order what everyone's buzzing about (bee jokes!). The food here is great, too. Come hungry.
Beers to try: The Good Fight, Bumblestick Nut Brown
Biltmore Village
This no-nonsense Biltmore Village outfit has it going on. Family-owned since it opened in 2017, Hillman is less industrial-chic than some of its fellow AVL taprooms. Instead, it skews cozy, with low iron-wrought rafters and bistro lights above long communal tables inside, and a big-not-huge deck/patio space right outside. Beer names are refreshingly straightforward, and so are the beers, in the best possible way: try the DIPA or the ESB (a 2018 GABF silver medalist). A huge perk here is the attached Rise Above Deli, from which you can -- nay, should -- order classic beer pretzels, sandwiches, and even knishes to snack on. They're technically separate businesses -- Rise Above also operates a commercial bakery in town -- but it's nearly seamless to enjoy both at once. Oh, and like many breweries around town, Hillman has live music on Saturdays. Tune in.
Beers to try: Hillman DIPA, Hillman ESB
South Slope
Eurisko has been keeping it simple since 2017 when they flung open their doors to Short Cox Avenue and thus extended the brewing district's reach just a little farther south. This sleek, modern, charcoal-hued brewhouse boasts a two-story taproom and a small, but serviceable, outdoor space with picnic tables, where you can partake in a tightly focused list of brews that includes a great porter (brewed with coffee from La Angostura, up the street) and more than a couple Belgian-style varietals. They keep things rotating all the time, and they sell a selection of stuff in bottles. Bonus: their branding is pretty slick, which makes their merch a hell of a lot more wearable than a lot of breweries can claim. 
Beers to try: La Angostura Coffee Porter, Pilz
Out-Of-Towners
...Outside of town
There are some truly exceptional breweries that surround the city, and we wouldn't want you to miss them. Nearby WNC breweries worth a car ride include: Pisgah, Fonta Flora, Zillicoah, Zebulon, Eluvium, BearWaters… and on and on. Also, two craft beer titans have set up facilities in the surrounding areas -- Oskar Blues is in Brevard, plus the aforementioned Sierra Nevada fortress in Mills River. So if you've got a few days (and a willing driver) sally forth, folks.