Known primarily for its craft beer scene, Charlotte is now home to some incredible mixologists who are creating delicious and unique cocktails. When out for a night, you could always order your standard gin & tonic... but where's the fun in that? Instead, order up a cocktail infused with jalapeños, served with fresh herbs, or finished with a splash of prosecco. Get creative with your cocktails at some of the best places around the Queen City.
Plaza-Midwood
The OG of Charlotte when it comes to craft cocktails, Soul Gastrolounge started the movement of using unique ingredients to create delicious libations. Try the A Quiet Man cocktail -- named for a John Wayne movie based in Ireland, this cocktail is made with The Irishman Founder's Reserve whiskey, and has hints of chamomile. Soul also serves up tapas and sushi, but the cocktails are the true standout.
South End
Sandwiched between breweries, The Broken Spoke is a great option if you are tired of hops and looking for something different, or are in the market for a great date spot. It's the sister bar of Great Wagon Road Distilling Company, and focuses on simple yet delicious cocktails. Try the Broken Mule, made with Tito's vodka, Redemption ginger beer, and fresh-squeezed grapefruit, or the Broken Spoke with Dewar's single malt whiskey, Amaro Montenegro, and orange zest.
Uptown
Nestled quietly on the 15th floor of the Ritz-Carlton, the Gatsby-esque Punch Room has been intriguing Charlotte since it opened in early 2015. Cocktail king Bob Peters has created a menu of punches and concoctions unlike anything the city has seen. Order up any of the punches (it is called the Punch Room, after all), though the Top of the Hill punch with TOPO Gin, Champagne, and Earl Grey tea is a showstopper. Don't miss the pisco sour with muddled lemons and limes, or the knock-your-socks-off ingredient of house-made St. Germain foam. Try to snag a seat at the bar so you can watch Peters work some mixologist magic.
Uptown
Head to Duckworth's Grill & Taphouse and, once inside, descend a flight of stairs into a different era. Built in 1912 and modeled after a speakeasy, this Prohibition-style cocktail bar pays homage to drinks of yesteryear -- the bartenders even dress the part. The smoked whiskey sour and the negroni are sexy creations, while the Sazerac would do its New Orleans originators proud.
Plaza-Midwood
Most people head to Pint Central for tapas and craft beer, but there is more than meets the eye at this Plaza-Midwood bar. The custom cocktail selection never disappoints and is always changing to fit seasonal ingredients. The Ol' Rosemary, a take on a traditional Old Fashioned, is a refreshing and perfect drink for the warm months. Served on the rocks, this cocktail is made with George Dickel Rye, orange rosemary turbinado syrup, cherries, oranges, and Dead Rabbit Orinoco bitters. Other drinks perfect for the summer months are the Eden, made with hibiscus-infused Rain Organics Cucumber vodka, and the Cardinal Knowledge, made with Kings Mountain's own Cardinal Gin, cucumber, lemon, and elderflower liqueur.
Davidson
Known for its James Beard-nominated chef, and milk bread that'll make you exclaim "shut up" loudly and to no one in particular, Kindred has a secret… it also serves amazing cocktails. The negroni, the Thai-rone with apple brandy and Thai-spiced honey, or any of Kindred's margaritas are all revolutionary. Make sure you act fast -- the cocktail menu is ever-evolving, and your favorite drink may only be a seasonal special.
Dilworth
What's not to love about a place that focuses on Southern-inspired plates and specialty cocktails, many named for famous mountains? The food is great, but the drinks are what make The Summit Room perfect for date night or an evening with friends. The Mount Elbrus, with muddled strawberries, basil, and Stolichnaya vodka, is a refreshing and deceptively easy cocktail to drink.
Uptown
Halcyon is a farm-to-table restaurant and cocktail bar located in the same building as the Mint Museum Uptown. The interior of the restaurant is lovely, but the outside patio is the real gem. Grab a seat and be prepared to be wowed as you people-watch while drinking the "Mess-Around" -- served with lavender ice cream and moonshine. The Frambuesa en Fuego, with chili-infused tequila, raspberries, and Cointreau, is also a hit.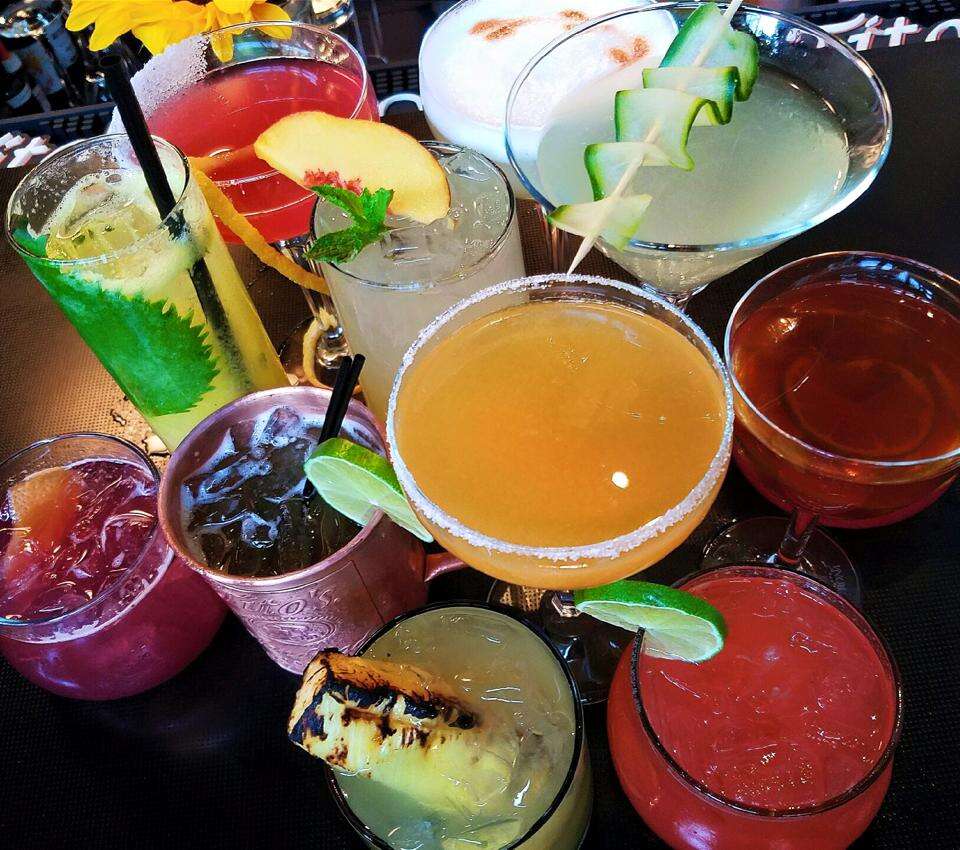 Midtown
There is no better pairing than sushi and cocktails, especially sake-based cocktails. Pisces is best at creating unique cocktails such as the Far East Manhattan, which mixes Bulleit rye, ginger liqueur, and Zipang Sparkling Sake. Gaia's Martini also puts a spin on tradition by using vanilla, avocado, and homemade elderflower foam.
Uptown
Known as the go-to spot before a show at the Blumenthal, and recently made better by the hire of mixologist Andrew Shook (previously of Halcyon), Aria also wants to become the go-to Uptown spot for custom cocktails. The Spring Sparkler with lavender and bubbles is an ideal warm-weather drink. If you like things a little on the spicy side, the Yucatan Bloom is for you -- one sip of its tequila, infused with various kinds of peppers, will leave your lips feeling hot for hours.
Uptown
5Church has reigned supreme as the ultimate destination for cocktails in Charlotte for years (and with good reason). The spicy/sweet Viper, with tequila, Cointreau, cucumber water, and cayenne is its most famous cocktail. But for something different, order the Bourberry. This drink is as pretty as it is potent, with Jim Beam Red Stag, raspberry liqueur, citrus & cranberry juices, and muddled raspberries.

Sign up here for our daily Charlotte email and be the first to get all the food/drink/fun in the Queen City.
Erin Maddrey is a freelance writer who has embraced the burden of trying new cocktails so that you don't have to hurt your liver. Follow her on Twitter and Instagram @ErinMaddrey.