Skip the EpiCentre, locals know that Charlotte's best bars are found on neighborhood corners and facing Uptown's streets. Like the city itself, they're an eclectic mix varying from sleek lounges, to honky-tonk watering holes. So get outside, have a beer, and raise your glass to Charlotte's 14 most essential bars. 
Uptown
What you're getting: Carbonated Aviation
When a bar is on the 15th floor of The Ritz-Carlton and features gold accents, plush leather seating, and skyline views, you expect it to be good. When that spot also includes Bob Peters, an enthusiastic bartender whose creations make him more magician than mixologist, it's safe to expect greatness. Sample the daily punch, but bring your sense of adventure for one of the inventive elixirs like Carbonated Aviation, an effervescent twist on the classic, or Strange Brew made with smoked bourbon, hazelnut milk, and a coffee ice cube.
NoDa
What you're getting: Olde Fashioned Robbery, Heist beer cocktail
Housed in an old cotton mill, this triple threat is part brewery, part cocktail bar, and part restaurant -- and the whole is greater than the sum of those parts. Despite the ample seating, this is the kind of place you're likely to have to squeeze into the bar, or wait for a table on the weekends, especially during its next-level Sunday brunch. The small batch beers change frequently and are especially tasty when mixed in one of the beer cocktails like The Black Fog made with Heist stout, rye whiskey, and blackberry puree.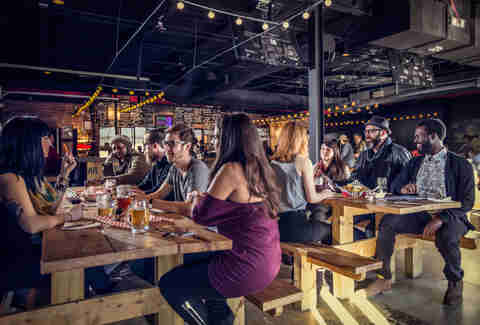 Uptown
What you're getting: A pitcher of local craft beer
If you're going to see a concert at the adjacent NC Music Factory, this laid back German-style beer hall is mandatory for pre or post-show drinks. Inside you'll find a U-shaped frost bar and snacks (order the jumbo pretzel with house-made beer cheese, trust us), but its sprawling beer garden, where white string lights hang over picnic tables, is the biggest draw. The beer selection changes daily and brews are offered in 12oz, 18 oz, and (Munich-style large) 34oz sizes, as well as pitchers, all perfect for sampling from the 30-tap selection.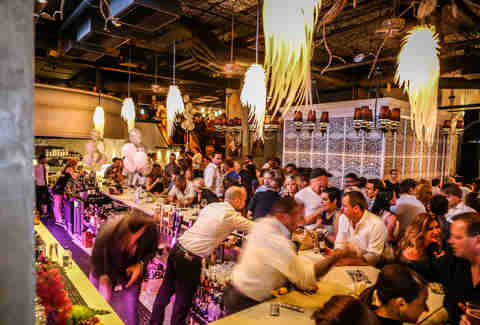 Uptown
What you're getting: The Viper
Feather chandeliers and a black ceiling with The Art of War text scrawled across it set the scene for this sleek see-and-be-seen spot in the center of Uptown. The young and beautiful typically mingle here earlier in the evenings for the first drink or two before continuing to one of the other nearby nightlife destinations. Specialty cocktails like the Viper, a mix of Patron, orange liqueur, cucumber water, and cayenne pepper, or Rosemary Gin Fizz made with gin, liquid egg whites, and rosemary simple syrup are sophisticated enough to keep up with the crowd. 
Plaza Midwood
What you're getting: Sazerac
This second-story small-plate lounge feels like a modern speakeasy. Snag a seat early at its small bar as this spot doesn't accept reservations, and fills up fast with a hip crowd that comes for its killer boozy concoctions. The constantly evolving cocktail menu features inventive (and potent) libations like a Celery Spritz made with gin, Cointreau, house-made celery seltzer, lemon, and olive oil. The vibe here also calls for classics, and drinks like the Manhattan or Sazerac are some of the tastiest in town. 
Plaza Midwood
What you're getting: A bottle of wine to share
Don't mistake this for a random art gallery that happens to have a bar in the back, or a bar that has a few pieces of art on its walls. This edgy spot with floor-to-ceiling windows and walls lined with frequently rotating exhibits, is equal parts serious gallery and craft beer & wine bar. Most nights it's standing room only, making it perfect for perusing the latest artist's work. Just remember, even after a glass of wine, it's best not to lie about being an art connoisseur (you'll probably have trouble just saying "connoisseur"). 
Uptown
What you're getting: An infused whiskey cocktail
Charlotte is a burger-obsessed town, but Cowbell's rock n' roll energy and small batch whiskies make this spot stand out in the beef-eating crowd. Flat-screen TVs play music videos, and neon lights illuminate the bar area where sleek leather stools offer a perfect place to post up post work. For a bracing but sweet start to your evening, sip Roosevelt's Fireside Scotch: an orange and cinnamon infused Glenlivet 12 Year served over a sphere of ice.
NoDa
What you're getting: A pint from one of the nearby breweries 
What it lacks in size, this corner bar makes up for in character. Order a local beer (many of the offerings are from breweries just down the street like Birdsong Brewing or NoDa Brewing Co.) and dig into the complimentary popcorn, or order a round of oysters on the half shell. And while it's bustling on weekends, its flat screen TVs and laid-back setting make it a favorite spot to catch the game.  
Myers Park
What you're getting: Beer early in the evening, generic cocktails for later
With its polo shirts and pastels, the crowd here can at times feel a little like an adult fraternity party -- especially on summer weekends. But the tree-shaded deck and flowing drink specials at this neighborhood spot have made it a longtime favorite for locals looking for a place to mingle over cold drinks. Much of the bar is outside, so go when the weather is good, but anticipate booze-filled crowds.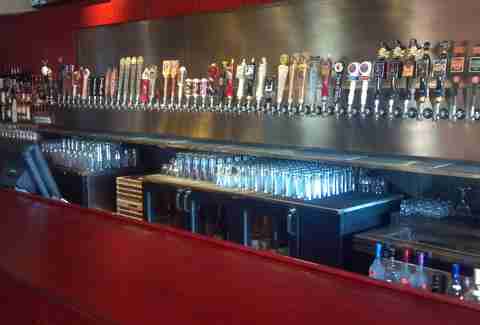 SouthPark
What you're getting: Craft beer
There are several locations of this casual beer-centric bar and restaurant, but its spot at the end corner of nightlife-hub Montford Drive continues to be a favorite for those in search of a hard-to-find craft pint. The beer list is hefty with 60 on tap and even more by the bottle. The menu features ratings and taste guides, so even beer novices can find something to suit. Plus, with $3 pint nights, an airy interior, and a sidewalk-side patio, it's the perfect spot to settle in for ample sampling. 
South End
What you're getting: Wine or local beer
This eclectic market with its sandwich shop, coffee bar, and beer & wine selection is the ultimate neighborhood hub. Most afternoons you'll find a packed patio with meetings happening over drinks, while evenings often bring live music, and events like beer and wine tastings. There are six beers on tap, but be sure to peruse the shelves as well. The market's curated selection of intriguing suds from unexpected places like India or the Middle East has made it a favorite for beer aficionados.   
Uptown
What you're getting: An Irish whiskey punch
This inviting pub may be part of a chain, but it's been a local go-to since opening in Charlotte in 1997. Built from salvaged parts of an 1800s Irish pub, the warmly lit two-story bar fills fast with the after-work crowd most evenings. Its upstairs outdoor patio and frequent live music make it a draw for Uptown revelers on weekend nights. And the recent addition of the sophisticated second-story Whiskey Room, featuring classic whiskey punches served in silver punch bowls, is only making it a hotter spot for imbibing. 
Plaza Midwood
What you're getting: PBR
Set in a boxy, orange cinderblock building next to the railroad tracks, this small bar with the giant beaver in a cowboy hat painted on its wall doesn't look like much from the outside. But "The Beaver," as locals affectionately call it, is a country bar with more character than most. Owned by two brothers, it's filled with honky-tonk trinkets and colorful patrons who come for the free jukebox, live music, and cheap drinks. On Sunday afternoons you see crowds gathering -- often arriving by motorcycle -- for live bands and relaxing on the small front deck. 
Plaza Midwood
What you're getting: Intro to Scotch flight with Macallan 12 year, Balvenie Double Wood, and Lagavulin 16 year
The rooftop skyline view gives this two-story bar and restaurant serious street cred in the neighborhood's fast-growing nightlife scene. Inside on the first floor you'll find flat screen TVs, occasionally a DJ, and a packed bar on weekend nights. But it's the spacious second-story bar that is irresistible as soon as the weather is warm. Grab one of the bar top tables and order the whiskey poppers (fried pimento cheese with a side of ranch) to enjoy alongside one of the eight whiskey flight offerings.   
Sign up here for our daily Charlotte email and be the first to get all the food/drink/fun in the Queen City.
Sarah Crosland writes about eating and drinking in Charlotte, which is what she uses as her excuse for all of the eating and drinking she does in Charlotte. Follow her at @sarahcrosland.