Let's talk beer. There are 30 breweries in Charlotte, and over 20 breweries in the surrounding areas (Cornelius, Belmont, Concord, etc). But as you likely know, not all breweries are created equal. They range from the preferred hangout of millennials and their friends, where singles go to see and be seen, to the place parents bring their kids to play them while enjoying a frosty one, or three. There is no denying the old adage remains true in Charlotte, however: there truly is something for everyone.
When you're in Charlotte and want to solidify your plans for a brewery crawl or sample the crème de la crème of beers, the options below are bar none the best around, and you'd be remiss to leave them off your itinerary.
Editor's note: The list of breweries below are all in Charlotte proper and not the surrounding areas (sorry suburbs)!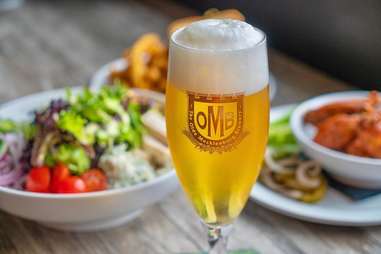 Loso | Est. 2009
Beer, bratwurst, and beer cheese reign supreme at Charlotte's oldest brewery
You can't talk about beer/breweries in Charlotte without talking about the granddaddy of them. OMB, as it is affectionately called, is where everyone of all ages can gather, whether for a beer or a special event. The Copper altbier is the brewery's standout and one of their originals for good reason. Smooth drinking and perfect when sitting outside in their biergarten and eating pretzels with their signature beer cheese.
Belmont | Est. 2011
American-style ales and the brewery that made Charlotte a believer of jalapeños in beer
Birdsong started in 2011 with two full-time employees, and has now grown into a 17,000-square-foot brewery and tap house in the Belmont neighborhood of Charlotte. With popular beers such as the Jalapeño Pale Ale, Paradise City, and Higher Ground IPA, Birdsong is popular with both novices and connoisseurs alike.
South End | 2011
Wild ales, sours, and kombucha… oh my!
Lenny Boy, named after the best dog, brought kombucha into the spotlight in our fair city. If anyone questioned whether a brewery focused on wild ales, kombucha, and sours could survive, they were shown it could when LBB moved into a larger space in 2016. If you are craving a Lost Rose Kombucha or Elite Beet and can't get to their location, you're in luck as they now sell their products in many local stores and chains.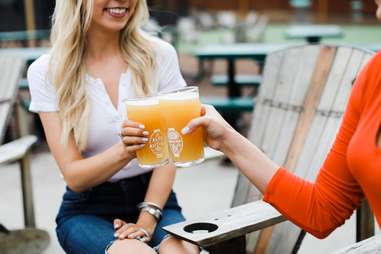 Multiple locations | Est. 2011
First dates, baby showers, and everything else in between happen at this Charlotte favorite. The beer's great too.
NoDa Brewing is not only the second oldest and one of the most successful breweries in Charlotte, but it has also created some of the most award-winning beers in the city and beyond. At their larger taproom located in the North End, you can imbibe their award winning Hop Drop 'n Roll or try one of their Brizo brand spiked seltzers. Their "OG" location on North Davidson has reopened on a Friday through Sunday schedule and serves a selection of their sour beers.
Multiple locations | Est. 2012
Brunch and beer go hard at this NoDa staple
Heist Brewery opened in 2012 as not only a brewery, but as one of the top cocktail hotspots in Charlotte. Although cocktail guru Stefan Huebner is no longer there, you can still grab a cocktail, or brunch on the weekends at the original NoDa location. Their second location, Heist Brewery & Barrel Arts, opened this year near Camp North End and will focus on their barrel-aging program. And, if you don't take a selfie in front of the Clint Eastwood mural, were you really there?
South End | Est. 2012
There's a reason they have a beer named the Baby Maker...
Triple C Brewing was one of South End's first breweries and it has endured the changing -- and at times crowded -- landscape of breweries in the area. They have created a community passionate about their beers, and, in recent years, added an event space to accommodate weddings and special events. Their claim to fame will always be the Baby Maker. A double IPA with an almost 9% ABV rating, the Baby Maker has been known to have couples throw caution to the wind, which has resulted in a few, well, unexpected lil' ones on the way.
Villa Heights | Est. 2015
Bring your kids, dogs, friends and family to this community-focused brewery
Founded by brothers Jeff and Jason Alexander, Free Range Brewing has built a reputation on being a gathering place to enjoy small batch beers, live music, and food-focused events, including their annual New Year's Soup Day event. With the recent announcement of their second Charlotte location, Free Range is bringing locally-sourced small batch beer to all corners of the Queen City.
Multiple Locations | Est. 2015
Grab a beer and some bites at this rapidly expanding brewery
This year has been a big year for Legion Brewing. With two locations (original in Plaza Midwood and newest in SouthPark), Legion surprised everyone with not one, but two new concepts slated for 2020. Another Legion Brewing will be coming to the FreeMoreWest neighborhood, and a new concept called Trolley Barn Fermentory in South End. More opportunities to get your Juicy Jay or Carolina Sparkle Party fix.
Multiple Locations | Est. 2015
Where saying you'll have what he's having takes on a whole new meaning
Earlier this summer, Wooden Robot Brewery expanded their offerings from just one location to two! The original is located in South End and the newest location is in NoDa. Now loyal fans have two times the opportunity to get favorites such as Good Morning Vietnam (a blonde ale made with vanilla beans) and then always fun to say What He's Having (an IPA with notes of citrus and tropical fruit flavors).
West End | Est. 2016
A little piece of the Appalachian Trail here in Charlotte, but with good beer
Named after the blue paint stripes -- called blazes -- used on the Appalachian Trail, blue blazes are intended to lead adventure seekers to water, relaxation and camaraderie. Taking the name to heart, Blue Blaze has made a name for itself as a laid back brewery where you can gather with old friends and make new ones. They specialize in American, English, and German-style beers with five year-round beers including the Yellow Blazer Kölsch and the Double Blaze Black IPA.
NoDa | Est. 2017
Who run the world? Badass, bold women who brew. That's who.
Paying homage to bold women of history and music, Bold Missy is the Queen City's only female-owned brewery. Each beer is named after a woman/missy who shaped history. Order a Heart of Glass (strawberry blonde kettle sour) named after singer Debbie Harry, or a Solo Flight (English brown ale) named after aviator Amelia Earhart.
Belmont | Est. 2017 in Charlotte
The brewery that proves not all zombies are bad
Although they're celebrating twenty years since its founding, Catawba Brewing only opened their Charlotte location in 2017. As part of HUB 933 in the Belmont area where other tenants include Trade & Lore Coffee, Advent Coworking, and Oso Skatepark, Catawba has created a prime neighborhood hangout. A patio boasting a view of the Charlotte skyline is the perfect place on a warm day to drink a White Zombie or a CLT IPA, or a Mother Trucker.
Plaza Midwood | Est. 2017
Find both a curated beer and wine list at this Plaza Midwood standout
Located along bustling Central Avenue, Resident Culture has made a big impact in the short amount of time it's been open. Known for hosting music and other cultural and community events, Resident Culture has also upped the beer game in Charlotte. Producing IPAs that don't taste like the traditional IPA, pilsners and sours, to name a few, Resident Culture also rolled out a wine program at the end of 2018. They also host some of the best food trucks in Charlotte.
NoDa | Est. 2017
Good beer and good people set the scene, along with some artsy quirkiness
NoDa's gem of Salud Cerveceria is located above Salud Beer Shop and shares space with Trade & Lore Coffee. The Cerveceria is their in-house brewery making sours, stouts and everything else in between. Come early for the coffee, and stay for a wood-fired pizza and a pint or two.
NoDa | Est. 2018
They're ALL about the wood here at this NoDa brewery
From wood-fermented and wood-aged beers to the wood paneling in the taproom, Divine Barrel loves a theme. They also love experimenting with beers and with flavors. Although they brew all different styles of beer, the team at Divine Barrel is known for their sours, such as the Zest Intentions, a kettle-soured witbier with juice and zest from lemons, limes, oranges and grapefruit added to the mix.
A very special shoutout…
We want to give some love to some places not mentioned above. We adore what the team at Suffolk Punch is creating with the amazing trifecta of a brewery, restaurant, and coffee shop. Their space is gorgeous (inside and out), and we're excited for their future. Protagonist Clubhouse may be new to the Charlotte beer scene, but we have high hopes for this nano-brewery. When Southern Tier Brewing Company, Sixpoint Brewing Company, and Victory Brewing Company announced they were joining forces to bring Brewers at 4001 Yancey to the Queen City, there was much rejoicing. And although they're new on the block, Town Brewing Co. has created a following in the FreeMoreWest area, while Sycamore Brewing continues to hold down the weekend and South End Rail Trail crowd. Much respect.
Sign up here for our daily Charlotte email and be the first to get all the food/drink/fun in the Queen City.
Erin Breeden frequently writes about the food and beverage scene in Charlotte. She has also made it her mission to go to every brewery in Charlotte and surrounding areas. Follow her on Instagram: @ErinMBreeden.