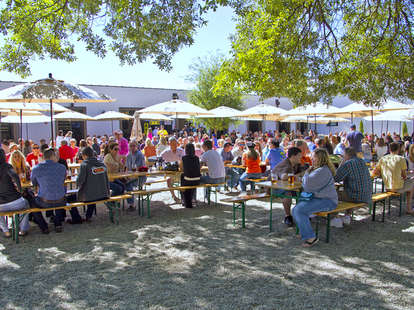 Courtesy of The Olde Mecklenburg Brewery
The Queen City is undoubtedly a banking town with a "work hard, play hard" attitude. But long hours in the office translate to a serious sun deficiency, so it's mandatory that locals gravitate toward watering holes where they can soak up the Carolina rays. These 12 spots offer wines, whiskeys, and witbiers, all with open-air ambience.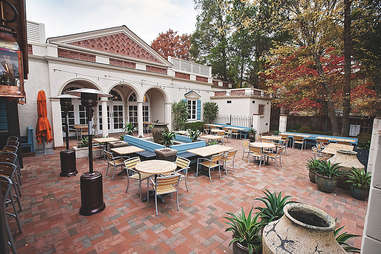 Myers Park
Take margarita Monday (or Tuesday, or Wednesday...) to the next level at RuRu's, where the spacious patio strikes a balance between comfortably laid-back and upscale festive. With high-end neighbor Stagioni as the front man of historic Reynolds-Gourmajenko House, RuRu's is quickly establishing itself as the "party-out-back" sibling. Start with a cocktail like the "You Talkin' to Me?" (tequila, jalapeño simple syrup, agave, lime juice, and salt rim) and don't miss the Long Duk Dong, a Korean-style taco with sweet and spicy skirt steak.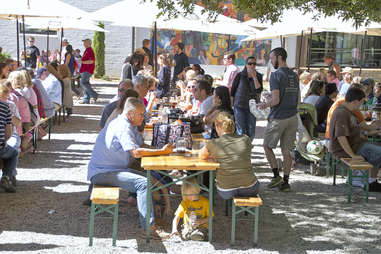 Lower South End
You might show up to OMB and plan on a pint or two, and end up staying all day. With an outside bar, efficient food system (soft baked pretzels and Captain Jack beer cheese without standing around a food truck!), and so many tables, you'll surely be down to lounge. The massive biergarten is also dog-friendly.
Dilworth
If you've ever wanted to hang out on a deck that looks like it landed on top of a diner, you're in luck. JJ's Red Hots' quirky upper deck feels like a grownup version of camp, especially when you take up a gourmet dog like The Whistle Pig (bacon, cheese, onions, Weber's mustard) and pair it with NoDa Brewing suds. Yes, if you don't get an umbrella it can get toasty -- but grab a Peaches & Cream popsicle from King of Pops, either from JJ's freezer or the cart regularly stationed outside, and cool down in true kid style.
Uptown
The city breathed a collective "finally" when Fahrenheit opened its doors in 2014 as the only rooftop restaurant in Uptown Charlotte, on the 21st floor of the Skye Condos. Fire pits and a seasonal herb garden add some visual interest to the open terrace, in case the expansive skyline view isn't enough to keep your attention. Though cuisine by Chef Rocco Whalen ranges in fanciness from a classic Margherita pizza to rich, Asian-influenced Kobe beef short ribs, the views look just as gorgeous alongside a locally sourced craft cocktail and some affordable happy hour bar bites.
Plaza Midwood/South End
This bottle shop + live music spot + bar is worth a visit simply for reading the eclectic memorabilia all over the walls. But sit and stay for the people-watching, lively conversations, and general cool factor -- with a local brew or a hard-to-find import. The Plaza Midwood location offers a sidewalk social patio and a tucked away alcove in the back (pictured above); the back patio of the South End location feels like a quirky friend's porch with market lights and mismatched patio furniture.
Plaza Midwood
When Thomas Street Tavern is busy, it feels like the party you wanted to go to in college. Ping-Pong, cornhole, and an assortment of other patio games keep the crowd active and moving, and the totally unpretentious chimichangas will hit the spot after a night of indulging in the full outdoor bar. Patrons here are laid-back and game for a good night, but with ample space outside, you're less likely to get an elbow to the face.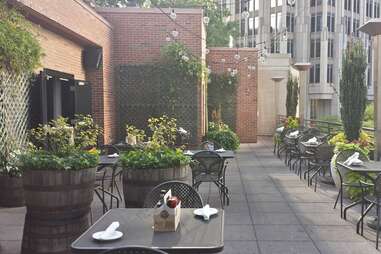 Uptown
The upper level terrace of this Uptown staple isn't huge, but you can snag a table easily enough if you beat the midnight 20-something rush. Now's the time to revisit this favorite with the recent opening of the Whiskey Room, serving up 40 different Irish whiskeys, cocktails, and house-favorite whiskey-based punches that serve two to six.

Plaza Midwood
Rounding out the Plaza Midwood trifecta, this three-story gastropub is known for playful dishes like sweet-tea brined wings and -- more importantly -- killer sunset views from its rooftop deck. The front terrace offers a casual Plaza ambience, but the top level is the place to beat the heat, especially when they add a 10ft roof (keeping the open-air feel and views intact) later this summer.
Myers Park
Speak ill of Selwyn Pub, and you might have a crowd of loyal bargoers up in arms. Those who frequent the Selwyn Ave namesake treat it like an early adult alma mater -- appropriate for the decidedly collegiate feel. Even if you don't arrive in the Ray-Bans and polo uniform, you can still get into the vibe year-round; large screens, comfy couches, fans, and a fire pit make Selwyn a multi-season draw.
Uptown
If you work Uptown, Halcyon offers a healthy new perspective on your usual view. And if you don't work Uptown, grab one of the best seats on the block at this Mint Museum-adjoined terrace. With an upscale farm-to-table menu and constantly changing cocktails like summer's Bohemian Rhapsody (absinthe ice cream, St. Germain, and Prosecco), you'll find reasons to return again and again.
Midtown
Start the night classy with a glass of wine or a cool cocktail at Vivace. The lounge furniture is sleek and, well, Metropolitan, and you can pity the runners on the Greenway while you lean back and sip your tequila and limoncello cocktail. Once you've wrestled the Metropolitan parking deck (or were smart enough to valet), you might as well make your way down the patio row with stops at Dressler's and Hickory Tavern to enjoy the summer evening live music.
Uptown
Although the resident beer hall at NC Music Factory is the perfect meeting spot for a pre- or post-concert crowd, there's enough going on the rest of the time to be worth a visit for its own sake. Giant games like Jenga, Connect Four, and chess are small-group-friendly, and with the five-court Sandbox at VBGB offering volleyball games right next door (both scheduled and pickup), there's eye candy -- um, activities for everyone.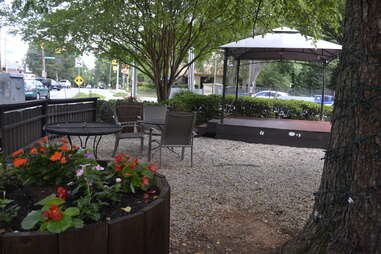 Elizabeth
No, it's not open yet. Yes, it will bring together all of our favorite things: dogs, beer, and on-demand sandwiches. And yes, it's in the former location of The Philosopher's Stone. Look out for its "extremely dog friendly" launch later this summer from the owners of Jackalope Jacks.
Sign up here for our daily Charlotte email and be the first to get all the food/drink/fun in the Queen City.