With an ever-growing skyline that is prominently featured on coffee mugs, t-shirts, and other apparel, Charlotte has officially embraced the rooftop bar (about time, right?). A few years ago, Charlotte had only a handful of rooftop spots to grab a drink with a side of view, but now it seems like a new one is announced weekly. 
From strict dress codes to swimsuits, cocktails to cold beer, there is a rooftop bar that will fit your day drinking or night on the town needs. Here is our list of the best rooftop bars in Charlotte right now.
Recommended Video
Really Dough's Mark & Scott Take a Bunch of Shots, Do Blind Pizza Taste Test, Argue a Lot
Plaza Midwood
Where you can listen to live music and catch a sunset fit for a Queen
The Peculiar Rabbit is a Plaza Midwood gastropub offering one of the best sunset views in the Queen City. Come for the view, the live music, or the menu, which features traditional English fare infused with Southern ingredients, but prepare to stay until last call.
Second Ward
The rooftop where you are most likely to see a proposal
With the arrival of Fahrenheit atop Uptown's Skye Condos in 2014, Charlotteans were given access to a 360-degree city view from 21 stories up. No longer the new kid on the block, it's still one of the most beautiful rooftop bars around. Enjoy a craft cocktail or some of the delicious food from chef Rocco Whalen, but don't even think about leaving without taking a selfie outside.
Plaza Midwood
Enjoy Tennessee Whiskey under a Carolina Sky
The Whiskey Warehouse, along with neighboring bar, The Peculiar Rabbit, provides a stunning sunset view of Charlotte. The rooftop bar is a neighborhood favorite, both for its view of the city skyline, as well as its whiskey focused drink menu.
Uptown
The place where Gucci and Ed Hardy hangout together
Snake through the lines and epic people-watching and head to the top of the Epicentre for Rooftop 210. Rooftop 210 is the trifecta of nightlife entertainment: a vibrant cityscape view, live music, and everyone from Gen Xers to millennials sipping on vodka tonics. Rooftop 210 hosts numerous events throughout the year, including the summer staple of Alive After Five, a weekly after work event featuring local bands and beer vendors.
South End
Good food, cold beer, and good music
Unpretentious and laid back, the Gin Mill has a come-as-you-are vibe in what is typically the see and be seen vibe of South End. The chill rooftop bar is perfect for looking at the city skyline and playing a game or two.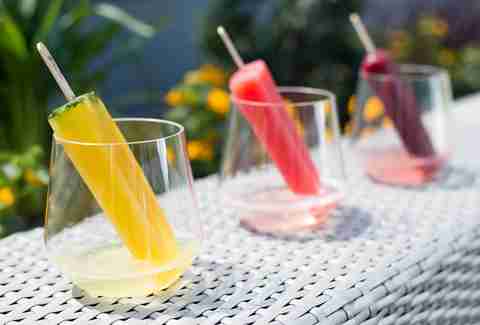 Uptown
Where putting a popsicle in your prosecco was perfected
Located on the 19th floor of Le Méridien Charlotte Hotel, City Lights has an expansive view of Uptown. Order the signature Sparkle & Pop drink (bubbles with a King of Pops popsicle placed in it), listen to the thumping music from the DJs, and if you end up having too much fun, you can always grab a hotel room.
Third Ward
Swanky rooftop lounge with the ultimate views of the city
Merchant & Trade is located on the 19th floor of the Kimpton Tryon Park Hotel. The space is gorgeous, the drinks are delicious, but it is the view that brings so many out of towners and locals alike to this bar. If you time it right, you can witness the summer fireworks at the BB&T Ballpark after a Knights baseball game. Note: This establishment has a strict dress code. Make sure to obey it, or you may wait in the elevator line just to be turned away.
Third Ward
More than just a sports bar
Graham St. Pub & Patio has become a go-to destination for many sports fans. Located between BB&T Ballpark where the Knights play and Bank of America Stadium, Graham St. is a great place to go before, after or during the game. The outside patio is perfect to eat a burger, drink beer, and listen to fans cheer.
Uptown
Sophistication in the sky… and delicious food to boot
Located on the 22nd floor of the AC Hotel & Residence Inn Charlotte City Center, Nuvolé is the highest rooftop bar in the Queen City and is an indoor/outdoor bar. The standouts are the large U-shaped bar, cocktails, and the bites. If you really want to have a baller time (who doesn't?), there is a penthouse suite -- Suite TwentyTwo -- across the hall that's available for rent.
Uptown
Hotel pool bar with views and public access
Pool lovers rejoice. If you don't have access to a pool and want to escape the ever-present (or so it seems) stifling Southern heat, you can now head to Coin Bar for all your aquatic needs. Located in the Omni Hotel in Uptown, Coin Bar is a pool, sports bar and grill, and cocktail bar all in one. In addition to all of this, you are located in the heart of the city with views of the skyline. It's like a little oasis with the buzz of a city on all sides.
Uptown
Cocktails, jazz, and a chill vibe make this bar and rooftop a must
The Imperial focuses on good -- and potent -- cocktails and the weekend jazz performances are super fun to watch. The "Star Bar" located on the roof is a perfect place to take in the vibes of the city, listen to music, and if you're with a group (or just a masochist), imbibe on the 166-ounce Moscow Mule. Yep, you read that right: 166 ounces of pure, unadulterated fun juice.
Sign up here for our daily Charlotte email and be the first to get all the food/drink/fun in the Queen City.