The Best Beer Bars in Charlotte
Whether you find yourself favoring breweries, neighborhood spots, or dive bars, there are few things in life better than a night of good beer and good conversation. But what about those moments when you want more? Maybe it's a craft beer; maybe it's a bar specializing in rarities, or its own brews. Well, Charlotte has some great beer bars that not only have something for everyone, but that also give that little kick of something more: namely, a well-cultivated beer list with plenty of options... and even a few games.

Gold District of South End
Craft is one of the best spots around to either fill your growler or stop in for a drink and a bite to eat. Whether you're ordering a pint or sampling a flight, be sure to take advantage of some of the 36 rotating taps from local and regional breweries. Looking for some Wicked Weed, a beer from NoDa Brewing Company, or even a pint of Mother Earth? Craft will have you covered. Just don't forget to order a flatbread or charcuterie & cheese, as they all pair rather well with the selection.
Plaza-Midwood (& other locations)
More than a deli offering wine and beer selections, the Common Market is actually one of Charlotte's best staples for grabbing some drinks with friends. And though the rotating selection of beers on tap is pretty great, the true standout is the bottle selection. Bottles run between local, regional, national, and international options. So grab a sandwich, a beer you've never tried from a country you've probably never been to, and a seat on the patio, and enjoy!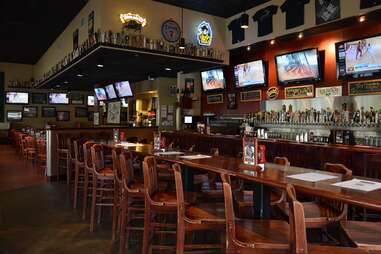 South Park (& other locations)
With several locations around the Queen City, Duckworth's is a great spot for hard-to-find craft beer. If you're a regular, join the beer club and get the satisfaction of tasting all the microbrews and rare imports offered (there's plenty to choose from on the website). And sure, knowing you are a member of a club is also part of the fun. If you are at the Uptown location, stop by The Cellar at Duckworth's, a gastropub located below the restaurant with its own selection of beer.

University (& other locations)
No need to call Mulder or Scully on this one: the Flying Saucer will make you believe. With over 80 taps and about 150 bottles, this place will undoubtedly keep you busy when it comes to beer offerings, whether you're sampling some hard-to-find brews or ordering a pint of your favorite. Before you come by, be sure to check out the website, as it's updated regularly with seasonal offerings. You can search for your favorite beers by type, brewery, city, state, or style.
NoDa
Don't let the size of this shop fool you: it has one of the most impressive beer selections in Charlotte. Salud offers hundreds of brews from all around the world, and even has a rotating selection of 12 beers on tap. So saddle up to the bar and stay awhile. It's small, sure, but it's the real deal when it comes to beer.
NoDa
With a motto like "Craft Beer & Beer Food," this NoDa corner bar means you're in for a treat. This place has it all: beer on tap, a Gaskell & Chambers beer engine (a hand pump used to get beer out of a cask), beer education classes on the first Tuesday of every month by a Certified Cicerone, and so many more beer-related reasons as to why this should be your next stop. Plus, free popcorn! So at least you'll have something to do while you wait for your growler to be filled. You know, besides testing out the beer.

Cotswold (& other locations)
The pizza is great, but the beer selection is the standout. With over 40 beers on tap, The Pizza Peel has been serving Charlotteans IPAs, ciders, wheats, sours, and everything in between since 2008. The Cotswold location is known to Charlotte beer lovers for its impressive selection, but don't discount the offerings at the Plaza Midwood spot. Ciders, Belgian-style ales, porters, specialty bottles, and seasonal offerings await.
South End
Focused on local, regional, and national craft brews, Good Bottle is a beer-lover's dream. This place features a curated selection of bottles, cans, growlers, and draft selections, making it not only a great place for a pint, but also a pretty damn good destination for beer snobs. Of course, it does welcome novices to learn about beer through regular events and tastings. Hit up the Good Bottle site to see the "Good Beer On Tap Right Now" before stopping by. Or just head over to surprise yourself.
Uptown (& other locations)
A go-to destination before and after a game or event at the Time Warner Cable Arena, the uptown "Q" location is able to give patrons delicious barbecue (some of the best!) and a beer list for many palates. This place primarily serves craft beer, including choices from North Carolina breweries such as Olde Mecklenburg Brewery, Natty Greene's Brewing Company, and Lonerider Brewing Company, so you won't be able to order basic brews here (Translation: no Bud Light).
NoDa
Two words: beer and pizza. Does anything go together more perfectly? Revolution has over 40 taps offering local and national options, with an additional 60+ bottle list. Chances are if you're stopping by for a slice (or maybe even waiting for your pizza), you'll easily find there is something for everyone here. And guess what, the pizza isn't too bad, either (vegan and gluten-free options available).
Uptown
Featuring a beer selection that changes nightly, VBGB is located adjacent to the newly named AvidXchange Music Factory, making it a sure go-to for pre- or post-show drinks. Head to the website and you'll be able to check out the beer selection, which is definitely one of its draws. Another one: the beer garden and those giant games of Jenga and Connect Four that help you pass the time in between rounds.
Sign up here for our daily Charlotte email and be the first to get all the food/drink/fun in the Queen City.
Erin Maddrey enjoys writing about food, beverages, and all things Charlotte. Due to her love of these things, she can be frequently found at the gym. Follow her and her Charlotte adventures on Twitter and Instagram: @ErinMaddrey.