Whether it's cheering on the Panthers, or Hornets, or local college teams, it's always nice to have an excuse to do some drinking no matter the day or time. It's even nicer to have a bar stocked with bites, big screens, and bar games to drink in. For fans of game day action with a side of great food classics, you can't go wrong with any of these Charlotte backdrops for your weekend entertainment.
Ballantyne
Here you'll find all the makings of an ideal game day spread -- the triple threat of delicious pub fare, a killer beer list, and action-packed entertainment (both in the bar and on TV). Plus, Fox & Hound offers up an in-between scene for those looking to soak up their TV time in a lively atmosphere. Gather up your friends for a game of pool, or try your hand at winning some great prizes during Fox & Hound's weekly Fantasy Fix.
South End
If you haven't yet been to All American during a Panthers home game, you are missing out on the biggest party in Charlotte. You've been warned: you may not catch every play while meandering through the mob, but there is a crucial tall boy supply, adjoined pool hall, and dance parties during commercials will turn your Sunday visit into a season-long tradition.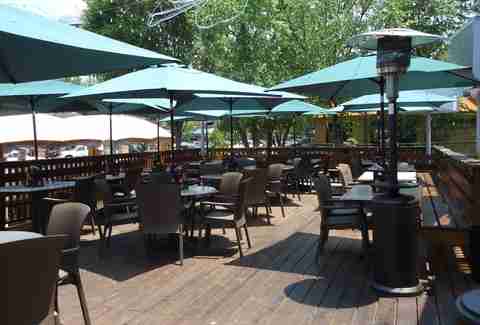 Elizabeth
Torn between the beautiful fall weather and football watching? You really can have both. Sitting at the center of historic Elizabeth, Kennedy's offers the perfect patio to grab a beer (or several) and chow down on some game day fare, in addition to plenty of space to take on your friends in giant Jenga or cornhole while waiting for that next coin toss.
Third Ward, Uptown
Tucked right behind Bank of America Stadium, there's no better location for a sports bar than the prime real estate of Draught. This upscale bar opened in 2014 and, with 40 craft beers on tap, it's quickly found itself at the center of tailgating festivities come game day. You'll festively feel like you are inside the gates of the stadium while at the same time managing to avoid the jacked-up drink prices within, so it's pretty much a win-win. Our Panthers posse isn't the only crowd that finds a home here, however. Clemson, Michigan State, and Miami fans can be found circling the big screens come Saturdays.
Eastland
A beloved sports bar donning a small town vibe, Steamer's is home to Charlotte's most loyal football followers. This neighborhood pub is a stomping ground for Panthers, Eagles, Dolphins, Browns, and Steelers devotees, and even has dedicated areas for fans so you never have to miss the game you have your heart set on. They have great drink specials and over 100 TVs for your viewing pleasure, and don't forget, foosball, darts and pool tables.
NoDa
Like most of the NoDa neighborhood, Solstice is the epitome of chill. Zero expectations await you here, other than the simple satisfaction of a casual day with your worshiped team and favorite food. You'll feel right at home on the roomy outdoor deck, complete with cornhole and televisions for the long day of game-watching that lies ahead.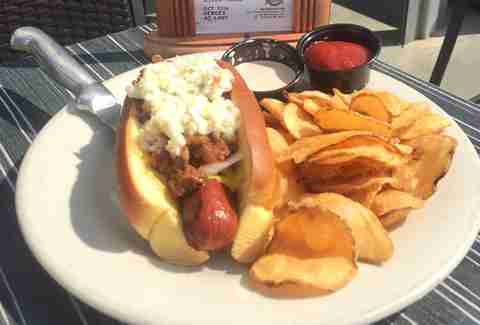 Midtown
Big screens, great food, and ample seating make Hickory Tavern a go-to choice for those who want to sport their jersey while still portraying that they are, indeed, a grown up. It's a trusted and consistent source for game watching, and the bar's sweet potato fries and local craft beer selection only help its cause.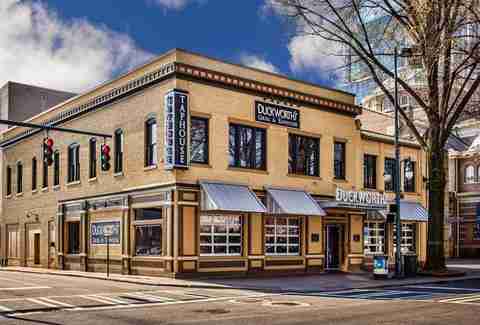 First Ward, Uptown
This newest Duckworth's location is a solid go-to spot for hitting up a Hornets game around the corner, or even just to relish in a quick pint pit stop before heading home from work. But mostly, this 15,000sqft destination earns its reputation for the variety of 150 beers on tap. Customers receive an iPad for browsing the extensive beer menu and can do so while taking their pick at which of the 180 televisions they'd like to post up at. With these endless choices, you might as well just stay straight through whatever game you were supposed to be going to. It's okay; we won't judge you.
Dilworth
This neighborhood staple recently upped its game even more with its new patio bar lined with flat screen TVs. Stay for a packed day of food and drink specials, or pregame here before taking the free game day shuttle to go cheer on the Panthers in person. Any bar with a free ride in support of raging is an instant winner as far as we're concerned.
Eagle Lake
The memorabilia-sprawled walls and the 60-plus HD TVs of this sports establishment just scream game day oasis. If you feel a bit too closed off from the outside world, as six hours of football watching (and beer guzzling) can do to you, you can always venture outside where even more big screens can be found on the heated patio, so you can catch your breath along with a whole new TV angle.
Sign up here for our daily Charlotte email and be the first to get all the food/drink/fun in the Queen City.
Courtney Matinata is a Freelance Writer at Thrillist Media Group, whose idea of a fancy night out is a cold beer on an outdoor patio.