The Charlotte Beers You Need to Be Drinking This Spring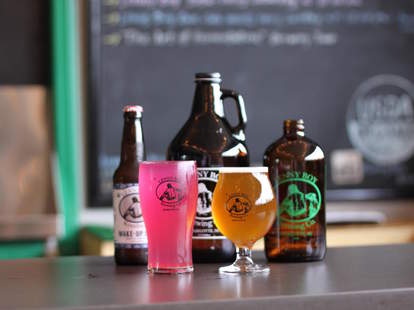 Courtesy of Lenny Boy Brewing Co.
There's only one thing that can make hanging out on the patio this spring in the Queen City even better: a beer brewed in Charlotte. While we've all been hibernating like hell and binge-watching nearly every Netflix doc imaginable during the winter months, local breweries have been busy creating and perfecting some seasonal favorites for us to enjoy. So here's our list of the springtime brew offerings that will be Charlotte staples this coming season. But a warning: make sure you act quick. Many of these are only available while supplies last, so it's time to get drinking. Responsibly, of course.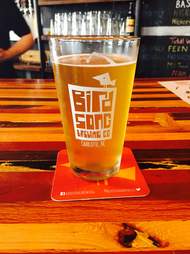 Erin Maddrey/Thrillist
Witbier, 4.3%
NoDa
Doin' Thyme is a beer custom-made for a warm day because it's just that damn refreshing. It's brewed with thyme, coriander, and lemon peel, and pretty much smells and tastes like fresh herbs and citrus. The beer's smooth sip is more than likely what's going to keep you asking for more as spring goes on, but be on the lookout for the release of Up on the Sun (7.5% ABV), a tart Belgian-style Saison, later on in the season.
Courtesy of Eric Gaddy
Grisette, 3.5%
NoDa
Named in honor of co-owners Jeff & Jason Alexander's grandmother, Susie, I Am Not is small in both stature and alcohol content, but packs a punch when it comes to flavor. It utilizes local ingredients sourced from North Carolina, and is brewed with an olden type of wheat called spelt. The beer is hopped with Jarrylo, which gives it a unique blend of banana, pear, orange, and spicy flavors and aromas, and is a limited edition that won't make you feel full or weighed down... just maybe a little thirstier.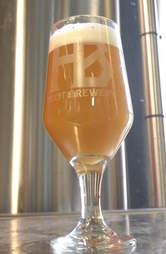 Courtesy of Heist Brewing
Double IPA, 8.5%
NoDa
This one is a big one, with a whole heap of alcohol, so proceed with caution. The Grand Optimist is a West Coast-inspired "citrus hop bomb" that's brewed with a balance of malt, hops, and citrus. The brewing and dry hopping process, which incorporates Citra and Simcoe hops, is what makes this double IPA a standout for the brewery. It's a great spring option for those who love hops, with a smooth taste all the way through... to the next Grand Optimist (because you're not having just one).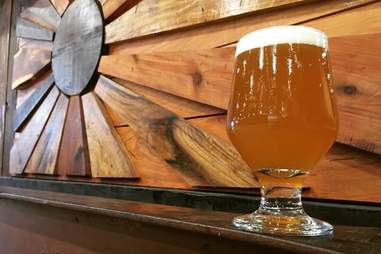 Courtesy of Legion Brewing
Imperial farmhouse ale, 8%
Plaza Midwood
Pairing traditional Belgian spiciness with the fact that it's brewed with fresh lemongrass, the Sunny Day Saison pretty much feels like you're drinking tea. But, you know, a very sneaky tea that has the potential to knock you on your ass, thanks to that 8% alcohol content. There's a hint of citrus, peaches, and mango with every sip of this drink, so you can only imagine how difficult it'll be to leave it at one.
Courtesy of Lenny Boy Brewing Co.
Wild ale, 4.4%
South End
Kombucha, wild ales, and organic beer... oh my! Lenny Boy Brewing Co. is the only certified organic microbrewery in North Carolina. Its new spring/summer wild ale, Wit n' Wild, is a witbier that has been fermented with the brewery's own house-cultured yeast and aged for five months with NC organic strawberries. While a complex process, this labor of love has created a pretty refreshing and effervescent beverage.
Courtesy of Mike Carroll
Session IPA, 4%
NoDa (& other locations)
A beer that smells as good as it tastes, Par 4 is a great patio, beach, or barbecue brew option. This IPA is brewed with just about 4lbs of hops per barrel and mashed with oats. It has a combination of a light citrus taste with a low ABV, making it rather appealing to both the IPA lovers and the novice. Other releases will be announced within the coming months as NoDa preps to celebrate its fifth anniversary.
Courtesy of Rémy Thurston
Bock, 6.0%
South End
In German, Früh means "early," but it's also short for Frühling, which means "spring," so it's a pretty appropriately named beer for the season. The Früh Bock is a definite favorite offered by the city's first local brewery and made with Bavarian hops. The beer has a sweet taste, and it's citrus zest makes for a damn fine sip that's paired well with the food offered at OMB.
Courtesy of Red Clay Ciderworks
Cider, 6.9%
South End
When Red Clay Ciderworks opened in 2015, it was Charlotte's first cidery. It gave folks with gluten allergies reason to rejoice, because it's all gluten-free, and offered ciders that were able to balance between beer and wine. Even still, they all pack a tasty punch. The Hoppin' Good Thyme is its flagship semi-dry cider; it's infused with hops, lavender, and thyme, and weirdly resembles a juice and not so much a cider.  
Courtesy of Sugar Creek Brewing Company
Witbier, 4.4%
South End
Don't let the pretty pink color fool you: this beer is packed with all the flavor of white ales you've grown to love over the years -- it just looks a little prettier. The beer's a seasonal favorite that's unfiltered and made with unsalted wheat and oats, and spiced with coriander, orange zest, and raspberries. The motto to this brewery is "a beer in every hand and an experience in every bottle," and this choice is definitely a great experience.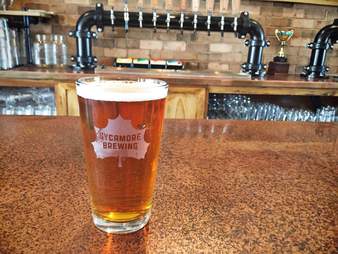 Erin Maddrey/Thrillist
IPA, 6%
South End
Not your typical IPA, Countryside tastes a little on the lighter side, but still manages to showcase plenty of hops. With hints of grapefruit, this is a refreshing IPA with a great taste all the way through. It's an undoubted fan favorite and is now available in cans for people to enjoy at home or on the beach. For another seasonal offering, check out the late April/early May release of the Charlotte Yacht Club (5.1%), a pale wheat ale.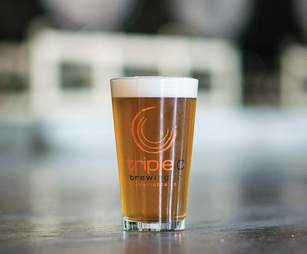 Courtesy of Justin Engle
Saison, 5.3%
South End
Though a limited spring release, Sal's Paradise is, in one word, refreshing. The saison is brewed with malt from Asheville's Riverbend Malt House and sports a unique lemon flavor that comes from the Sorachi Ace and Citra hops. This one is an easy drink and will be, while it lasts, a patio staple.
Courtesy of The Unknown Brewing Company
Wheat, 5.1%
South End
Ginger is delicious. Beer is also delicious. Therefore, a beer that tastes like ginger is really, really delicious. This wheat is a labor of love, as the ginger used is hand-peeled by the brewers at Unknown Brewing. It used to be a seasonal brew, but because people couldn't get enough of it (and that crisp taste), it's now offered year-round. The brewery is known for taking chances and experimenting with its ingredients... even using scorpions during their brewing process. Which means you never know what may be on tap at Unknown.
Courtesy of Wooden Robot Brewery
Blonde ale, 5%
South End
Sure, Good Morning Vietnam is a great movie, but it's also a coffee and vanilla bean-infused ale that's appealing to a lot of beer drinkers. To nab the great taste of this beer, Wooden Robot combined fresh roasted Madagascar vanilla beans with coffee from Charlotte's own Enderly Coffee. It's an easy beer to drink, so easy you'll wonder why it disappeared from your glass so quickly. For the record, the brewery's blackberry sour ale, Thicket as Thieves (5.1%), is another good choice to try while it lasts.
Sign up here for our daily Charlotte email and be the first to get all the food/drink/fun in the Queen City.
Erin Maddrey enjoys writing about food, beverages, and all things Charlotte. Due to her love of these things, she can be frequently found at the gym. Follow her and her Charlotte adventures on Twitter and Instagram: @ErinMaddrey.