Even though you probably won't ever have to battle evil Germans in beer pong to win back your grandfather's beer recipe (again, probably), your Oktoberfest has every right to be just as epic as Beerfest, making it all-but-certain that your post-Oktoberfest will consist of you in a beer-, pretzel- & sausage-induced haze, watching Beerfest on Comedy Central in your sweatpants.
Recommended Video
The Best (and the Rest): Best Easy Ramen Hacks and Winter Beers
Best Beer Garden
Resi's Bierstube, North Center
The alehouse's cozy wooded biergarten still has ample room for taking down Teutonic plates (the Germanic food, not the plates threatening to destroy Los Angeles) like potato pancakes and rahmschnitzel, a breaded pork loin in mushroom gravy. Oh, and beers. So many beers.
Best Spot to Shoot Das Boot
Chicago Brauhaus, Lincoln Square
Nothing says commitment like a five-year engagement a two-liter boot of beer filled with the likes of Stiegl, Spaten, Julius Echter Weiss, or Hofbrau.
Best Schnitzel
Mirabell Restaurant, Irving Park
A self-described "German Schnitzel Bank", Mirabell lets you get your wiener cooked any way you like: pan-fried, cordon bleu, folded in eggs and sautéed in butter, or sauteed with green peppers, onions, and bacon. Just don't be this guy trying to reenact the Ricola commercial outside the restaurant.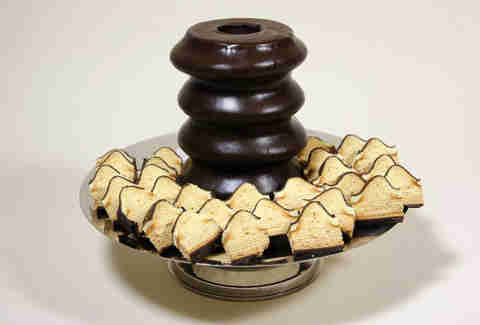 Best Pastries
Lutz Bakery, North Center
Embrace the sweet size of German culture at this shop (sadly not run by an Eskimo ex-TGS writer) and score some Baumkuchen, a German standard that translates to "tree cake", with layered moist almond sponge cakes coated in chocolate.
Best Historic Site Where You Can Booze
The Glunz Tavern, Old Town
The tavern opened by Louis Glunz back in 1888 was revived after a 90yr post-Prohibition hiatus with furniture from the original Berghoff and a Franco-German menu from the chef at Butcher & The Burger.
Best German Accents
Glunz Bavarian Haus, North Center
From the St. Pauli waitresses to the weekend polka band, the staff at Glunz will give you a German experience that is muy autentico, and certainly more authentic than that last statement.
Best Bratwurst
Laschet's Inn, North Center
Help yourself to a classic hot plate of grilled bratwurst, knackwurst, and Thuringer sausages served with sauerkraut, as you hilariously try to articulate that this is the best wurst you have ever had.
Best Place to Stock up for Your Own Oktoberfest
Paulina Meat Market, Lakeview
A carnivore's dream, Paulina has nearly every smoked sausage imaginable: knackwurst, bockwurst, goat brats, jalapeno pepper jack brats, and even turducken brats, to save you the trouble of Frankenstein-ing three birds together.
Best Pretzels
Prost!, Lincoln Park
Try to wrap your mind and hands around these jumbo Bavarian pretzels with warm beer cheese or a caramelized onion & smoked paprika dip as you saddle up to communal table with your stein.
Best Commute from Work to Happy Hour
The Berghoff, Loop
Escape from your cubicle cell to land at this historic spot (granted the first post-Prohibition liquor license in Chicago), where a 47ft bratwurst was once eaten. The downtown restaurant does it up right with oompah bands, strudel, pickled herring, and -- of course -- lederhosen.