5 spots to hit before the Cubs' home opener
It's Opening Day, which means not only is there some great baseball to look forward to, but that at least for the next few hours, the Cubs can still proudly boast they have an unbeaten season. And if you're looking for more than just a bar stool to kick-off the 100yr anniversary of Wrigley Field, check out these five awesome events going on around the neighborhood...
Old Crow Smokehouse (click here for address and info)
Doors open at 9am (goat roast at 10:30am)
The "Curse of the Billy Goat" will likely never be broken, but that doesn't stop people from trying. Drink moonshine cocktails and watch two full goats being spit-roasted on Opening Day. Free samples of the goats will be offered until every last piece of curse has been consumed!
Captain Morgan Club (click here for address and info)
Doors open at 5am
Party dark and early at the closest bar to Wrigley Field. WGN's Steve Cochran broadcasts live from 5am-9pm; then stay for Robbie Gold on the Captain Morgan Spiced Rum Stage at 11am. Tickets for future games will be given away every hour, plus a pair of Billy Joel tickets for those already saying, "There's always next year."
Yak-Zies (click here for address and info)
Doors open at 6am
Sleep in an extra hour, and go to WXRT's live broadcast starting at 6am with Lin Brehmer and Mary Dixon. Live performances include Los Lobos, Sonny Landreth, and Tributosaurus. You can also hang out with Jeff Garlin and tea connoisseur Billy Corgan, if you're into that kind of thing.
Big Cheese Poutinerie (click here for address and info)
Doors open at 10am
This Canadian export throws its doors open in the US for the very first time on April 4th. Line your stomach with a huge variety of fries, curds, and gravy to help survive the kind of Opening Day celebrations that are a century in the making.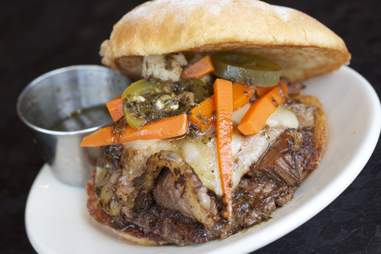 DMK Burger Bar (click here for address and info)
11:30am-12am
The city-renowned Ron Santo burger is back at DMK for another season starting on Opening Day. The famed #10 is topped with Italian beef, Fontina cheese, house-made giardiniera, and served dipped in au jus. It's available during every home game for $10 ...so get ready to eat 81 of them, optimists.